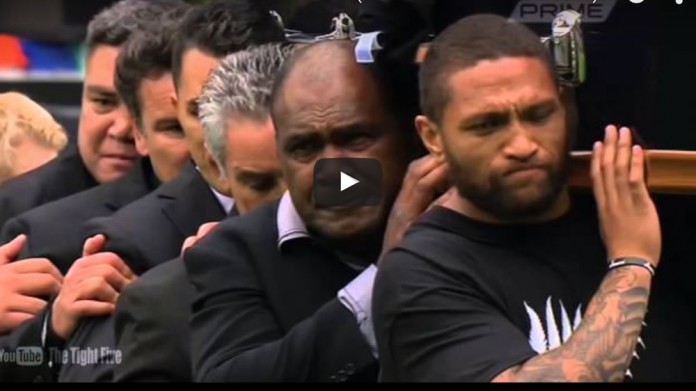 Rugby legend Jonah Lomu's former All Blacks teammates performed a moving haka tribute at his funeral at Eden Park in New Zealand. Watch below.
Lomu, who became popular in South Africa following the Rugby World Cup in 1995, passed away suddenly 12 days ago. Although he had long suffered from kidney problems, his death – from cardiac arrest – was totally unexpected. Just this year Lomu told journalists he hoped to live long enough to see his children turn 21 (which would have been in 16 years' time).
Lomu's coffin was carried by 12 pallbearers to the centre of the field as a total of three hakas were performed – one by his former schoolmates at Wesley College, then the tribute by former rugby teammates, and finally by current students at Wesley.
Lomu's wife Nadene and sons Brayley and Dhyreille (6 and 5-years-old) were at the funeral. As is customary, 40 doves were symbolically set free for the 40-year-old rugby hero, with Nadene letting the first fly free.
Current All Blacks player Sonny Bill Williams tweeted "Man he was loved, rest easy big guy…"
Dan Carter said: "Gutted to miss it but so happy to hear he got the send off he deserved. He will be missed #RIPJonah."
Watch Video: Former All Blacks perform haka at memorial for Jonah Lomu

South Africa also lost one of its former rugby legends in the same week that Lomu passed away – former Springbok centre John Gainsford passed away at the age of 77, following a long battle with cancer.