It started with one picture of shoes lined up against a wall, posted on Facebook by Fish Hoek High School in Cape Town, and another two pictures of students walking away from them shoeless. And it quickly grew into a storm of good news across the country.
"As our Matric class of 2015 finish writing their exams they step out of their school shoes," said the Fish Hoek school in the post on their Facebook page last week, showing a line of black shoes being walked away from by the newly shoeless matric pupils. "A new beginnings and the shoes are donated to those in need."
The story was picked up elsewhere on Facebook and shared at least 10,000 times, with countless people writing in from across the country that their schools had done the same thing. They also shared stories and pictures.
From the High School for Girls Potchefstroom to Hoerskool Durbanville, from Pietermaritzburg Girls High to Maragon Private School in Roodepoort, from Dalindyebo High School in Mthatha to Our Lady of Fatima Convent in Durban North. The names of schools went on and on – bringing with it comments of thanks and tears.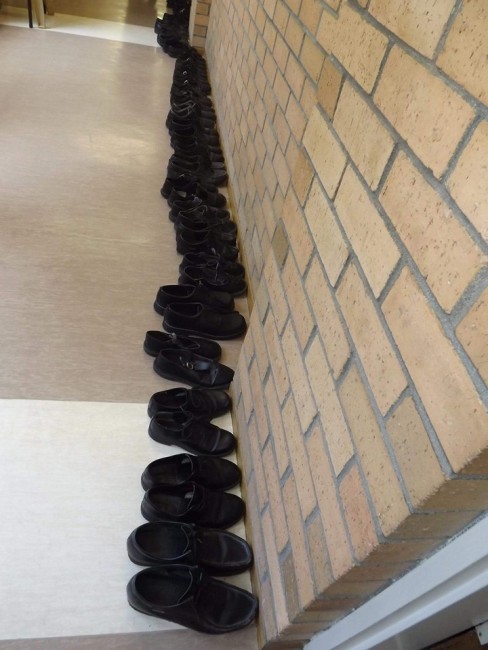 "This is my daughters school yesterday – Westville Girls High School in Durban," wrote Tracy Rixon Bedford, "their shoes are being given to a community project in the Valley of 1000 Hills".
"This is the SA I know and love," wrote Olga Maluleke.
Tumelo Flowi Mokganya of Hoerskool Frans Du Toit in Phalaborwa said: "We started in 2012 as we wrote the last paper in casual (clothes) and left our school uniform and shoes behind to give to the less fortunate. It really felt good."
A little while after the first picture was posted, Sherri Bell wrote that the passageway at the Fish Hoek High School kept getting more crowded with shoes.
"Each day the rows of school shoes grow and grow. Our SRC will donate the shoes to a school in Khayelitsha next week in memory of Amy Doyle, a child who started the initiative before her passing 6 years ago. Go Fish Hoek High School."
Lori Bentley suggested people go even further, writing, "HeronBridge College (at Fourways) matrics donate their shoes and textbooks – anyone for a game of oneupmanship?"
One person recalled her husband telling her that he had his school shoes donated by others in Glasgow, Scotland, 65 years ago because his family couldn't afford them.