High tea – that sumptuous invention credited to the Duchess of Bedford to quell the pangs of hunger between lunch and dinner – is still part of the culture at a range of hotels in Cape Town. So settle back and raise your pinkie as you enjoy the savoury and sweet treats found at some of the best high tea spreads around.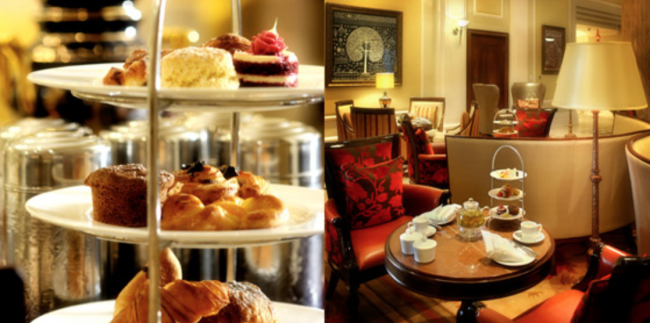 The Taj Hotel
Best for: chocolate, chocolate, and more chocolate
If you're a chocoholic, the Taj Hotel is the place to go. Everything is chocolate. From chocolate éclairs, to chocolate-chip scones, and even chocolate tea, this afternoon tea will satisfy your chocolate cravings for months. The Taj Hotel is housed in what once was the austere setting of the Board of Executors and Reserve Bank. High tea is served in the hotel's lounge, which was once the banking hall of the Reserve Bank, complete with original columns. The high-ceilinged room basks in sun-bathed reds and golds, and along with comfortable seating, this makes for the perfect chocolate-coated afternoon tea.
Time: 2pm-5pm
Price: R195pp
The Twelve Apostles
Best for: tea by the sea
Making full use of Cape Town's fantastic spread of seas, The Twelve Apostles offers a spread of its own against the marvellous back drop of the Atlantic Ocean. In the luxurious Leopard Bar, guests can enjoy a full range of treats sprawled amongst the comfortable couches indoors, or on the veranda overlooking the ocean. Guests can order a delectable array of dainty titbits such as finger sandwiches, scones, and pastries, as well as a range of creative sweets that change every day, such as orange-scented cupcakes or chocolate-filled red macaroons. On a Saturday, the high tea buffet is also available where guests can indulge in a wide range of savouries and sweets.
Time: 10am-4pm
Price: R430 for tea stand for two; R215pp for buffet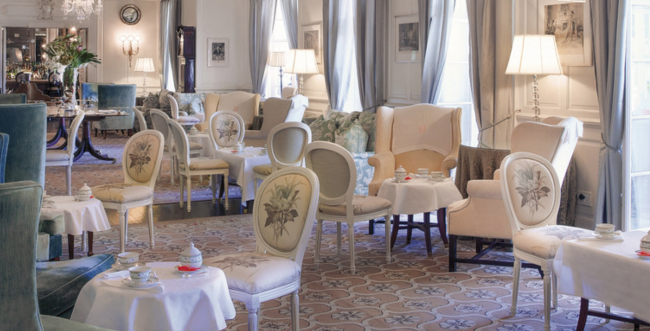 The Mount Nelson
Best for: utter luxury and flourishing finishes
To complete a list of places to get high tea (see the main picture for proof!), one would without a doubt have to include the Mount Nelson. Stepping into the Mount Nelson feels like entering the chambers of Marie Antoinette. Luscious drapes and intricate wall decorations create an atmosphere of luxury. This is a world where it's perfectly accepted to eat more than two slices of freshly baked cheesecake. Whether you choose to sit inside on comfortable armchairs, outside on the terrace, or daintily seated on the grass, the experience is truly luxurious. A vast choice of teas is presented first, as well as stands of finger sandwiches and other savoury eats. Once you've licked the last drip of cream cheese off your finger, a buffet table of cakes and other sweet treats magically appears. Even though you will be rolling out of there, stuffed with all sorts of delicacies, there is no better way to eat cake.
Time: 1.30pm-5.30pm
Price: R295pp
Table Bay Hotel
Best for: tea pairing, and a view of Table Mountain
The Table Bay Hotel does something exceptional by pairing teas for every course. While gazing out over the Cape Town harbour towards Table Mountain, with your ears being softly soothed by the sounds of a grand piano, you are served three courses of a delicious afternoon tea. The first course starts with light-bodied teas and savoury quiches that melt onto the palate. The second course focuses on a classic English high-tea, complete with freshly-baked scones accompanied by clotted cream, lemon curd, and a vast array of jams. This is coupled with English Breakfast tea, and Good Hope teas. Lastly, the palate is bombarded with rich and decadent desserts, such as chocolate truffle tart, white chocolate gateau, and fruit salsa, offset by the Bain de Roses black tea blend or Rooibos.
Time: 2.30pm-5.30pm
Price: R185pp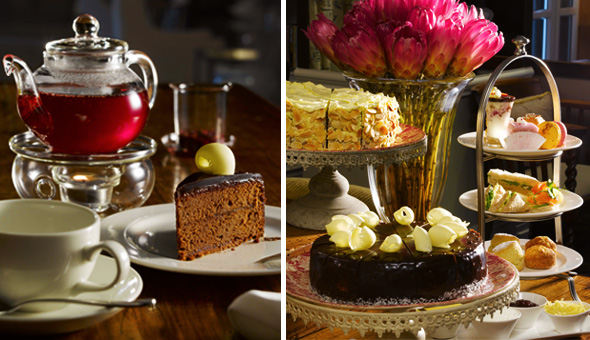 Cape Grace
Best for: perfectly brewed tea and a variety of high-tea options
The Cape Grace Hotel in the Waterfront caters to all types of high tea enjoyers with a variety of options. Guests can enjoy just tea and scones, or they can add on more savouries, more sweets, or even some champagne. Even if you aren't that hungry at all but want to experience some of the high tea atmosphere, a single slice of cake is available on the menu. The decor is stunning, the views magnificent and the atmosphere relaxed, helped along the sound of seals playing in the harbour.
Time: 12pm-6pm
Price: R75pp for Cream Tea, R185pp for Afternoon Tea, R255 for Deluxe Afternoon Tea
And if you haven't had enough, don't forget…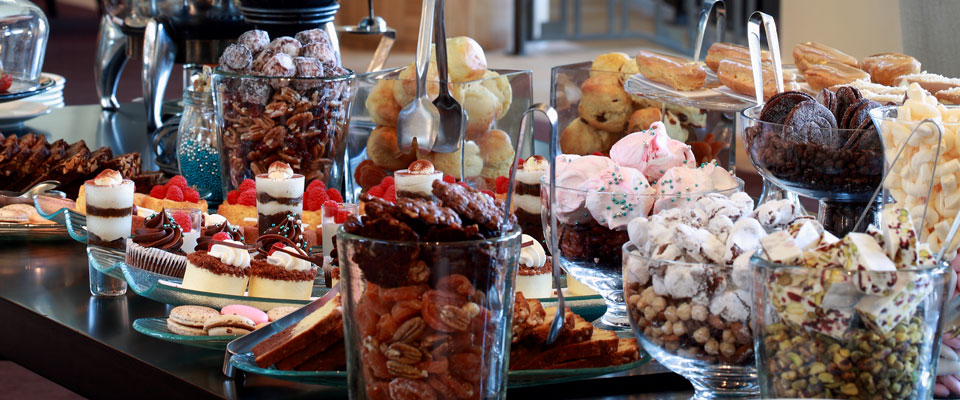 The One&Only
The hotel's Afternoon Tea features a rich selection of teas and coffees, and some carefully selected "sweet pleasures". The confectionery includes chocolate delice, baked vanilla bean cheese cake, caramel and gold leaf éclairs, tea loaf and macaroons, and that's only to start with.
Time: 14.30pm-17.30pm
Price: R215pp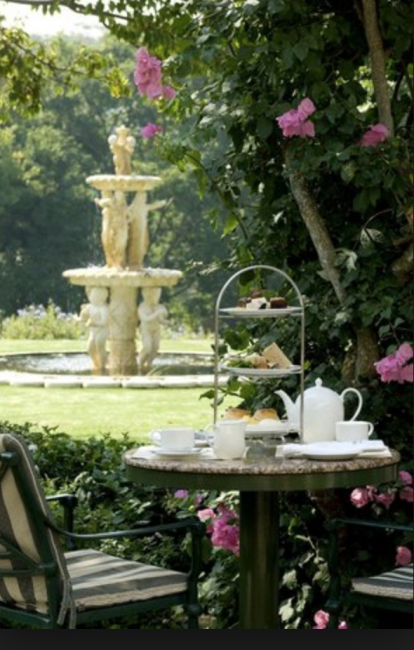 The Vineyard
Lady Anne's (Barnard of the 18th century, that is) Afternoon Tea includes everything from samosas to cheesecake to gateaux to truffles, in a fabulous garden setting.
Time: 15.30pm-17.30pm
Price: R155 per stand
MannaBay
Quoting Charlie Brown creator Charles M Schultz, MannaBay says, "All you need is love. But a little chocolate now and then doesn't hurt." They've gone one extra and made a video (see below) of what's on offer at their high tea, which they claim is the best in Cape Town.
Time: 15.30pm-17.30pm
Price: R195pp, subject to availability
Catherine Franklin is an Honours graduate from UCT, and is currently working her way towards her dream job of being a journalist. Much of her writing has been published on her blog catchingcapetown.