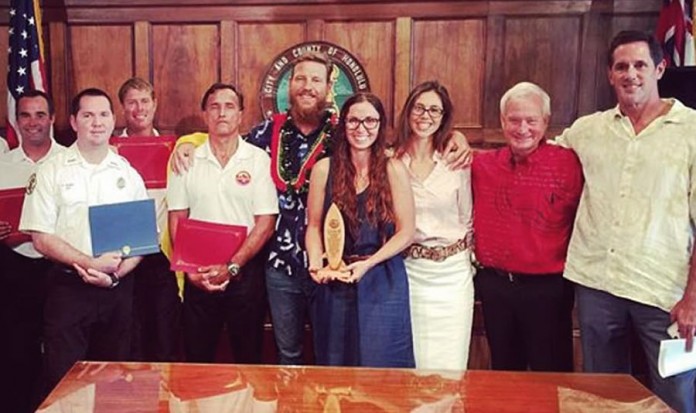 South African professional bodyboarding champion Andre Botha was honoured last night in the Hawaiian city of Honolulu for his recent rescue of a surfer who would almost certainly have otherwise drowned.
In a facebook post, Honolulu mayor Kirk Caldwell said he and the Honolulu Emergency Services Department yesterday honoured Andre "for his heroic efforts that resulted in a life saved."
After watching American surfer Evan Geiselman wipe out on a huge wave at Banzai Pipeline – an area famous for its deadly waves – on 6 December, and then not surface, the South African rushed to his help.
At the ceremony yesterday (see video below), Andre said: "I didn't have any concern whatsoever for myself at that moment. All my focus was on Evan…Time went by and he just wasn't coming up. My mind was thinking he was going to come up. Then something just kicked in at some point that I have to go help him."
His incredible efforts in surf of at least 12-15 foot high waves (20-25 foot in some reports) were captured on video, and the dramatic footage went viral.
At yesterday's event, the mayor said: "We all want to be heroes. I want to be a hero, but you don't know until you're faced with that very scary experience and you step up and you act and what do you do. Today we have a hero in our midst, and that's Andre Botha right here."
Andre uploaded a photo to instagram after the event (see below) and said: "Really special day, so honored to share it with all of these amazing people! Many thanks to Mayor Kirk Caldwell, @northshorelifeguardassociation, the EMTs, the paramedics, the Coast Guard and my family for being there! Lots of love right here in this photo!"
The mayor said "Botha kept an unconscious Geiselman above water, providing him mouth-to-mouth resuscitation until Ocean Safety lifeguards and fellow surfers brought him to shore." An off-duty city paramedic assisted in the medical treatment of Evan, who swallowed large amounts of salt water and suffered a head injury prior to Emergency Medical Service's arrival. A handful of First Responders were celebrated along with Andre at the event.
Evan has since been discharged from the local Hawaiian hospital and has returned to mainland USA. He sent a letter of  thanks to Andre who says the two remain close friends.
Watch Video: Bodyboarder honoured in Hawaii for saving surfer
Honolulu, Hawaii News and Weather – KITV Channel 4
Watch Video: South African Andre Botha rescues US surfer at Pipeline
Andre Botha honoured in Hawaii:
Bodyboarding in action: