Award-winning American photographer Stephen Wilkes has captured an awesome composition of a watering hole he photographed – from day to night – in the Serengeti National Park in Tanzania.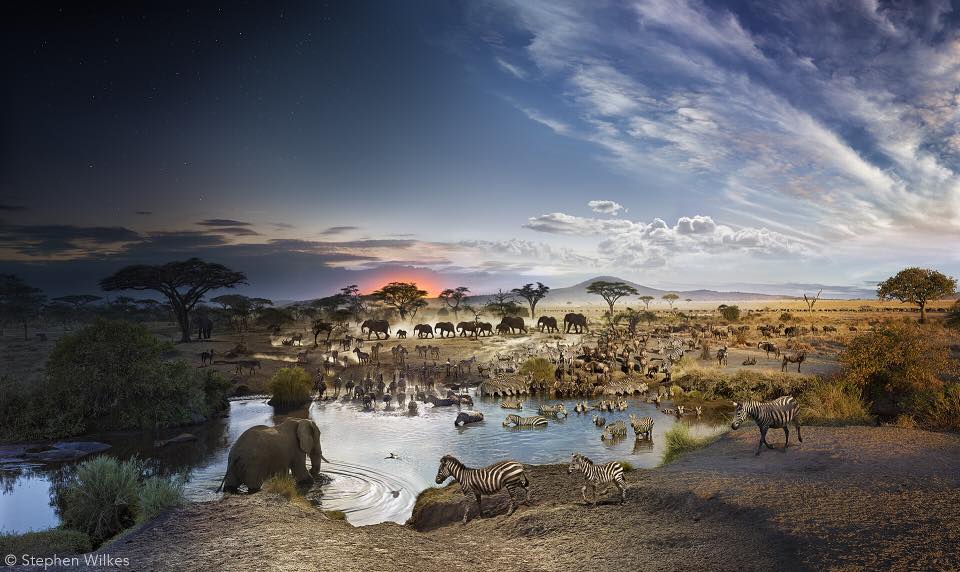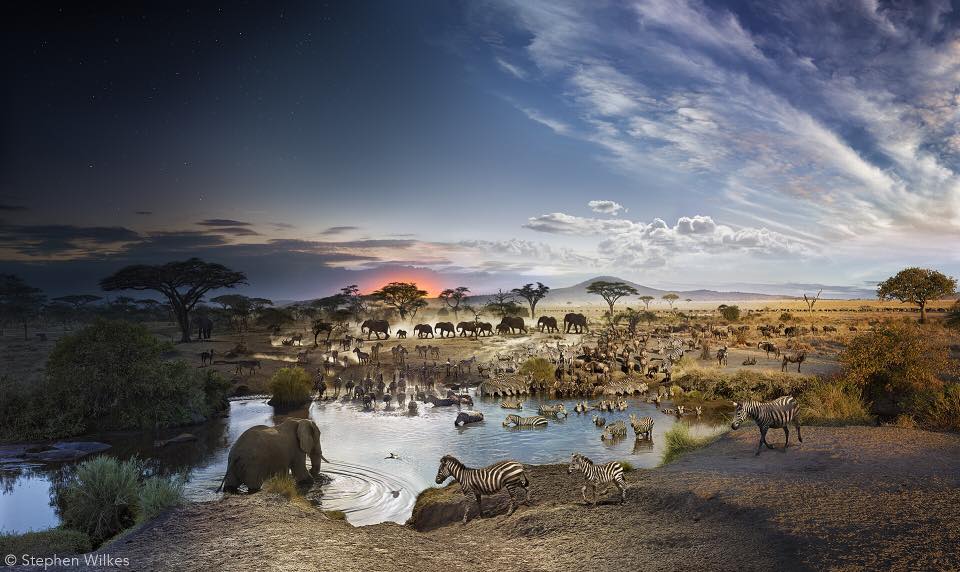 Wilkes – who has produced similar compositions in Washington, Paris, London, Dubai and more – flew into Africa last year for his most ambitious 'Day to Night' project ever…right in the middle of an unprecedented drought.
He and his two assistants hid behind a crocodile blind for 27 consecutive hours to capture what he describes as "these incredible species coming together to share this one sacred resource".
Wilkes says that over the course of watching them, he was moved by the peacefulness and "sense of community", as if the watering hole was the animals' "safe zone".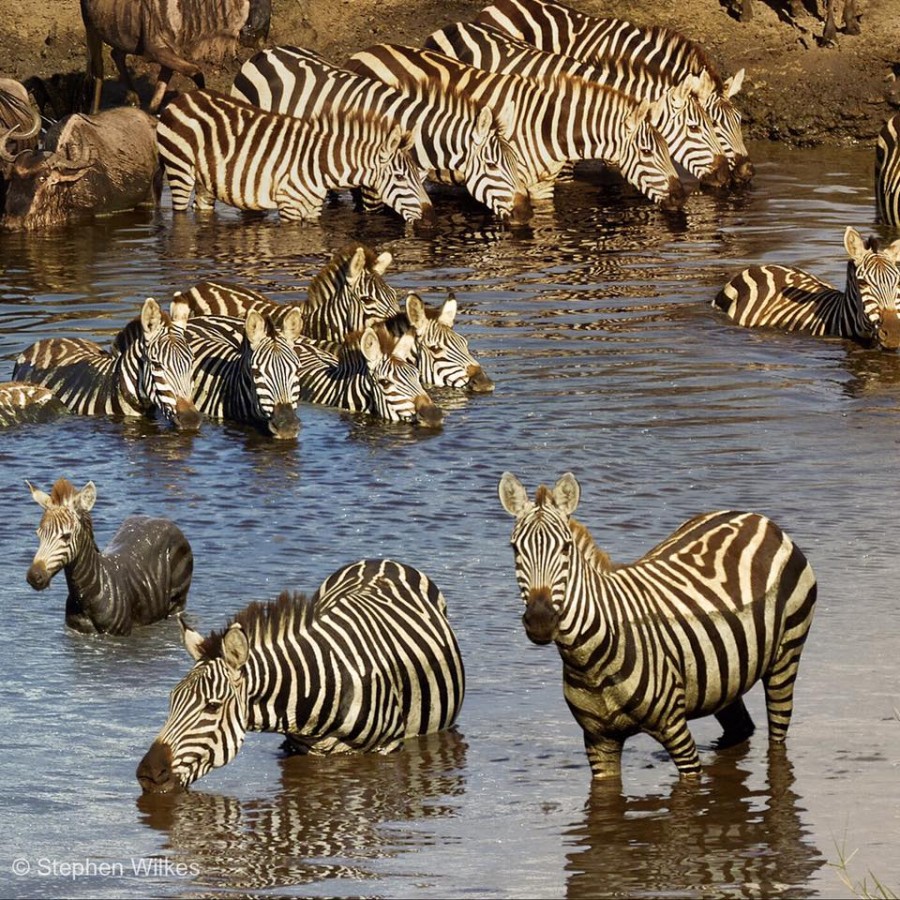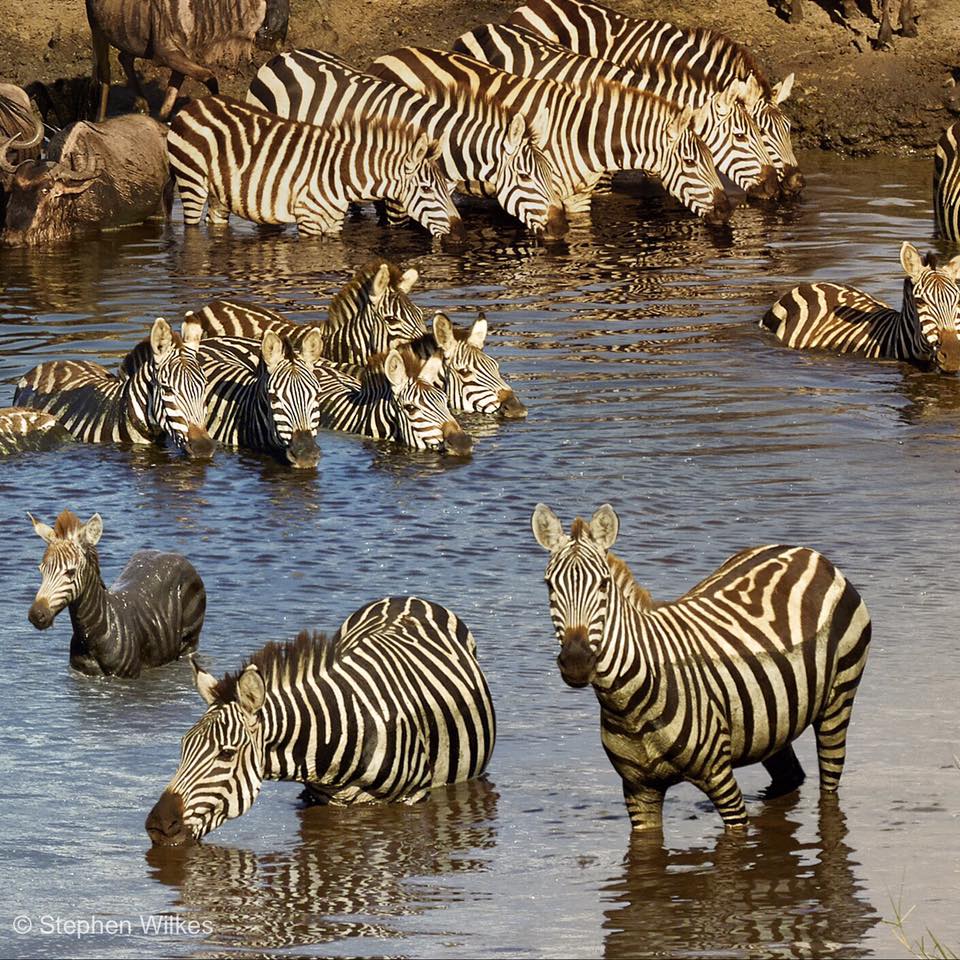 Unlike people who Wilkes usually photographs, animals aren't as predictable…and the drought meant migration patterns were even more unpredictable than usual, so he had to rely on more than just a little luck.
"After weeks of scouting locations, I discovered a large watering hole. It was incredible luck – elephants, zebras, wildebeest, [mongoose], hippos, they all flocked to the water, peacefully gathering to share this one precious resource."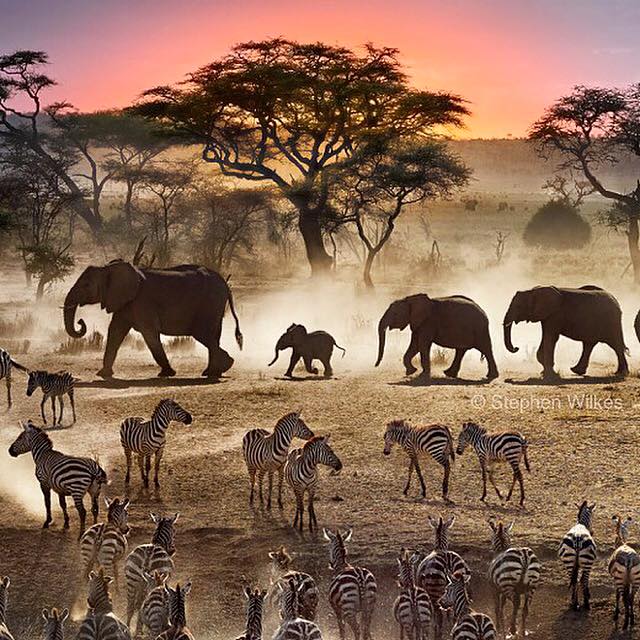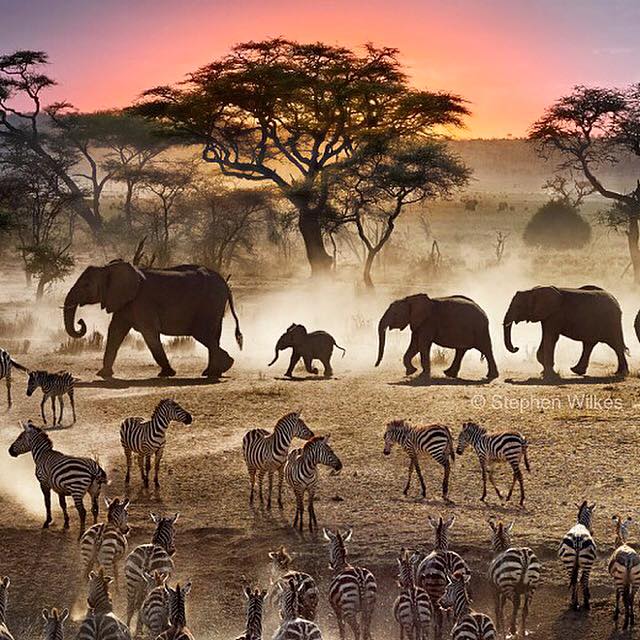 Halfway through the shoot, Wilkes paused to backup his files, and only minutes after resuming shooting, a family of elephants marched directly through the frame.
"Moments earlier and we would have missed one of my favorite parts of the image. I am still in awe of our incredible luck, and the beauty I witnessed in those 30 hours of shooting."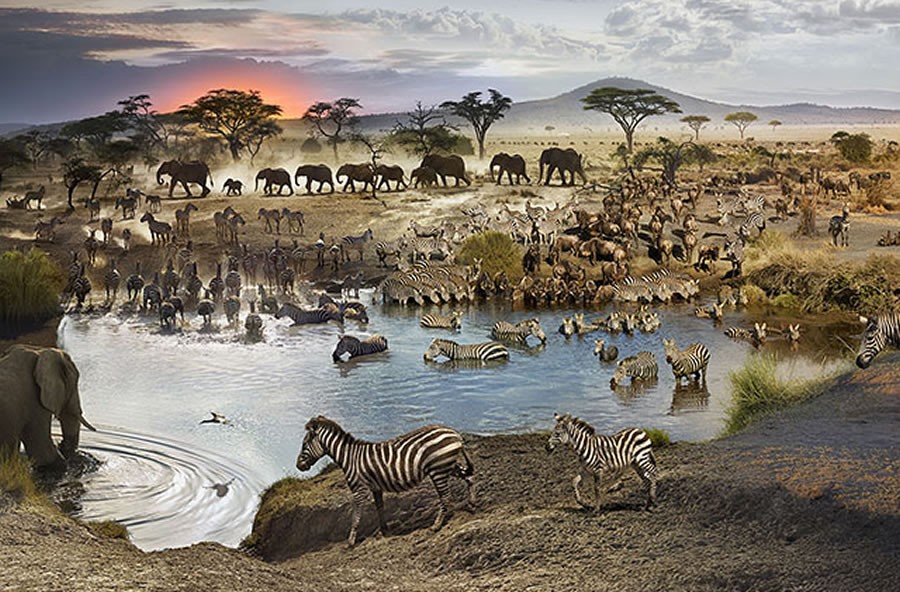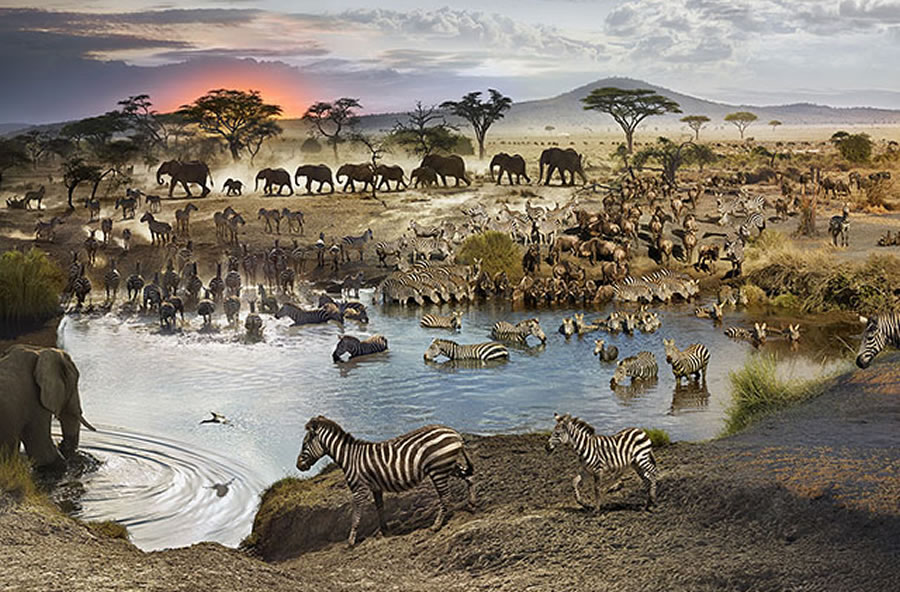 Each image in Wilkes' 'Day to Night' series is composed of approximately 1,500 frames taken manually over a period of between 16 to 30 hours.
Wilkes said what amazed him most about the Serengeti was the diversity – "a 500 pound Wildebeest wandering next to a family of [Mongoose], both equally reliant on the watering hole that they all traveled to find. No matter their size, whether carnivore, herbivore, young, or old, they all relied on this one pool of water—none more deserving than the next.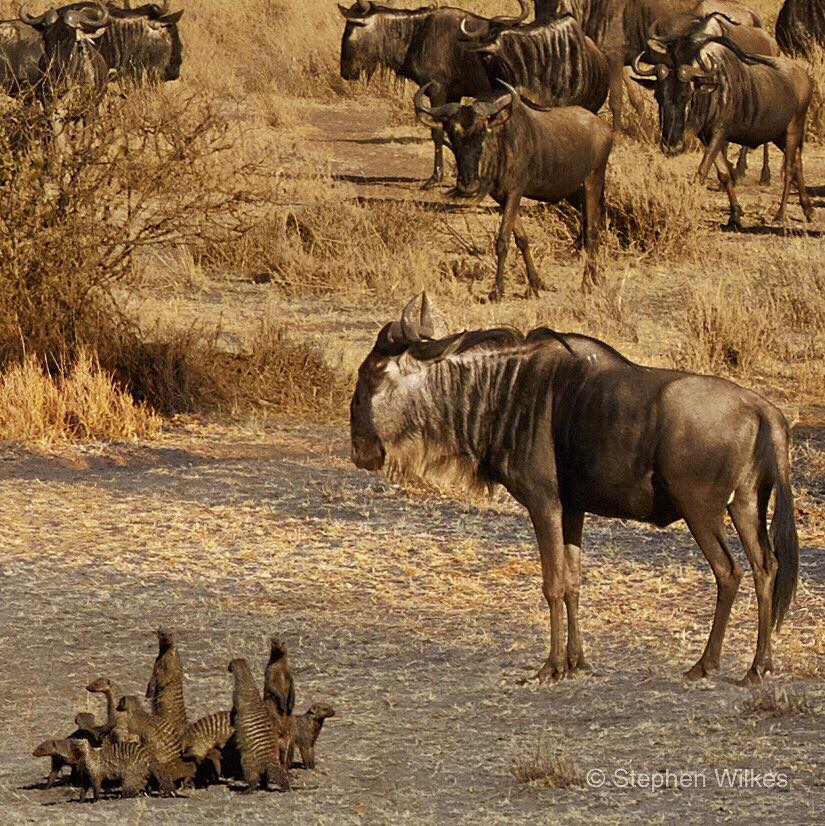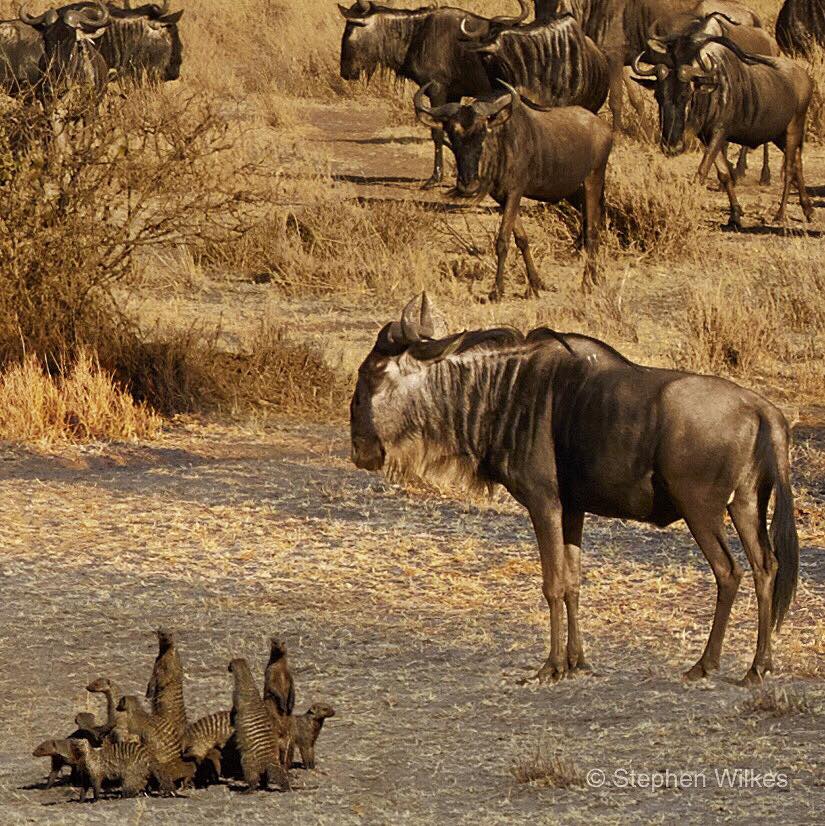 "And the most incredible thing was that they seemed to be innately aware of this fact, perhaps even more so than man…"
MORE
Wilkes' photographs and the process behind the shooting of Day to Night are featured in the latest National Geographic – view online here.
Visit Stephen Wilkes' facebook page here.
View Stephen Wilkes's "Day to Night" series.