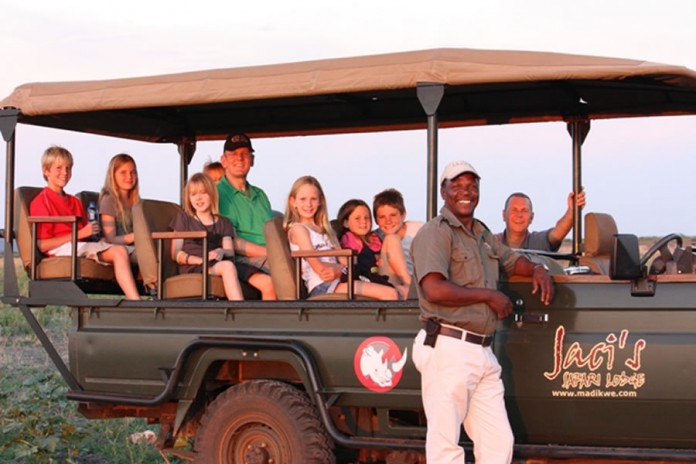 Even though the news from South Africa these past months has been alarming – the Rand having fallen to record lows, unemployment as high as ever, and the worst drought in years gripping the land – there is a silver lining: 2016 will possibly be the best year ever to travel to the country if you're a South African expat who wants to head home for a holiday, or if you've never visited and want to experience the wonders South Africa has to offer.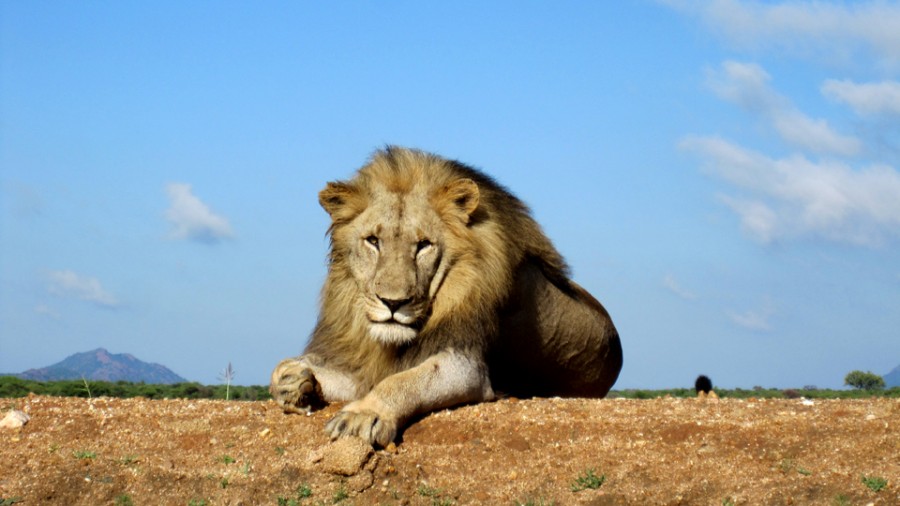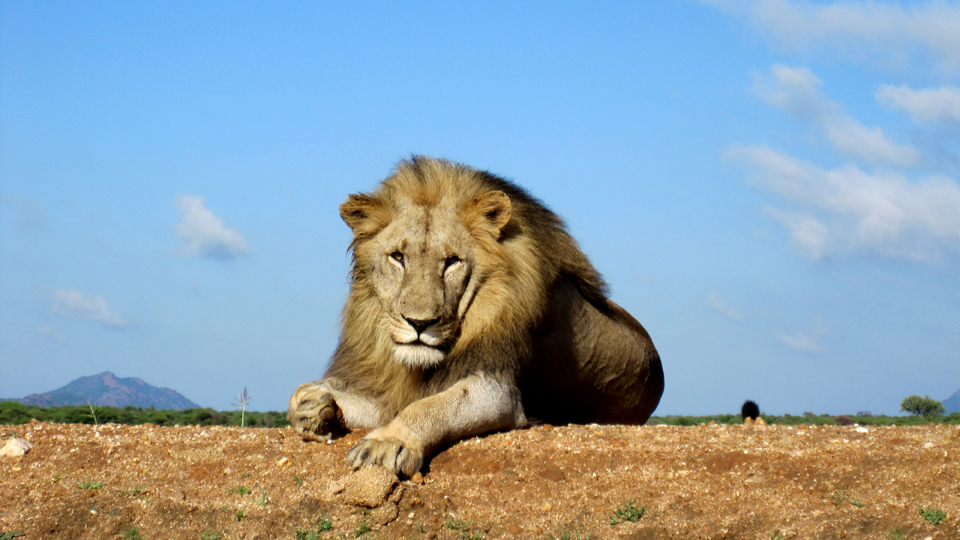 As an American, Asian, Australian or European tourist, your travel package will be as affordable as never before, and if you don't take the opportunity now to visit one of the greatest tourist destinations on Earth, then when?
The list of awe-inspiring places in South Africa is long. My favourites are Cape Town, the Blyde River Canyon, and – having lived there, I'm biased – all of Johannesburg.
The most awe-inspiring experience of all, however, has got to be your first African safari. Go on one, and you won't ever want to leave.
The Big Five are great, but there is so much more to love…
You'll have heard of the Big Five, of course: Cape buffalo, lion, leopard, rhino, and elephant.
And yes, you'll get plenty of opportunities to see those. Well, almost – the leopard is the most elusive of all, and some people spend years before they get one in front of their lens. Chasing the leopard is one of the reasons many travellers book their next trip just after the last one finishes!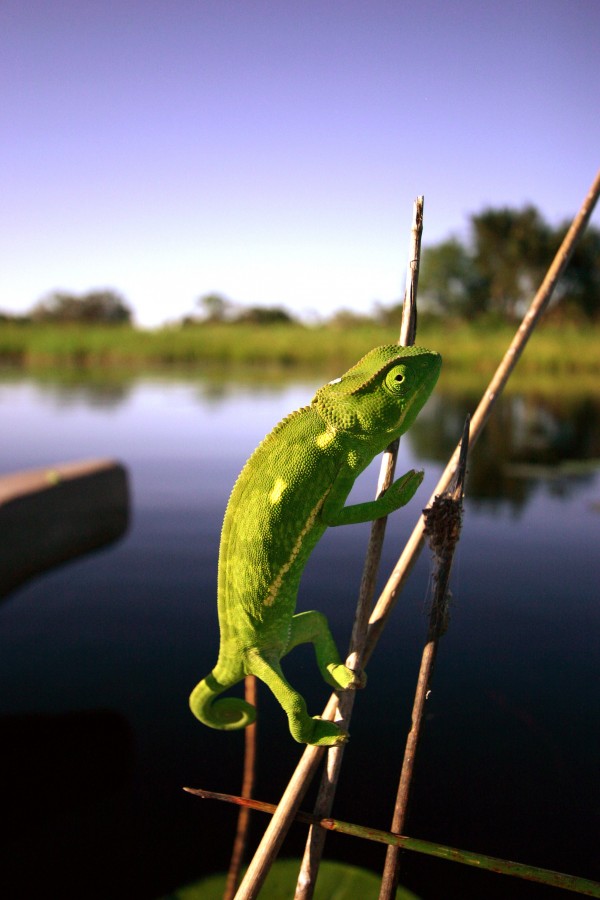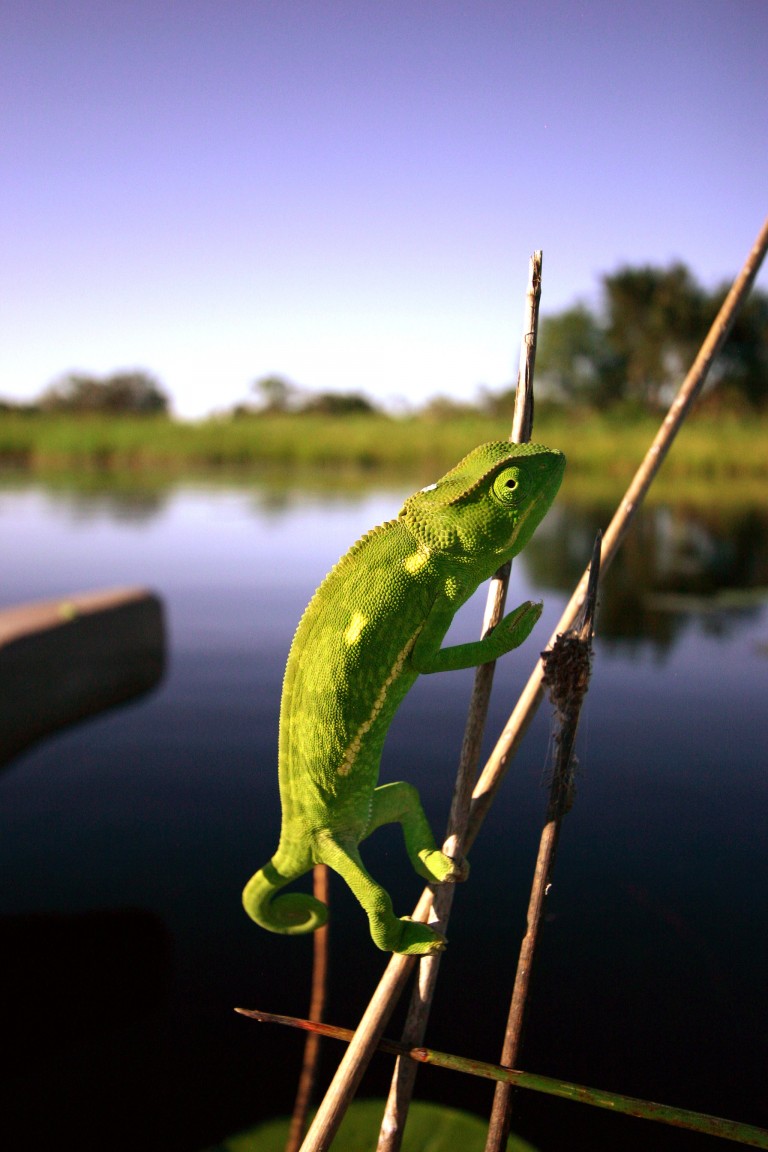 But as majestic as the Big Five are, my fondest memories of our family excursions into the African bush are of witnessing the not-so-obvious, the little wonders of nature that aren't advertised on the tourism websites.
The time we spent a good 45 minutes watching a pair of dung beetles roll their ball of precious elephant dung, he pushing it with all his might, she along for the ride; the time we crossed an arm of the Okavango in a mokoro, a dugout canoe used in those parts since time immemorial, and came across a chameleon clinging to a reed mid-stream, checkered brown and green in a perfect pattern to match the papyrus grass…
Or the unforgettably ominous mood when over a hundred vultures sat waiting on the branches of a dead tree, dark silhouettes against the lightening-streaked sky, patiently waiting for the hyenas to leave the carcass of a giraffe to them; or the time we watched as baboons trotted into a river, one watchful eye on approaching crocodiles, to pluck off water lilies one by one and suck out their sweet nectar.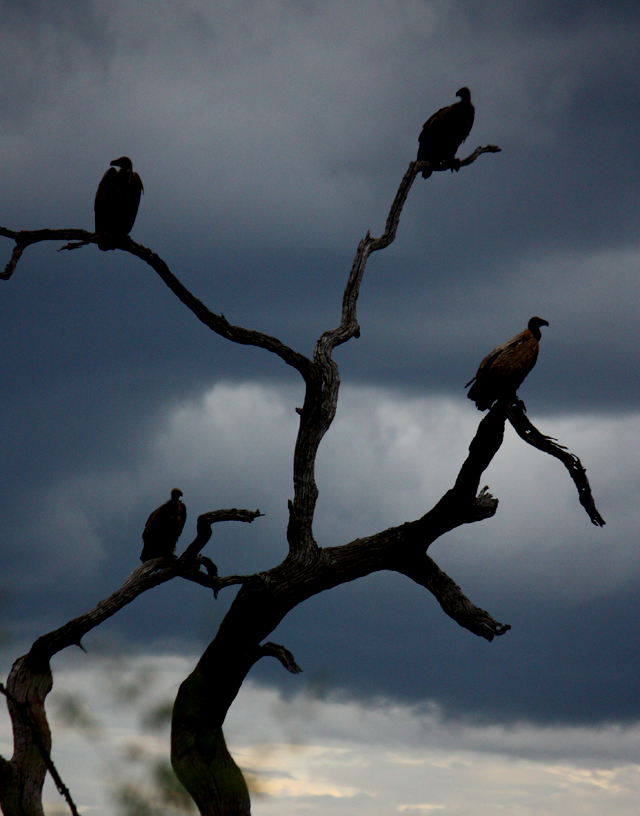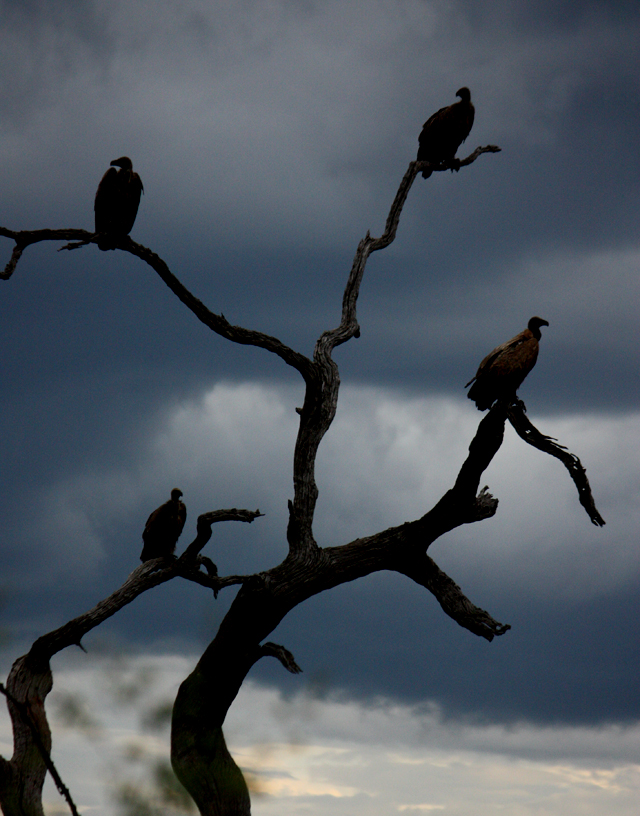 I've learned that it's not about chasing the Big Five, checklist in hand.
It's as much about the experience of breathing in the smells of the bush; it's about sitting absolutely still while a giraffe munches on a tree right next to you…hidden from view, and it's about being woken each morning by a cacophony of birdsong.
But where should you go on your South African safari?
I remember how mind-boggling it was to select our first safari destination. The choices! And where would we see the Big Five? Was malaria a concern?
After three years of expat life in Africa, I've gathered some answers to these questions, and more. The following should give you an idea of where to look.
Budget? Malaria? Child-friendly? How to narrow down your choices
Where you go on safari will in part depend on your budget.
On the high end are the luxury lodges where you are pampered with three gourmet meals a day, plus breakfasts and sundowners in the bush, plus twice-a-day game drives with knowledgeable guides.
It's an unforgettable experience and if at all possible, you should do it at least once in your life, even if just for two nights.
On the other end of the spectrum are self-drive safaris, something the venerable Kruger Park is perfect for, as well as Pilanesberg (a Big Five game reserve which is much smaller and closer to Johannesburg, so a very affordable option).
Self-drive has its own charm and virtues. Camping in the Africa bush and sleeping in tents so close to the wildlife around you is just as much an unforgettable experience as a luxury lodge.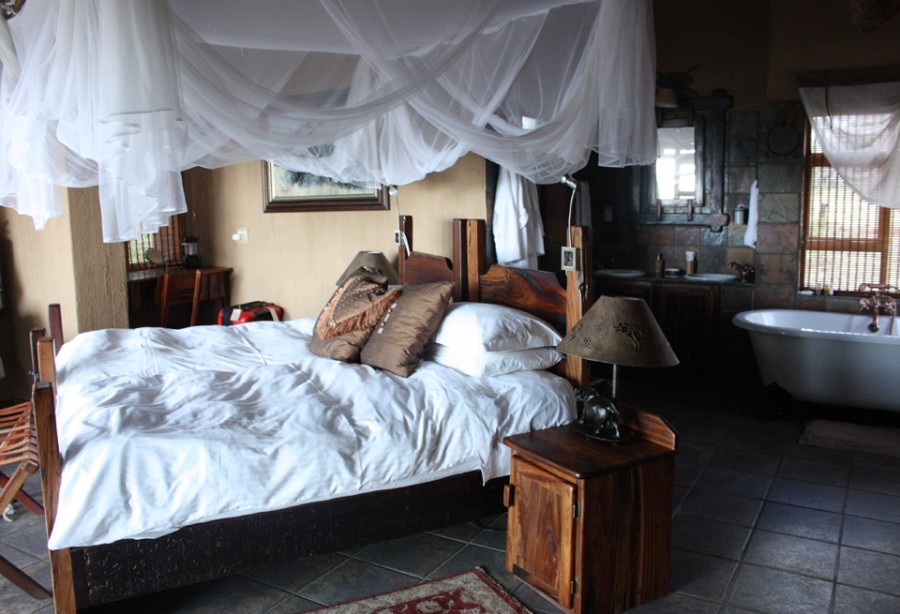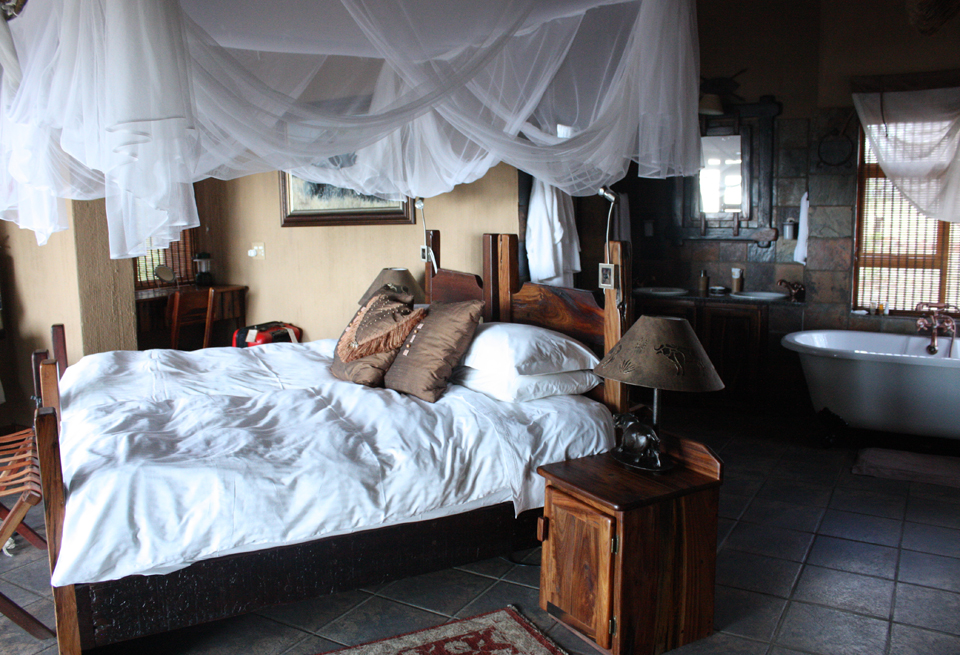 A few tips:
Some lodges don't allow smaller children, whereas others specifically cater to children, so make sure you carefully review their policy if you travel as a family.
If you want to see the Big Five – Madikwe, Welgevonden, and the Kruger Park (or private reserves adjacent to it such as Timbavati, Klaserie, or Sabi Sands) are all good options.
Another consideration is malaria – Madikwe and Welgevonden are malaria-free year-round whereas in and around the Kruger it is recommended you take malaria pills anytime except the winter months (June/July). Yet there is something special about Kruger Park having to do with its history and stunning landscapes that will make you want to go there sooner or later.
Here are three game reserves we've grown fond of during our years in South Africa:
Madikwe Game Reserve
In my mind, Madikwe – located about three and a half hours from Johannesburg in the Northwest Province very close to the Botswana border – is the best of the South African game reserves.
If you only have one opportunity to see South Africa's wildlife, this is the place you should go. It's malaria free, it's one of the best places to find wild dogs, a highly endangered and fascinating species, and it only allows for up to three vehicles at any one game viewing, making sure there is no overcrowding.
We have stayed in three different game lodges in Madikwe, all at different times of year, and each one was as spectacular as the last.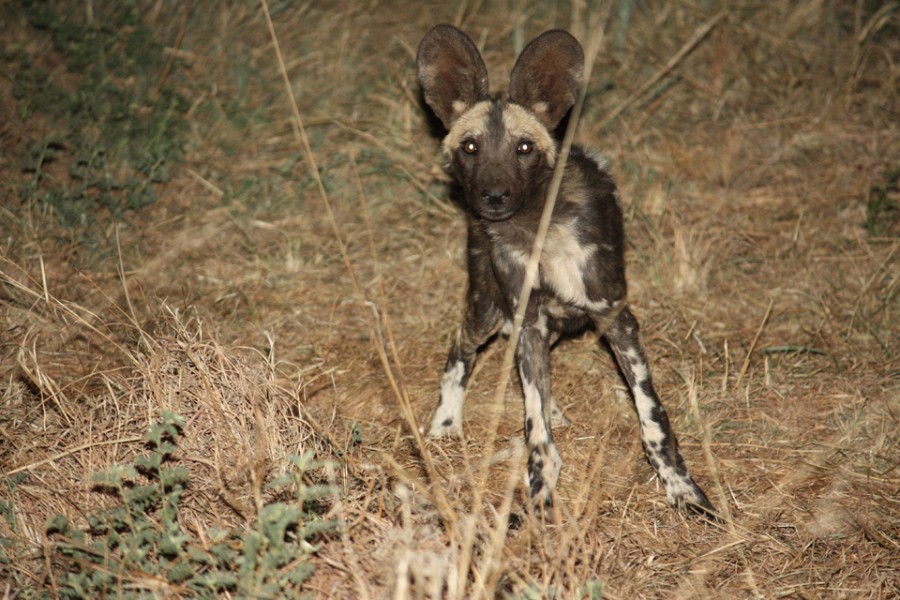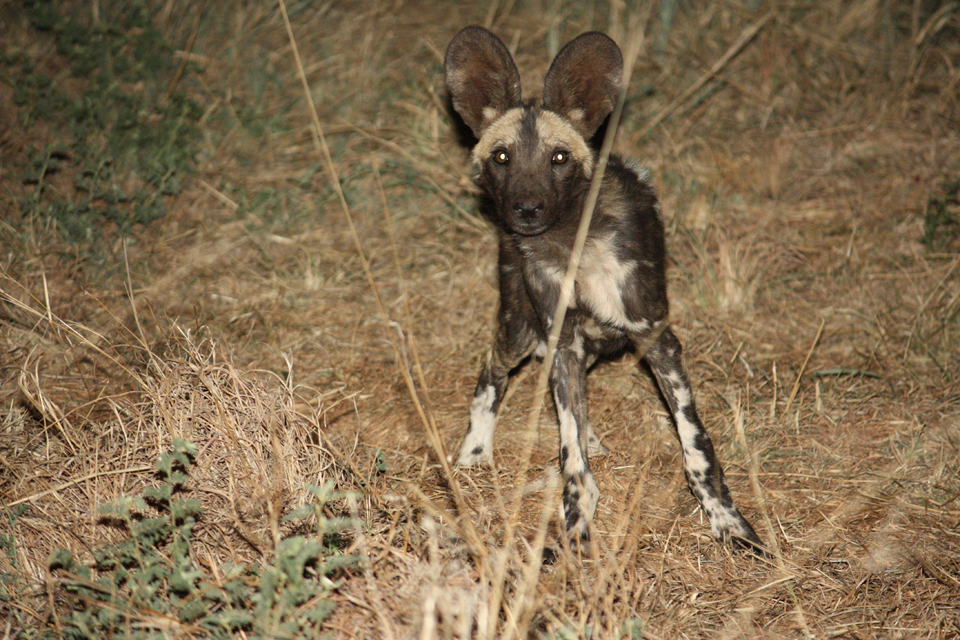 Mosetlha Bush Camp (12 years and up) was perhaps the most memorable of all, a true eco lodge using minimal resources and still providing a luxury experience.
I will never forget having to carry a bucket of hot water from the "donkey boiler" to the shower, haul it up to the ceiling, and make sure I finished washing in the allotted five minutes. (Oh how I wish I had one of those teenage-proof water-saving methods at my disposal at our house!).
If you can make something as mundane as a daily shower an adventure, you have yourself a memorable vacation.
This was also my first photo safari, with Jonny, our guide, an excellent photographer himself who'd unfailingly find the best angle and light when approaching each sighting.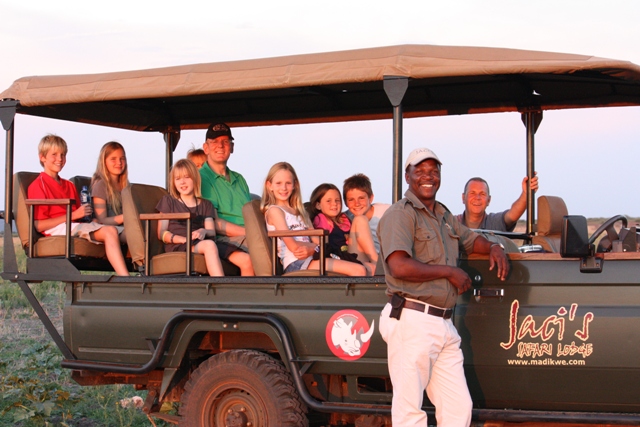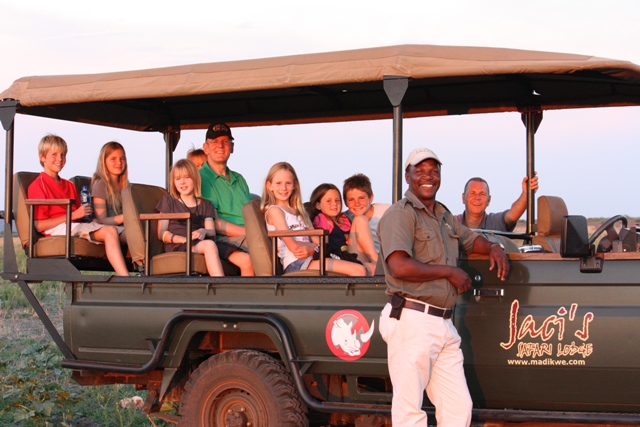 Jaci's Tree Lodge is excellent for families with children. There is a round-the-clock activity programme for kids, staggered dinner times so that the adults can enjoy their gourmet meals in peace, and a secluded hideaway to view elephants frolicking at the waterhole.
Our kids spent hours and hours at the natural-looking pool in between game drives while I whiled away those hours photographing weaver birds building their nests in the overhanging trees. In Pursuit of the Buffalo is a story that will best highlight a typical family safari experience in Madikwe.
Tau Game Lodge is a bit bigger and more commercialized than your typical lodge, so allows for a little less privacy, but nevertheless some of our best game viewings occurred there.
True to its name (Tau means lion in Tswana and Sotho) we spent an entire morning in the company of two male lions walking next to our truck and then posing like the true kings of the beasts on a ridge looking down on us with imperious gazes. And the elephant sightings at the lodge's own waterhole were magnificent.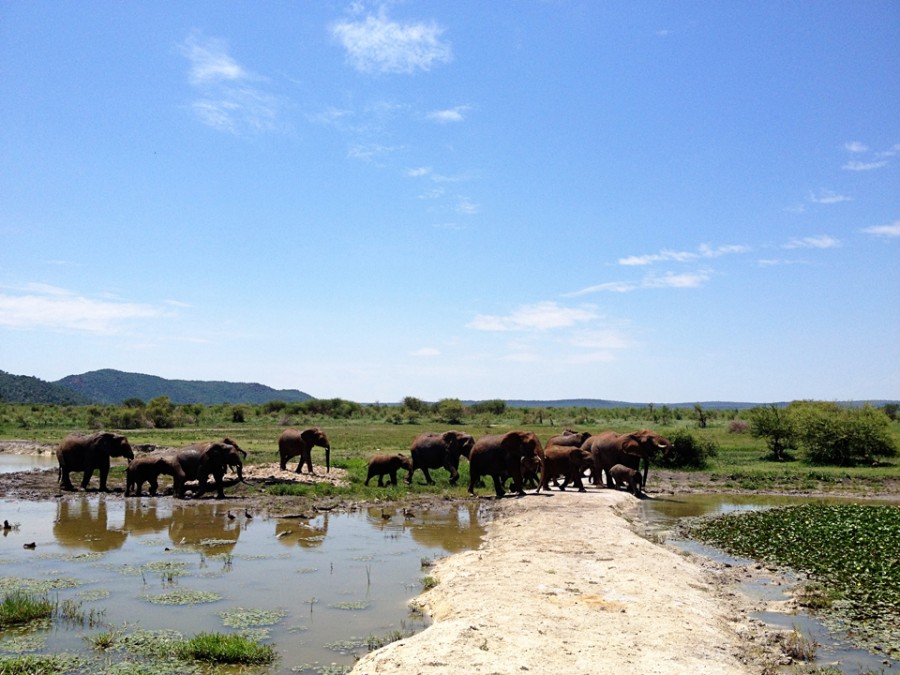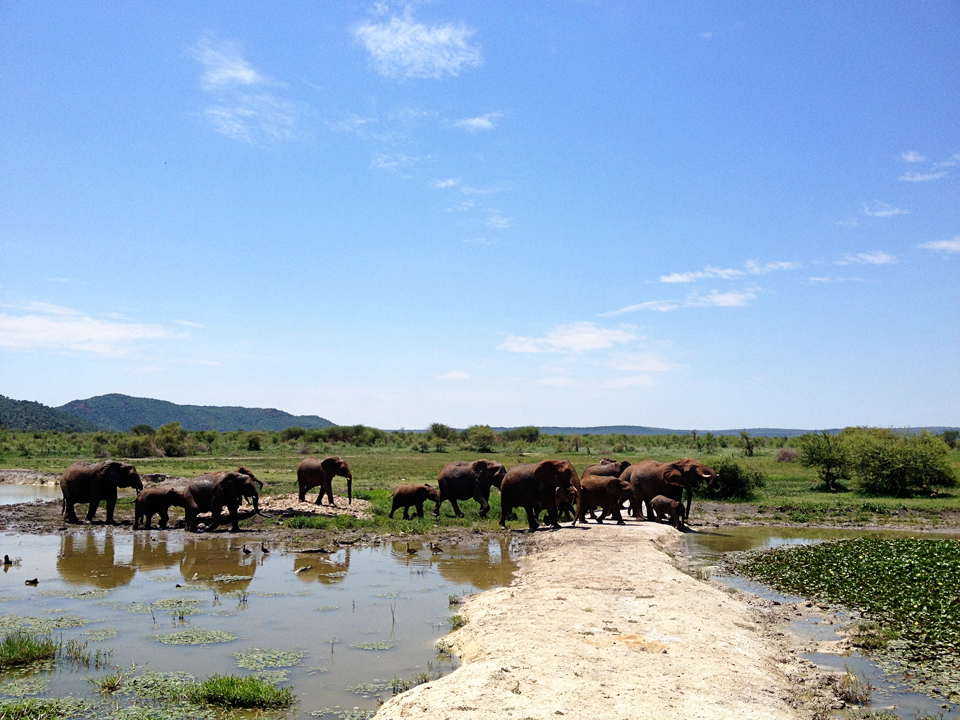 Welgevonden Game Reserve
Welgevonden, located in the beautiful Waterberg region, is even closer to Johannesburg than Madikwe, but lesser known and smaller. Nevertheless, it is malaria-free Big Five country all the same, with perhaps even more stunning scenery and more luxurious accommodations, though often less kid-friendly.
Jamila Lodge: My fondest memory of Jamila Lodge is of our guide, Justinus, telling us the legend of the Horn-Pod Tree. He was a masterful storyteller who knew how to entertain us on those bumpy long rides in pursuit of hard-to-find lion cubs.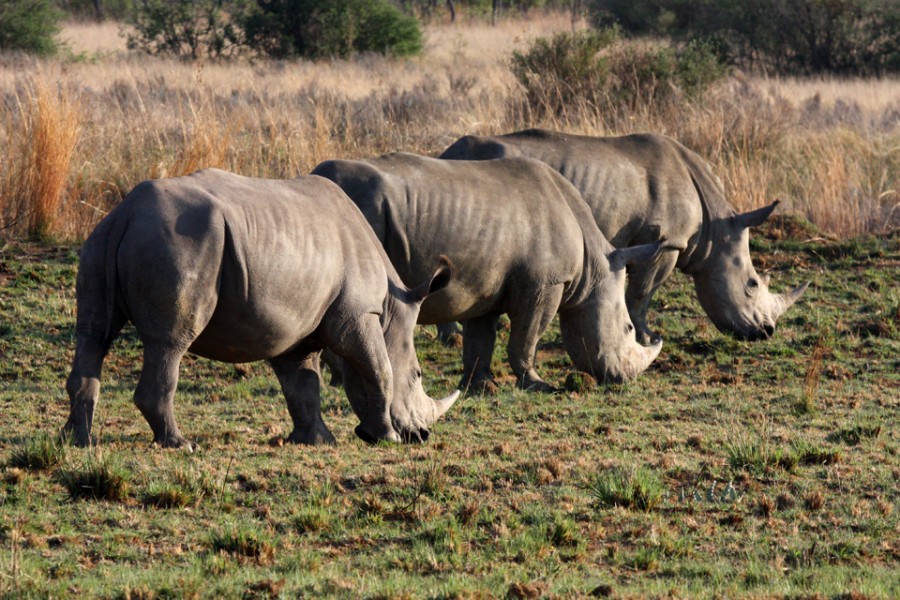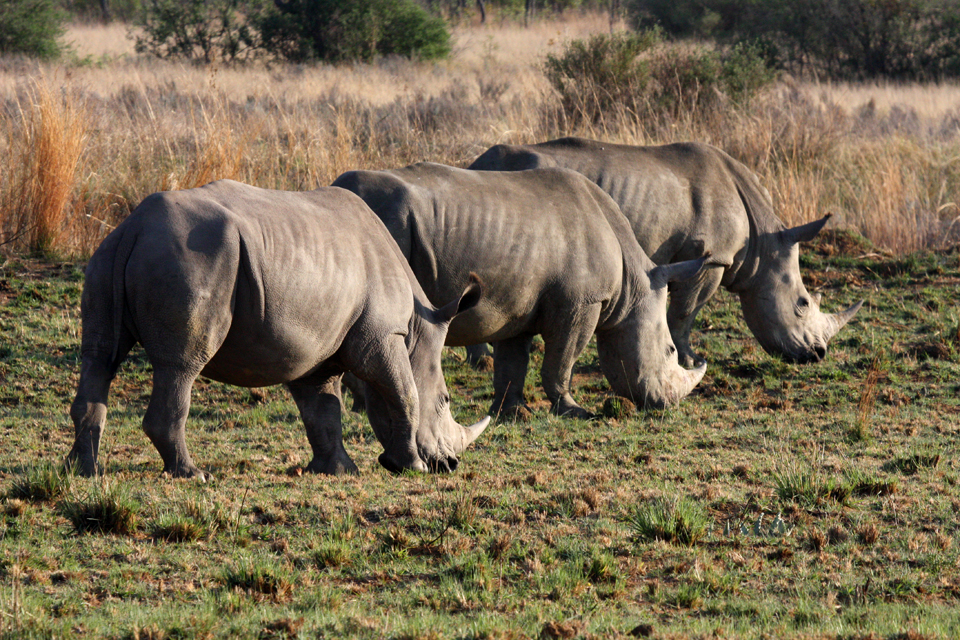 The photo opportunities were stunning – it is the only time I ever got to see three rhinos at once, all perfectly lined up as if posing for our cameras, and the memory of the elephant who was annoyed at us and walked straight up to our truck, ears flapping, sends slight shivers down my spine even now – but the stories we got to hear of Justinus' African childhood were the best part.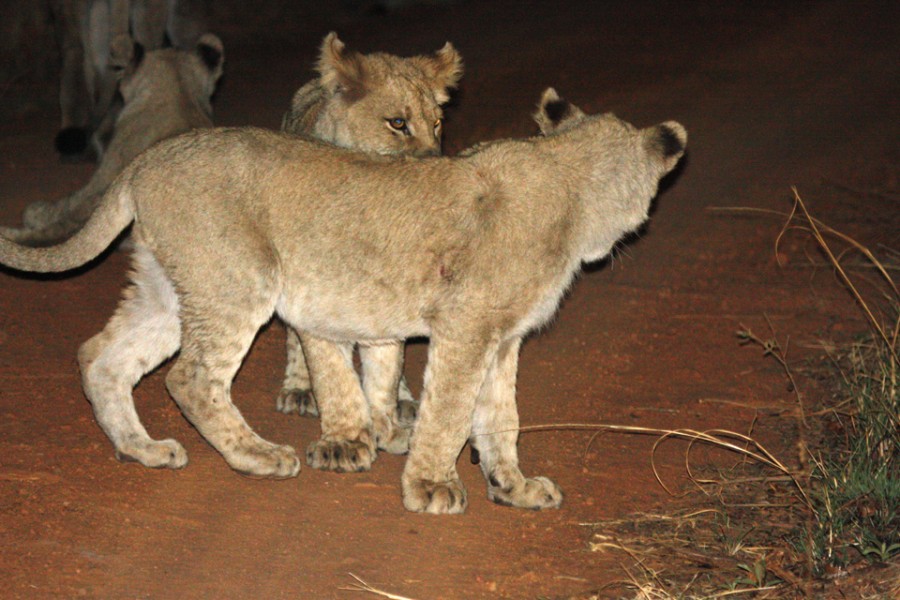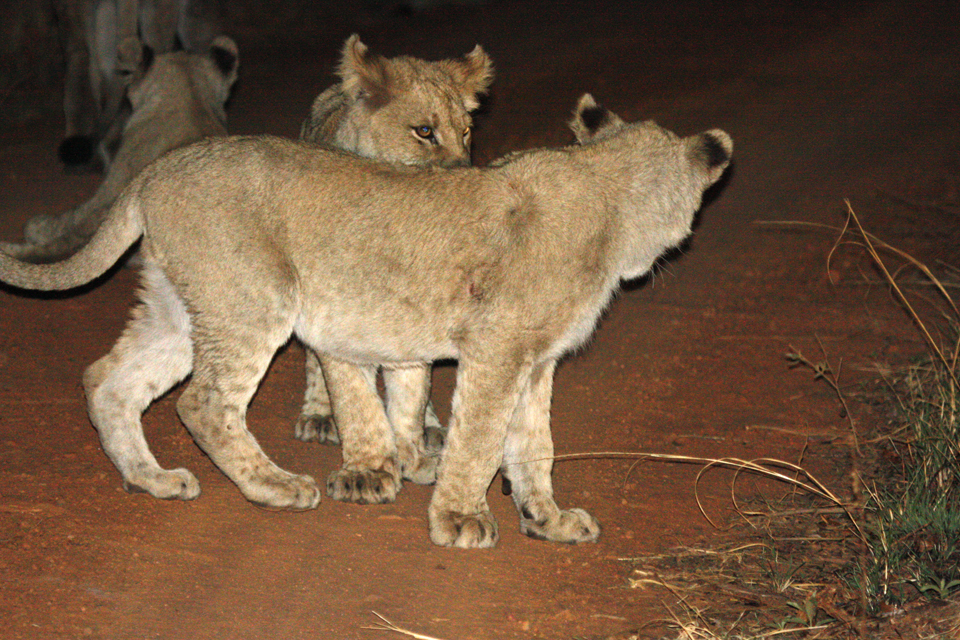 Yellow Wood Game Lodge, named for the gigantic and long-lived Yellowwood trees found there, is not in Welgevonden itself but also located in the Waterberg.
Even though it's not a Big Five lodge, and even though our stay there was most memorable for the unseasonal deluge of rain we experienced, it remains special for offering us our very first safari experience.
Most fondly we remember William, an incredibly experienced guide who had our kids follow him around and hang on his every word, and who also seemed to have an uncanny way to communicate with the camp's resident rhinos, seemingly summoning them whenever he wished.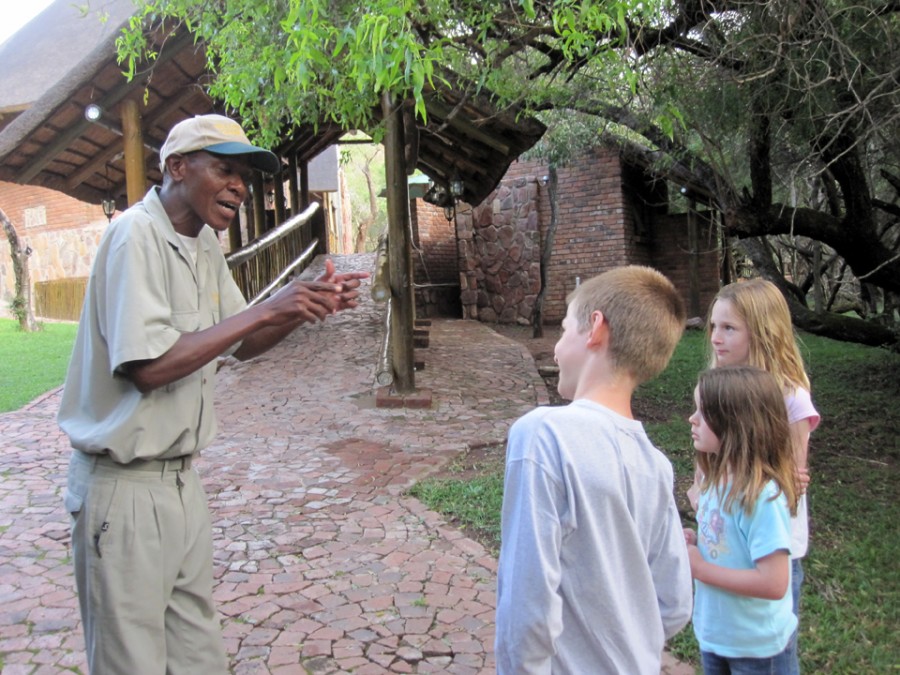 We spent long afternoons discovering the wonders of Rooibos tea, rusks, and Afrikaans rugby commentary on TV while waiting for the rain to subside, but when we finally got to see our first zebras, wildebeest, and giraffes, it was simply glorious.
A hike to an old forgotten cemetery and dips into the natural rock pool added even more mystique.
Klaserie Game Reserve
Another one of our unforgettable safari experiences was spotting our first leopard. Fittingly, this occurred close to Kruger Park, which is well-known for its many leopard sightings. We didn't enter Kruger Park itself, and it remains at the very top of our sightseeing list for our next visit.
The advantage of staying in one of the game reserves adjacent to Kruger Park is that you get to see the same animals (there are no fences around the park) without the crowds.
Kitara Camp was one of the most well-managed lodges we ever stayed at. Run by husband-and wife team Donovan and Lee-Anne Detert, Kitara was not just pure luxury, you could also tell that those two absolutely love what they do, from making sure every last detail was taken care of to sharing friendly sundowners at the bar. We have stayed friends with them ever since.
Our stay at Kitara was made even more unforgettable by the fact that just weeks after our stay the Klaserie River flooded its banks and swept the entire camp away. Such is the power of nature in Africa. We had been among the last guests to stay in the old camp.
It has since been rebuilt and is more beautiful than ever before, waiting for us to make our way there again one day.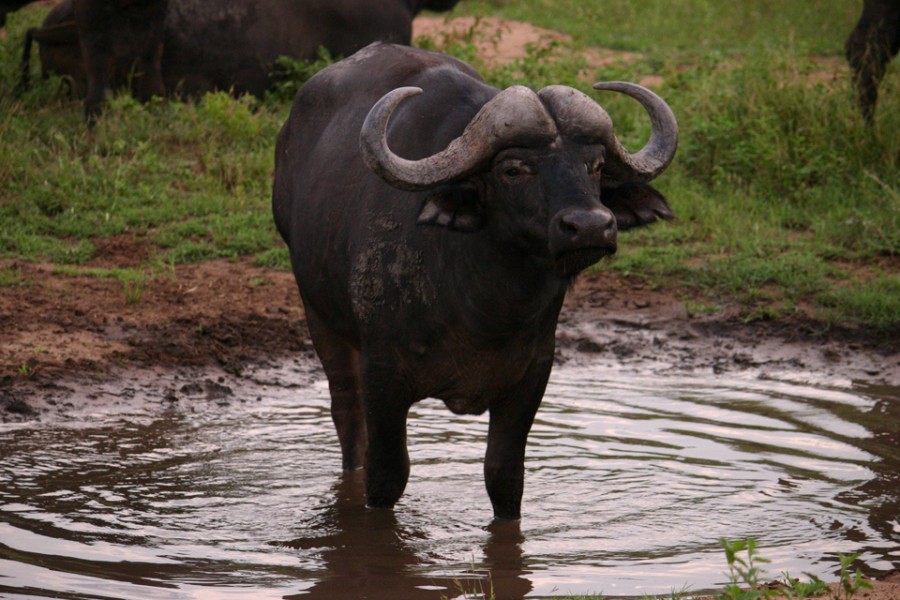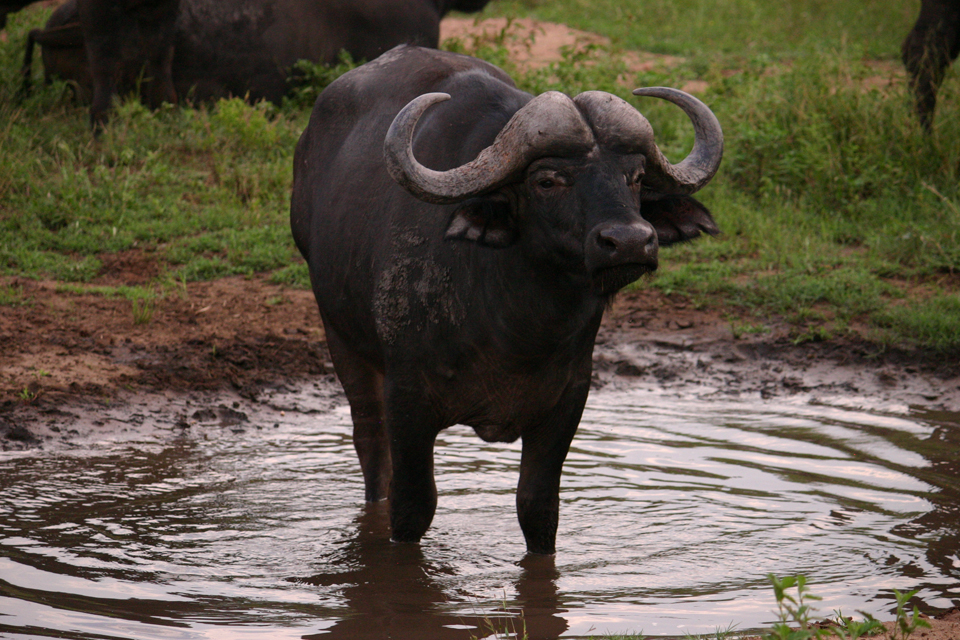 I hope I've given you a taste of what awaits you in the South African bush. I hope you seize the moment and make it a reality for you and your family.
There is so much more I'd love to tell you about this wonderful country but I'm running out of space.
If you've liked this, check out the Joburg Expat Travel section for more stories about family travel around South Africa and beyond.