It was 1966. Racial divisions were growing more entrenched in South Africa by the day but the issue was still little publicised abroad. A young black South African woman, however, was raising her voice against apartheid while cutting a swathe through the international music scene, opening doors for women, especially black women in years to come. She was the 34-year-old Miriam Makeba.
In this amazing footage taken at Berns Stolinger, a club in Stockholm, Sweden, during her run there from 17 January to 28 February, 1966, exactly 50 years ago, Makeba – dressed in a dress made of real leopard skin given to her by Jomo Kenyatta – shows the incredible stuff she was made of, in control of her voice, the stage, the audience. She kills it from the first bar of music!
Accompanying her were Sivuca on guitar and accordion, Leopoldo Fleming on congas and William Salter on bass.
In the first part of the Stockholm performance, in the video below, Makeba sings "Mbube", "As The Rising Sun", "Forbidden Games", "Chove Chuva", "Click Song" and "When I've Passed On".
It was a tumultuous time for the Johannesburg-born singer. She had gained fame in the jazz musical "King Kong" that started in Johannesburg in 1959 and transferred to the West End of London. In it she played a shebeen queen in Sophiatown.
By 1966 she had toured the world. It was a year before the U.S. release of arguably her most famous song, "Pata Pata". She was between her marriages to Hugh Masekela and the leader of the radical Black Panther movement Stokely Carmichael. It was four years after President John Kennedy had asked to meet her.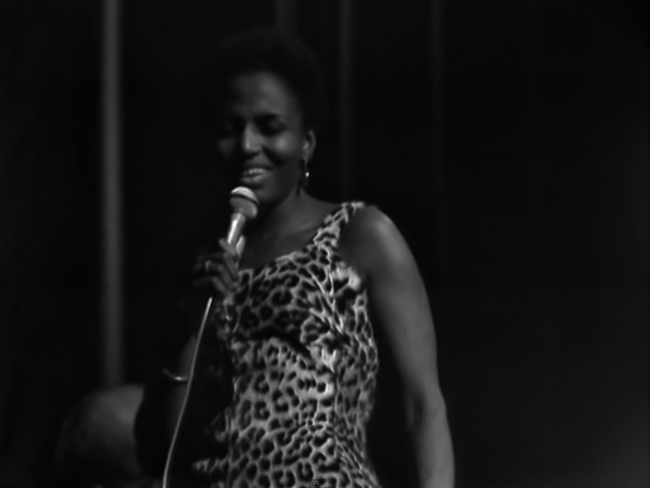 And most ominously, it was three years since Makeba, a strong anti-apartheid activist, had had her passport revoked by the Pretoria government. (She only returned again in 1990.) Makeba died in 2008.
In a later interview in her life, Makeba said she wished she could rewind that part of her life, the Sixties. Apparently Makeba never knew that the Stockholm concert was taped until the footage was unearthed 40 years later, a decade ago.
"I wished I could rewind my life," she said, "because it looked quite nice and I wore a beautiful leopard skin dress, real leopard skin. The skin was given to me by the late president Jomo Kenyatta from Kenya when I went there in 1962."