Julius Malema, leader of the Economic Freedom Fighters, has strongly rejected President Jacob Zuma's proposal to pay back some of the money on his residence at Nkandla, and has once again called on people to march on the Constitutional Court on 9 February, when the EFF's case against Zuma is to be heard.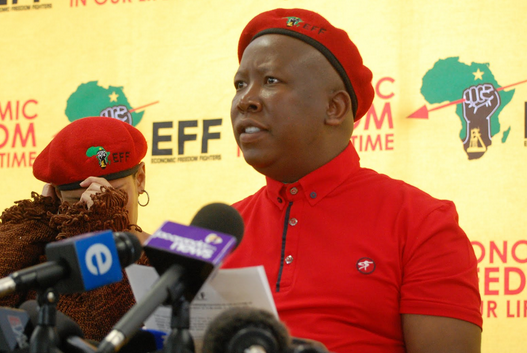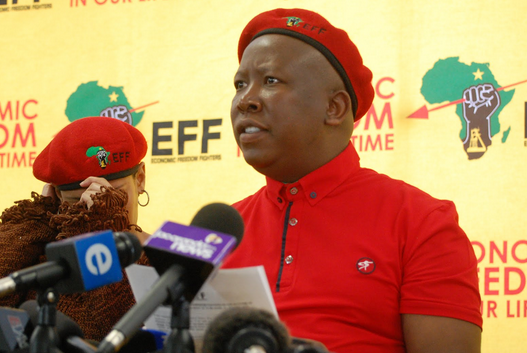 In a fiery statement calling for the fall of Zuma, Malema also said that the people must march to get rid of the Guptas, a family well known to have ties to Zuma and to reportedly benefit from government contracts. "Anyone working with the Guptas is perpetuating corruption," he said, referring to people who supported Zuma and the Guptas as "Zuptas". "The Zuptas must fall," he said, repeatedly adding that the Guptas must get out of the country.
"How the Guptas leave is none of my business. They will make a plan," he said. "But they are not welcome here. We don't regard them as one of us."
Malema repeatedly said he believed nothing and no one in the country was above the Constitution of the Republic of South Africa.
Late on Tuesday Zuma made a statement saying his lawyer had sent a letter to the Constitutional Court, and copies were sent to the EFF, the Public Protector and the DA, indicating that he would like to assess the costs of non-security upgrades that were made at Nkandla, and repay them out of his own pocket.
The proposal came a week before a case, initiated by the EFF, was due to be held at the Consitutional Court over the R246-million Nkandla expenditures and Zuma not adhering to recommendations made by Public Protector Thuli Madonsela in her "Secure in Comfort" document, in which she found Zuma was liable for certain non-security features (including a swimming pool and a kraal) to his home.
The Democratic Alliance on Wednesday rejected Zuma's proposal.
Introducing today's press conference Malema said, "We're here because the corrupt president of South Africa has made an admission that he is corrupt and that he will pay back the money."
"We're not going to accept any settlement that doesn't reaffirm powers of the Public Protector, that remedial actions are binding, and that Zuma by failing to implement remedial action was in breach of the Constitution and oath of office. We won't be party to any settlement that doesn't address those three points," Malema said.
More highlights from Malema's speech to the media:
"We are not going to let Zuma make us another black failure, another failed African state."
"Since Zuma insulted the Public Protector and her powers, that office is no longer respected as before."
"White supremacy are happy that the country is falling apart at hands of black people. We won't allow Zuma to do that."
"Before Zuma speaks on SONA (on 11 February), he must first explain why he removed the Minister of Finance."
"We don't want to see ANN7 or The New Age anywhere near EFF events." (Both are Gupta-owned media outlets.)
"We can't have a situation where corrupt people are known and no one does anything."