A US animal rights group has said it will pursue its lawsuit against the United States Fish and Wildlife Service for granting permits to three American zoos that imported 17 elephants it alleges were stolen from Swaziland and spirited out of Africa before a court hearing on the case.
The animals have been taken in by the Dallas Zoo, the Sedwick Count Zoo in Kansas, and the Henry Doorly Zoo in Omaha, Nebraska, according to Friends of Animals, which said it was pressing ahead in its case against the USFWS and its director Dan Ashe. The head of the Dallas Zoo, however, said the elephants were being saved from culling in a country where "Tens of thousands of animals have died, as well as people, too."
The animal rights organisation said last week that the animals would suffer social, psychological, behavioral, and physical impacts for the rest of their lives. The Friends of Animals lawsuit was supported by some of the world's foremost experts on elephants.
Even though the agency got an emergency restraining order to hold the plane in Swaziland, "the zoos had already moved to anesthetize, crate and move the elephants onto the plane. Faced with sparse medical testimony from the zoos' own veterinarians, the court dissolved the restraining order shortly after midnight in Swaziland."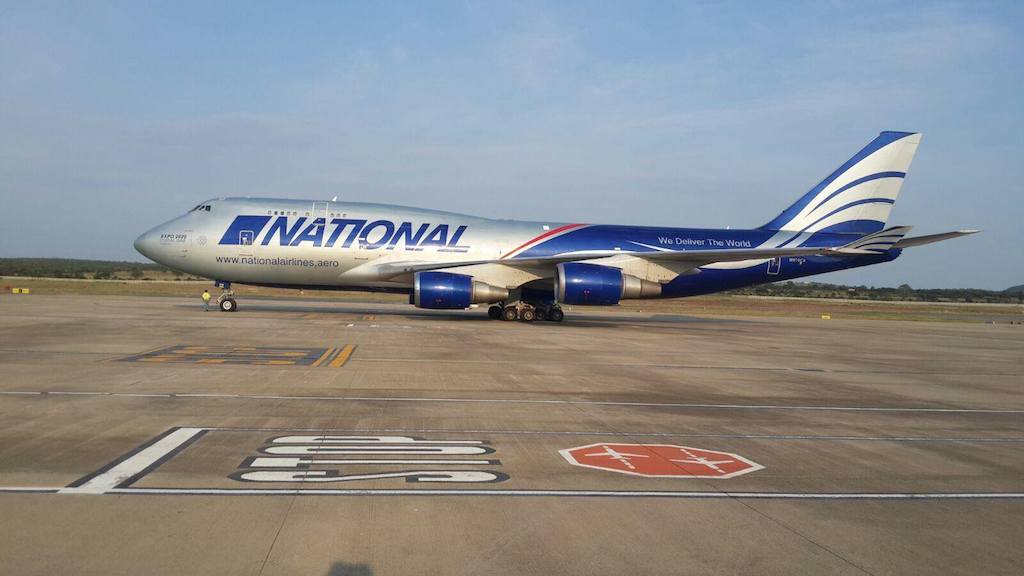 In a dramatic-sounding blog post this week headed "Rescue mission accomplished: Dallas Zoo, two other zoos welcome African elephants to safe homes", Dallas Zoo said the four females and one male it received came "on a special charter flight, then were whisked to the Zoo under armed escort by the Fort Worth SWAT team and Dallas Police officers".
In a post on Twitter of a huge team of police officers and others meeting the arriving plane, Dallas Zoo said, "THIS is how you securely move 5 elephants to a safe new home. Tx'.
Describing what it said were dire conditions in Swaziland, the zoo said it had paid for truckloads of hay to be brought into Swaziland from South Africa to feed the elephants. One of the 18 meant to be imported to the US had died from a gastrointestinal issue before he could be flown to the US, although it did not apparently have anything to do with the drought. After that, the zoo said, it was felt they could wait no longer to transport the rest out of Africa.
Friends of Animals said that while Swaziland might be claiming that elephants are overrunning the country, there are, after the departure of the 17, only 21 left in the country.
'A SAFE FUTURE'
"There are those who would rather see elephants die than live in accredited zoos. We strongly disagree with that position," Gregg Hudson, Dallas Zoo president and CEO, said. "As animal caretakers and conservationists, we care about populations as a whole just as much as an individual animal. We can provide these elephants a safe future while making an enormous impact on rhino conservation in Africa, and inspiring future generations to take actions to prevent the extinction of elephants in our lifetime."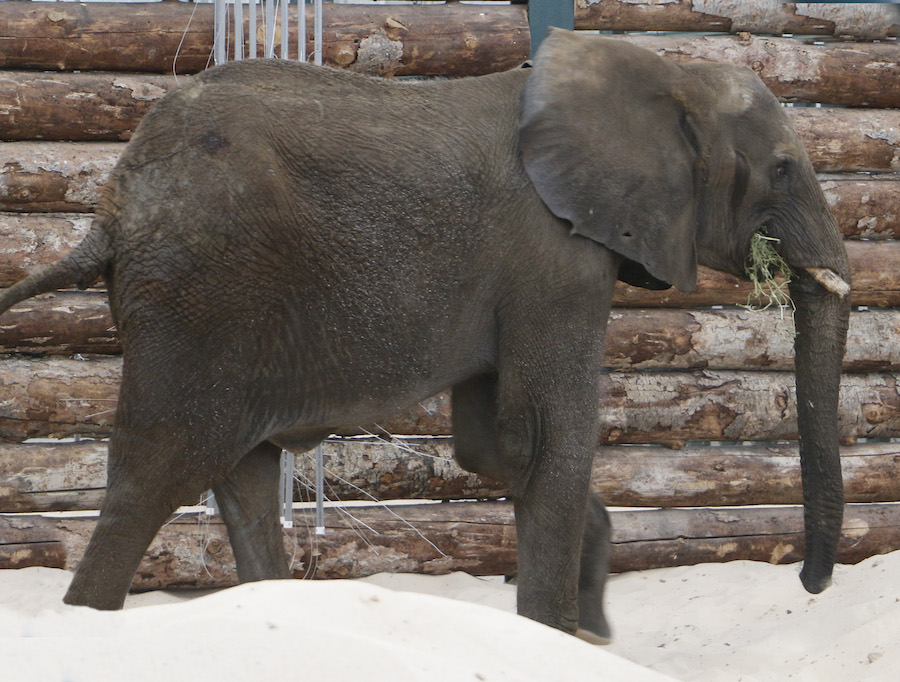 Dallas Zoo said in a Facebook post, "Well, it's been a super-long process, but absolutely worth it! This is the first of our new rescue elephants (pictured above), who bounced right into his new indoor quarters and grabbed a big mouthful of alfalfa after getting off of the charter flight from Swaziland. He explored a bit, then curled up on a big white sandpile for a nap. We know he's going to love the log wall, where he can strip bark to his heart's content!"
Priscilla Feral, president of Friends of Animals, said, "FoA will not stand by as some African nations nickel and dime critically endangered elephants to death and we will continue to hold USFWS' feet to the fire so they don't issue another permit, which is likely as long as Dan Ashe is director. With hope, he will be replaced under a new administration next year.
"We expect other US zoos to try and buy elephants from Swaziland, which began importing elephants from South Africa back in 1987 for commercial purposes," she said, adding that in 2003 Swaziland sold 11 elephants to US zoos for a profit of about US$133,000.
AN 'EVERLASTING EFFECT' ON ZOO ANIMALS
Friends of Animals said that under the National Environment Protection Act (NEPA), USFWS has a mandatory duty to fully evaluate and disclose all environmental impacts associated with the issuance of this permit. This includes addressing the growing scientific evidence that, as a result of issuing the permit, these elephants will suffer social, psychological, behavioral and physical impacts for the rest of their lives, it said.
According to Dallas Zoo, however, "The elephants came from two privately managed government parks in Swaziland, where they had been removed due to overpopulation and slated to be culled (killed). The Swaziland government declared a national state of emergency in February due to historic drought conditions. Tens of thousands of animals are dying from drought and lack of food, and the United Nations is providing assistance to 200,000 people."
Dallas Zoo CEO Hudson said, "We've worked with Swaziland wildlife authorities for several years on this assistance project, but it escalated to a rescue mission last fall due to this state-of-emergency drought. Tens of thousands of animals have died, as well as people, too."
"In addition, there are reports coming out of Africa that the drought will kill more rhinos than poachers will this year," Hudson added. "We had to act quickly to save as many animals as possible. The well-being of these elephants is more important to us than anything."
But Mike Harris, director of Friends of Animals' Wildlife Law Program, said, "USFWS is turning a blind eye to the growing scientific consensus that elephants are highly intelligent, social and emotional beings. The trauma of being ripped from their families in the wild, transported halfway around the world and forced to live the remainder of their lives in captivity will have an everlasting effect on these animals.
"Evidence shows that they will suffer from depression, anxiousness, mood swings and fear. They also face a high risk of disease and disability. No wonder it has been shown that zoo elephants simply don't live as long as those in the wild."
Friends of Animals noted that many zoos around the world, including Detroit Zoo and San Francisco Zoo, have closed their elephant exhibits.
THIS is how you securely move 5 elephants to a safe new home. Tx, @fortworthpd & Alliance Airport! pic.twitter.com/5SnG7RyCva

— Dallas Zoo (@DallasZoo) March 11, 2016