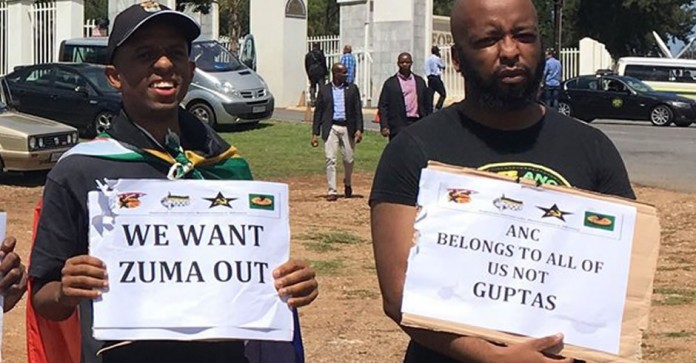 The Democratic Alliance (DA) has called on the ANC to "do the honourable thing" this weekend at the National Executive Committee (NEC) meeting…and recall South African President Jacob Zuma.
In a message today, federal leader of the DA Mmusi Maimane said that "following this week's explosive revelations by senior ANC members pertaining to President Zuma's dubious relationship with the Gupta family" the ANC's NEC should recall President Zuma with immediate effect.
"The ANC cannot continue to protect Jacob Zuma at the expense of the poor and the 8.2 million jobless South Africans. South Africa deserves better," said the opposition leader.
According to reports at least three bus loads of protestors have arrived in Pretoria and are picketing outside the St George Hotel where the meeting is taking place. Some claim that police officers have informed them – in a move quite similar to that of the apartheid government during the State of Emergency in the late '80s – that they cannot gather in groups of more than five at a time.
The tight control over the ANC gathering has also been evidenced by pictures which have emerged on Twitter (see below) apparently showing  that cellphones have been sealed in envelopes, to allegedly prevent any leaks from the meeting to the media.
Referring to the Gupta-related revelations from Vytjie Mentor, the former chair of Parliament's Portfolio Committee on Public Enterprises, Deputy Finance Minister Mcebisi Jonas, Public Service and Administration Minister Ngoako Ramathlodi and former Public Enterprises Minister Barbara Hogan, Maimane said: "It is becoming clear that the ANC is no longer interested in the people of South Africa. Their President has been captured by the Guptas, and he in turn has captured the state.
"South Africa no longer belongs to all who live in it – rather it now belongs to a select clique of politically connected people."
The ANC has said that the economy and elections will be on their agenda for the weekend.
On Twitter:
As their numbers grow, the picketers have found their voice. 3 minibus loads have arrived. #ANCNEC #RonaldLamola pic.twitter.com/VItH8xMhE9

— Thulasizwe Simelane (@ThulasSims) March 19, 2016
#ANCNEC
Now showing at Saint George's Hotel, Pretoria. Private viewing this weekend.. @OakbayGroup pic.twitter.com/gl6NLb3sEc

— Gregory Harington (@AskGregory) March 19, 2016
#ANCNEC We want Zuma out, proclaim protesters >> https://t.co/ZVzSW5ov3C pic.twitter.com/XoP4ymCmck

— eNCA (@eNCA) March 19, 2016
Bonolo Ramokhele says he is a CA and businessman: None of us have alternative passports if SA sinks. #ANCNEC pic.twitter.com/ShWGfgL77r

— Pauli Van Wyk (@PaulivW) March 19, 2016
Cellphones of #ANCNEC kept in these envelopes. Some1 scared info leak… pic.twitter.com/TNsnug2thQ

— Earl September (@earlseptember) March 19, 2016
#ANCNEC pic.twitter.com/TVp5tlrjTb

— Charge NEC 4 Treason (@JohannAbrie) March 19, 2016
Ronald Lamola & other picketers say police have told them to not gather in groups of more than 5 at a time #ANCNEC pic.twitter.com/bkOE5hgLAN

— Thulasizwe Simelane (@ThulasSims) March 19, 2016