The name of the Gupta family is suddenly on everyone's lips in South Africa.
Barely a day after EFF leader Julius Malema demanded that the Guptas leave South Africa "with immediate effect" – because of their apparently strong influence over President Jacob Zuma and for benefiting unduly off government contracts – a report has appeared saying that the wealthy family has benefited off yet another government contract, this time with defense contractor Denel.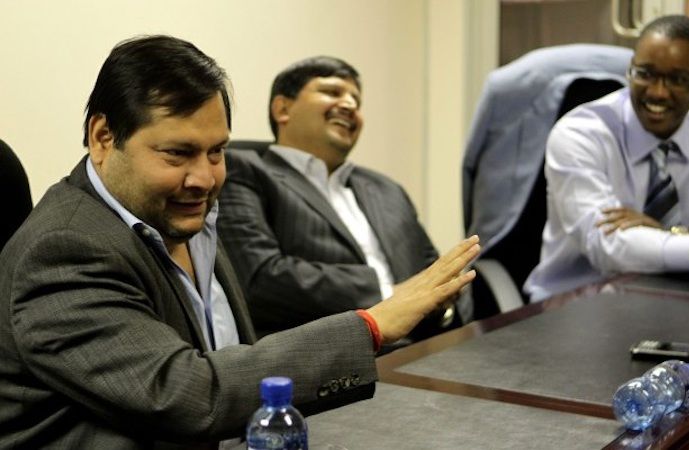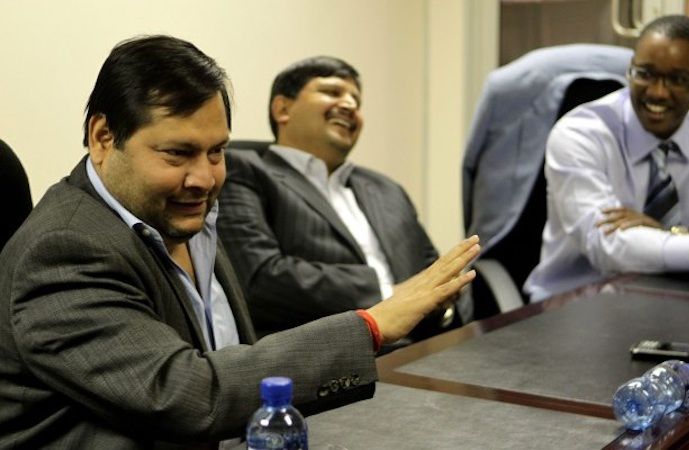 In his meeting with the press on Thursday, Malema said that Zuma and the Guptas were so in cahoots that they should be known as the "Zuptas". Among numerous quotable quotes he said South Africa would not be sold to the Guptas over a plate of curry. (See the Five Best Malema Quotes video here.) Numerous editorials have said that Zuma's dealings with the Guptas could be the final straw in his undoing.
For anyone who hasn't been following the Guptas involvement in South Africa, here is a brief rundown:
Atul Gupta reportedly arrived in South Africa from Uttar Pradesh, India, in 1993. He and his brothers Rajesh and Ajay have built on a computer business Sahara (no connection to the other Indian Sahara company) to amass stakes in uranium, gold and coal mines, a luxury game lodge, an engineering company, a newspaper and a 24-hour news TV station ANN7, according to news reports.
What Democratic Alliance leader Mmusi Maimane says about the Guptas: "They are the chieftains of patronage. They get extraordinary privileges from the president."
In 2013, the Guptas were allowed to use Waterkloof Air Force Base as their own personal landing strip for a Jet Airways plane reportedly carrying over 200 guests attending the wedding of a Gupta niece at Sun City. A subsequent back-and-forth between various parties, including the Guptas, the Indian High Commission and the SA Defence Force, ensued.
A poster at a recent #ZumaMustFall protest: "SA: Gupta Farm".
The Guptas own the New Age newspaper and the ANN7 TV channel.
In 2015 it was reported that the already financially embattled South African Airways spent almost R10 million since 2011 buying newspapers from the Gupta-owned New Age for its planes. Papers were apparently also bought for government departments.

A breakdown of the Guptas business ties. Source: Bloomberg.
Zuma family ties to the Guptas. According to Bloomberg, Zuma's wife Bongi Ngema-Zuma worked for Gupta-controlled JIC Mining Services as a communications officer. His daughter Duduzile was a director at Sahara Computers Ltd., the Guptas' main computer business, for more than a year ending in 2009. And Duduzane has worked with the Guptas for 11 years, initially starting as a 22-year-old trainee at Sahara.

Clifftop Exclusive Safari Hideaway. Source: Clifftop.

The Guptas live, according to Bloomberg, in a complex of several houses a few blocks away from Duduzane in Johannesburg's upscale Saxonwold suburb, behind a 4-meter-high wall.
In 2013 it was reported that the Gupta family's main residence had been valued at only R490,000 in the latest municipal valuation roll. This was less than the property – set on a 4,207-square-metre plot – was worth in May 1994 when it changed hands for R559,000 and less than half its value of R950,000 in October 1995 when South Africa's property market languished in the doldrums.
The Guptas somehow managed to get the Department of Mineral Resources to grant its family-owned company Imperial Crown Trading 21.4 percent of the Sishen Kumba mine's mineral rights in 2009, according to news reports. In 2013 the Constitutional Court ruled against the Guptas, and many saw the decision as a sign of the judiciary's independence and another blow against cronyism, although the Gupta reign continued.
In a 2011 interview with Business Day, it was reported that the Gupta-owned businesses had a turnover of R1 billion the previous year, more than half of which came from Sahara Computers.
On Friday, the Mail & Guardian reported that South Africa's arms manufacturer Denel had announced the formation of a joint venture company – Denel Asia – and the Guptas are some of the shareholders. Denel's partner was revealed to be VR Laser, which, according to earlier news reports, had 25.1 percent of its shares owned by Zuma's son Duduzane and Rajesh Gupta through Craysure Investments, which in turn is wholly owned by Westdawn Investments. News reports said company records show Gupta and Zuma are directors in Westdawn.

One of numerous jokes being made about the Zuma-Gupta connection on social media. Source: Twitter @stolzhennie.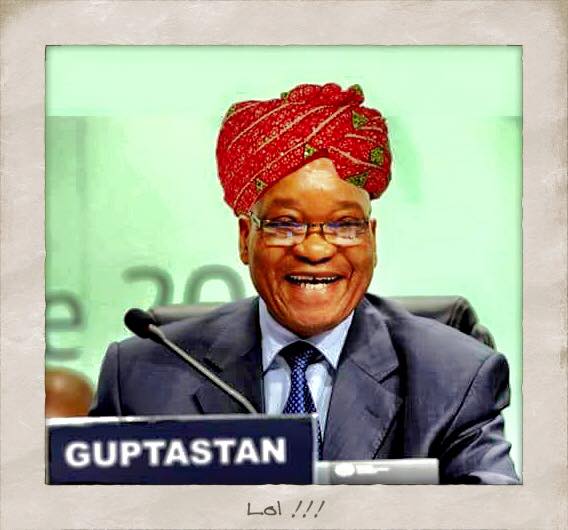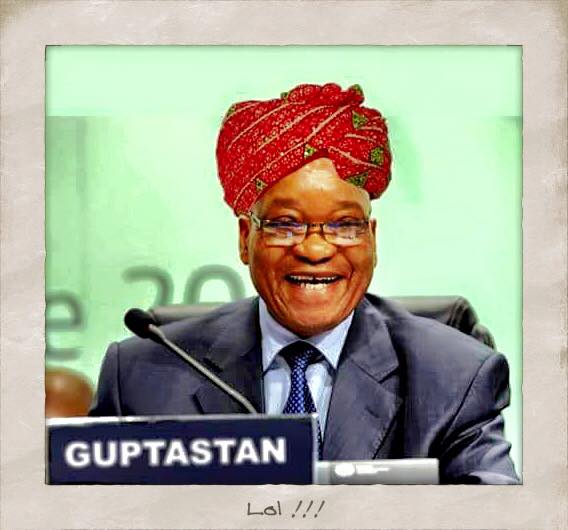 MORE
All the latest Guptas-related articles.
16 March 2016: Deputy Minister of Finance Jonas issues statement confirming members of Guptas family offered him Minister of Finance position.