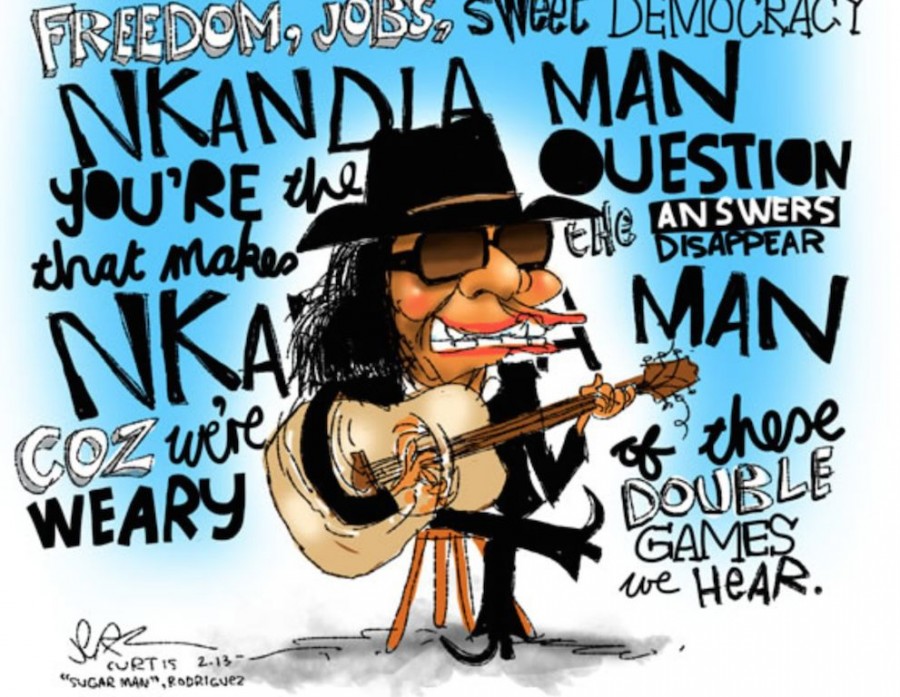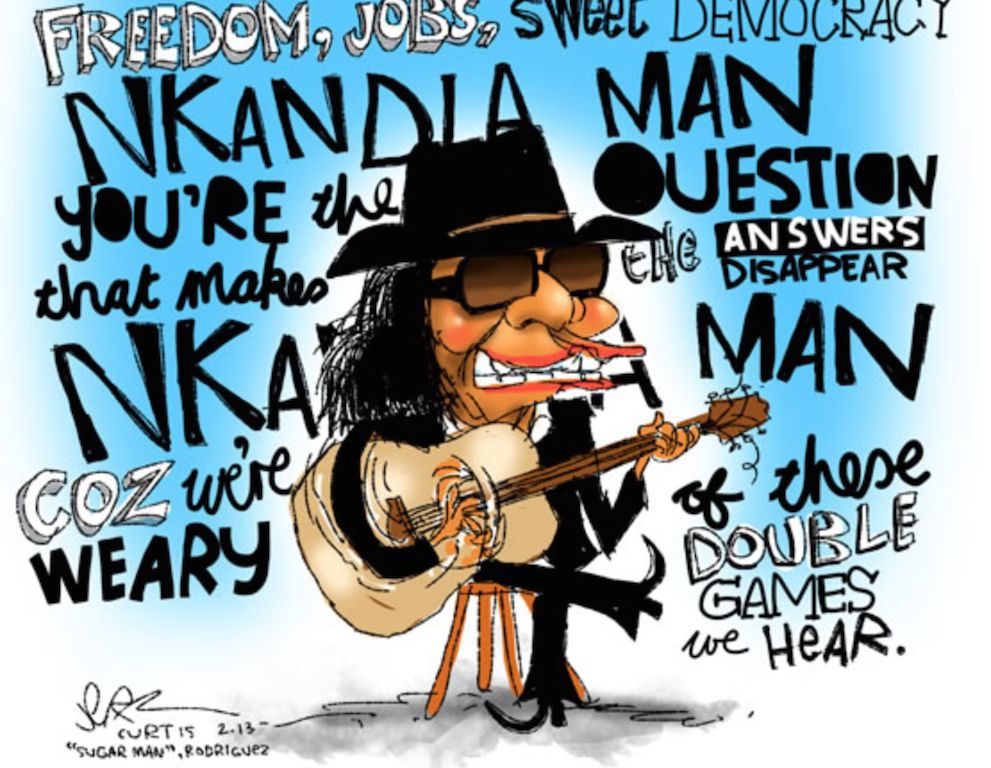 "Nkandla Man, Won't Ya Hurry…" (With Thanks to Rodriguez)
Perfectly timed to make a repeat appearance on social media while "Sugarman" singer Rodriguez is in South Africa for his sixth tour is the cartoon "Nkandla Man". "Nkandla Man" was created in 2013 by former Cape Argus cartoonist John Curtis and cartoonist Jerm, who collaborated on it for a related article in an edition of Rolling Stone. "It is obviously a parody […]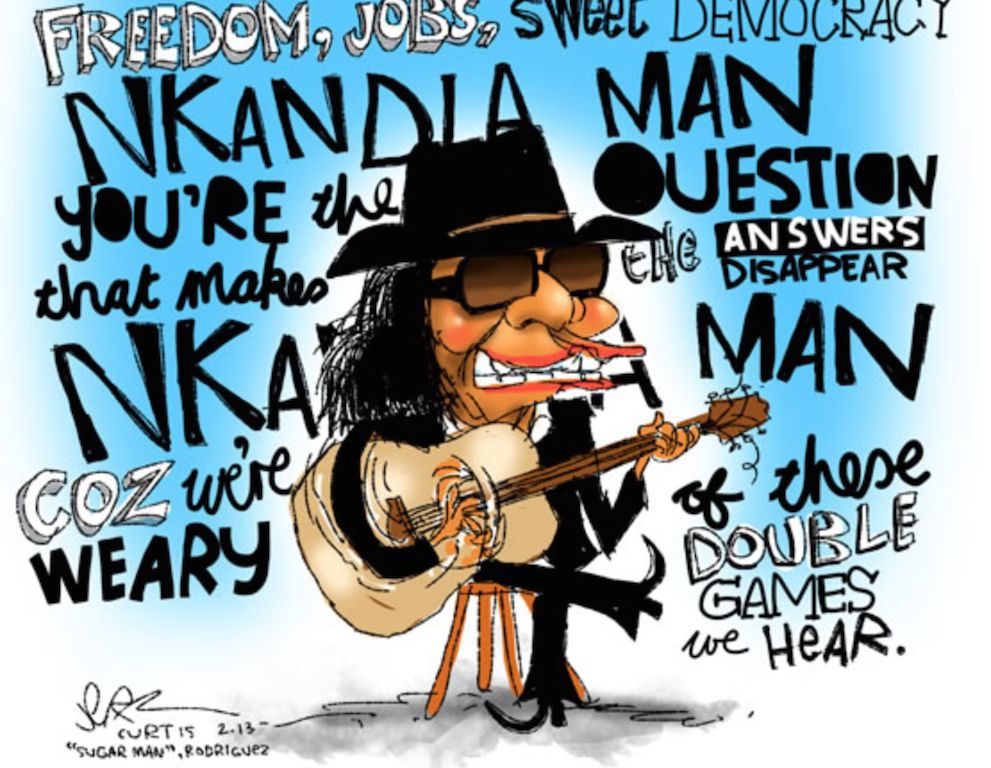 Perfectly timed to make a repeat appearance on social media while "Sugarman" singer Rodriguez is in South Africa for his sixth tour is the cartoon "Nkandla Man".
"Nkandla Man" was created in 2013 by former Cape Argus cartoonist John Curtis and cartoonist Jerm, who collaborated on it for a related article in an edition of Rolling Stone. "It is obviously a parody of Rodriguez's 'Sugar Man'," Jerm added at the time.
However, it has had a sudden resurgence on social media, what with all the news bubbling around Nkandla and President Jacob Zuma offering to #PayBack(SomeOf)TheMoney and the Democratic Alliance and the Economic Freedom Fighters both rejecting the offer, saying they will see him at the Constitutional Court next week.
The lyrics for the cartoon go: "Nkandla Man/Won't ya hurry/Coz we're tired of these scenes/For re-election/Won't you bring back/The rainbow colors to our dream/Silver linings that you promised/Freedom, jobs, sweet democracy/Nkandla Man/You're the question that makes the answers disappear/Nkandla Man/Coz we're weary/Of these double games we hear."
The real lyrics go:"Sugarman/Won't ya hurry/Coz I'm tired of these scenes/For a blue coin/Won't ya bring back/All those colours to my dreams/Silver majik ships, you carry/Jumpers, coke, sweet MaryJane/Sugarman/You're the answer/That makes my questions disappear/Sugarman/Coz I'm weary/Of these double games I hear."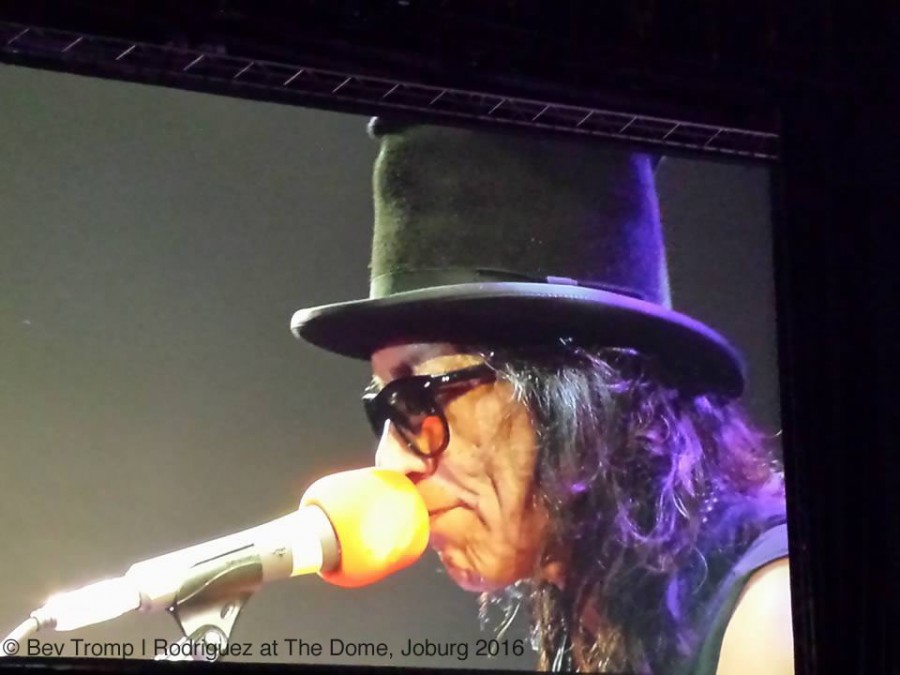 Rodriguez, who shot to international fame after the release of the documentary "Searching for Sugarman" in 2012, has often said in interviews that his success, even though it came late in life, is due to his sustained popularity in South Africa over the years. In fact at his concert at The Dome in Joburg last week he thanked South Africa for "keeping me alive". (Rodriguez is in South Africa at the moment and is still performing at two more Cape Town concerts, both sold out.)
Listen to the popular hit "Sugarman"
The trailer to the movie "Searching for Sugarman"