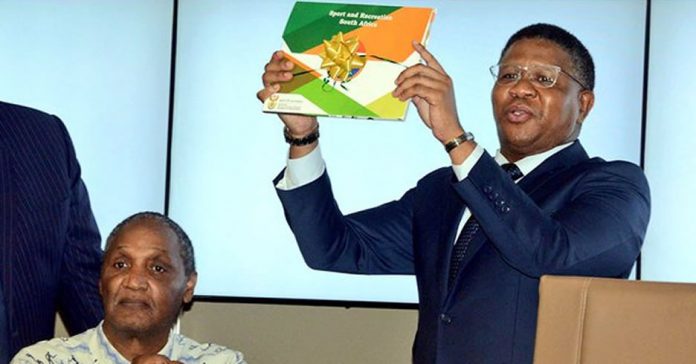 Sports Minister Fikile Mbalula announced Monday that he has revoked the right of Athletics South Africa (ASA), Cricket SA (CSA), Netball SA (NSA) and SA Rugby Union (SARU) to host international tournaments because of their failure to reach the agreed transformation targets.
He said the measures are to speed up transformation which is vital morally and strategically when one considers that 84 percent of the under 18 population is Black.
He said he had chosen this measure rather than other punitive measures which could have paralysed federations financially or prevented them competing internationally.
As has been pointed out in reports, the ban applies only to new events, such as perhaps South Africa's 2023 Rugby World Cup bid, and not to existing events like Rugby Sevens.
The announcement came as Mbalula today released a third report, since 2014, of the Eminent Persons Group (EPG) on transformation in sport.
A total of 19 federations have been evaluated in this latest EPG Report, 14 more than the original 'big five' in 2014 which had comprised ASA, CSA, SARU, Netball SA and SA Football Association (the latter – SAFA – being the only of the big five to meet their transformation targets).
The minister invited the sporting codes to revert to him with their transformation targets covering the next five years.
The additional 14 include: Basketball, Chess, Table Tennis, Softball, Volleyball, Boxing, Hockey, Gymnastic, Swimming, Baseball, Rowing, Bowls, Juskei and Tennis.
The minister reminded the media that in the event of a federation failing to meet its own set transformation targets, it is his right and prerogative to consider applying any of the following penalties:
▪ I may suspend or withdraw Government's funding to the said federation due to noncompliance;
▪ I may withdraw Government's recognition of the particular federation as a National
Federation and whereafter I will publish such a decision in the Government Gazette;
▪ In essence, I may revoke the privilege of a federation to host and bid for major and mega international tournaments in the Republic and withdraw recognition of the said federation;
▪ I may withdraw the federation's opportunity to be awarded national colours via SASCOC to players who participate under the auspices of that particular federation in order to represent the Republic internationally and nationally;
▪ I may terminate the relationship and any cooperation between SRSA and the said federation due to non-compliance.
▪ Finally I may withdraw political support and endorsements for sponsorships.
He then announced that he was applying the aforementioned measures in order to bring about an urgent reconstruction of the "fragmented and deeply discriminatory sport and recreation landscape" to establish a unified sports system.
He said this third EPG report is confirmation that social reconstructions of South Africa's sport and recreation system is linked to the country's economic development in the context of global economies and competitiveness.
"This report offers respite from the suffocating prism through which we as South Africans view our past and present. At this hour of destiny, South Africa needs more than ever before, sport for development and peace. This report is about the future of South African sport provisioning and quality of opportunities to all sport-loving people of our beloved country," he said.
He called the Transformation Charter the "loadstar of the sport movement" and said sport needed to transform immediately for both moral and strategic reasons. According to the minister, 84 percent  of the country's under 18 year old population grouping is Black African and only 16 percent is white, Coloured and Indian.
He said he recognised the efforts that had been made, and that his intention was not to disrupt the momentum but that he was "mindful of the urgent task for federations to move with speed in the direction of providing quality of opportunities and access to the youth of our country."
The minister said therefore he had resolved not to revoke punitive measure that could paralyse federations financially or prevent them competing internationally.
Instead, he said "I have therefore resolved to revoke the privilege of Athletics South Africa (ASA), Cricket South Africa (CSA), Netball South Africa (NSA) and South African Rugby (SARU) to host and bid for major and mega international tournaments in the Republic of South Africa as a consequence of the aforementioned federation, not meeting their own set transformation targets with immediate effect."
Mbalula said he will review this decision when considering the results of the 2016/2017 Transformation Barometer.
He directed all federations and sport bodies to establish transformation committees and appoint transformation officers as cricket and rugby has done.
The report, among others, also noted that six codes, including football and gymnastics among others, have exceeded the set 60 percent charter generic black African (coloured, Indian plus black African) target. It also stated that black African representation is above 60 percent in basketball, football and amateur when coming to the profiles of senior male national teams of the 19 codes of sport.
Presenting the results of the report, EPG Secretariat Dr Willie Basson said the wrongs of the past can't be forgotten, adding that there were several challenges that the report picked up on.
Among those challenges, said Dr Basson, is that schools fall within the Department of Basic Education's jurisdiction, while sport falls under the Department of Sport and Recreation and that there is a low commitment of provincial federation sport structures to transformation.
According to the report, netball (4,378); football (3,051); rugby (880); hockey (758); volleyball (716) and table tennis (640) reported the highest number of participating senior schools.
On Twitter:
Today: Receiving the Transformation Report. We have a policy in place in transformation and we're implementing. pic.twitter.com/WdBceQJ0pb

— RSA Min of Sport (@MbalulaFikile) April 25, 2016