More than four years ago Johannesburg journalist Alex Eliseev heard snippets of the most extraordinary story of Betty Ketani – there was murder, kidnapping, a trail that ran dead, and sheer coincidence – and this week the 18-year case came to a tear-filled end as Ketani's family laid her to rest.
Aliseev, who has covered some pretty harrowing stories (the Haiti earthquake, the fall of Muammar Ghadaffi) and now works for EWN in Johannesburg, says the story of Ketani shook him perhaps more than any other. He has been watching it unfold in court since 2012 and just published a book about it, "Cold Case Confession".
It's a cracker of a tale that would have any real-life-crime, thriller reader rapt until all hours of the night. (Watch this space for a movie. because this has movie written all over it.)
The sheer depth of the book – and what it says about South Africa and the fight for justice waged by numerous people, both white and black – caused no one less than the public protector Thuli Madonsela to say, "A relentless search for truth and justice, Cold Case Confession is a story that inspires confidence in the system and affirms that, indeed, we are all equal before the law".
It all began on 30 March, 2012, when a family was casually renovating their house in Kenilworth. Johannesburg, when they lifted some carpet tiles and found a sheaf of letters left there. One of them contained the following words, "If you are reading this, I am dead." Flash back 13 years…

In 1999 Ketani, who worked at a very popular restaurant in Johannesburg called Cranks, was kidnapped one night, taken to a loan road outside the city, stabbed in the head with a sharp metal object, left for dead but incredibly survived, was taken to hospital, was kidnapped from the hospital, and dropped at a lone dilapidated red bus outside the city, where she died.
Her body was retrieved and then buried in a shallow grave behind the Kenilworth house, but covered in cement. Later on the body was dug up and dismembered, with its parts dispersed over a wide area. The case went nowhere back in 1998 and it seemed it would become one of the many cases that goes unsolved.
But then the carpet incident changed all that. The author of the letter – written as a form of protection for someone else, but stupidly forgotten – was Carrington Laughton, who was eventually convicted of killing Ketani.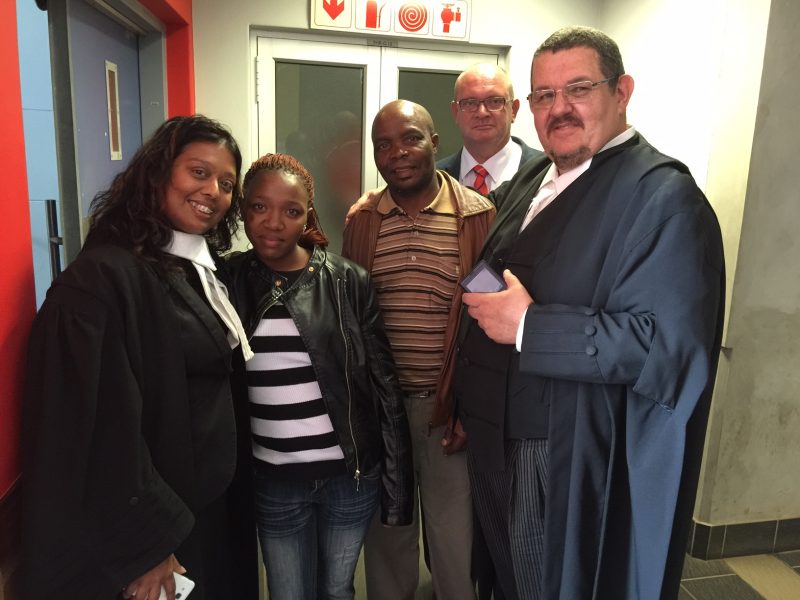 The story about Ketani's murder and how her killers were found and eventually convicted is too intricate to tell here – 6,498 transcript pages, 97 court days, 46 witnesses, four years – and it would deny everyone the pleasure of reading Aliseev's book. But along the way – which includes taking six tiny bone fragments to a DNA test centre in Bosnia – is a cast of characters that will long be remembered, not lease of all the Afrikaans prosecutor Herman Brookryk who took Ketani's case to heart and, when it was all over, wrapped Ketani's daughter Bulelwa in his arms crying.
As Aliseev has addressed book readings around South Africa telling the story of Ketani's murder and the search for justice, he repeats how humbled he was by the members of the police and the justice system who went out of their way to solve the case. We all know about the bad cop in the police station, he said, but we don't remember that there is also the cop who gets no sleep at night so determined is he or she to solve a case.
The biggest question of all, of course, is why. Why was Ketani killed? According to South African law, no motive is necessary to be proved. The Thai restaurant where she worked, Cranks, was well known but also under investigation (it was closed in 2012, when it was in the Rosebank Mall). Aliseev says he would not venture a guess what the motive was for Ketani's killing, but that some answers could still be provided by Cranks' former owners and others, who now live in Thailand and Australia, among other places.
This week Ketani's family from the Eastern Cape closed this chapter on their lives and let Ketani's spirit rest when they buried a branch representing her – because there was no body left.