While we all love our South African sunrises from the Highveld, Golden Gate, and Karoo to KwaZulu-Natal and the Western Cape… there are some for whom sunrise is not just a pretty photo. It's the dawn of another harsh day…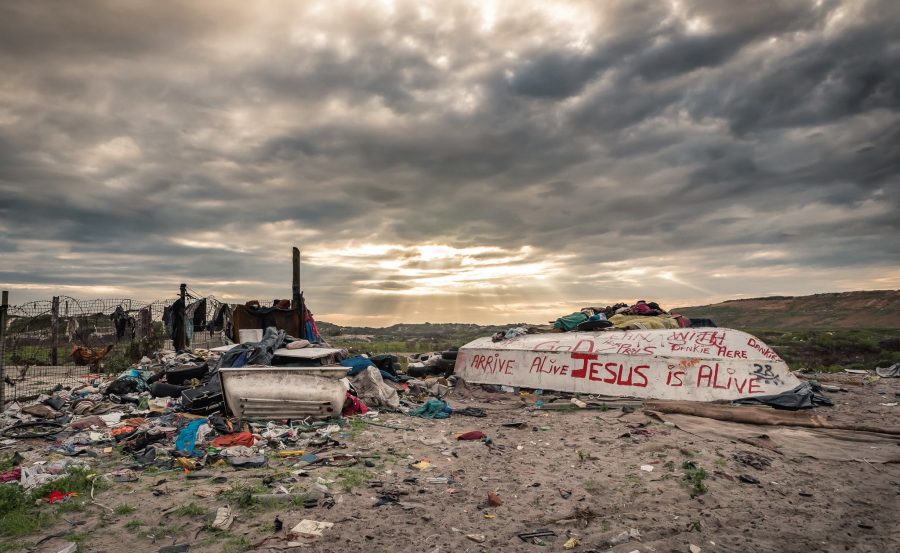 Capetonian photographer JUSTIN SULLIVAN captured this sunrise picture of Vrygrond (near Muizenburg, Cape Town).
The white upside down boat provides shelter for a man…
Here's what Justin wrote on Facebook (republished with his kind permission):
Cape Town's Real Sunrise… by Justin Sullivan
A lot of people won't like this photo or anything that is written after – but the reality is that almost half the population of Cape Town watch sunrise from a position of poverty.
The latter doesn't mean we should feel bad or immediately stop reading and scroll the page to a 'feel good' photo from our friends.
Being aware of these realities will help us better understand the complexities of this city and open up opportunities for solutions to humanitarian and environmental crises experienced.
Dealing with the raw reality of poverty, crime and oppression can be extremely difficult on emotional well being, not everyone can handle it.
This is something to understand and respect. One cannot force everyone to know everything about Cape Town, only provide an invitation to engage.
The privileged in Cape Town have warped understandings of their surrounding environments – this is no one's fault, it's part of a complex system that disallows constructive and open engagements between different classes of people. A complex set of values and beliefs that people hold onto without being mindful and questioning everything they have ever been taught.
If you believe you can make a difference, if you want to make a difference, reach out today, reach out where ever you can. You share this life with so many others, and so many others share it with you.
"For to be free is not merely to cast off one's chains, but to live in a way that respects and enhances the freedom of others" – Nelson Mandela
Since publishing the post this morning, the reactions have been overwhelmingly supportive:
Lisa C. said: "The extent & degree of the poverty is overwhelming – but it's true what you say, if we all reach out even to one person in a small way, we will make a huge difference."
Lenize S. wrote: "I have also seen extreme poverty in Maputo, Moz. Some of the images stay with you forever…people searching through rubbish dumps looking for food in the dump called "the backaria" Once again makes you thankful for what you have. Thank you for sharing and the reminder."
Deborah C. said: "Thank you for this very thought provoking photo. I am trying to help a pre school from Capricorn Park (not far from here) raise money so they can buy the land their school is on. So that the 48 children can remain in safe, affordable place while their parents go to work. This photo reminded me of my job to help them – thank you!"
MORE
Sullivan Photography on Facebook