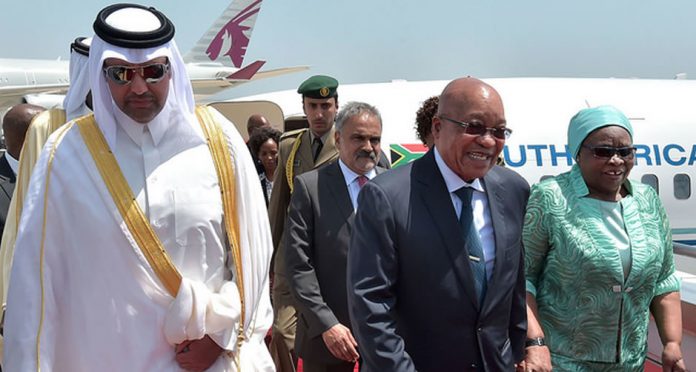 President Jacob Zuma, accompanied by Dr Nkosazana Dlamini-Zuma, arrived in Doha, Qatar, on Wednesday for a State Visit. (Both are seen in the photo below arriving at Hamad International Airport).
The visit is intended to strengthen and elevate bilateral relations between South Africa and the State of Qatar.
According to a statement from the Presidency, these relations were further enhanced and consolidated by President Zuma's Official Visit to Qatar in January 2012.
During the trip, the South African president is scheduled to meet with the Emir of the State of Qatar, His Highness Sheikh Tamim Bin Hamad Al-Thani.
Zuma will also hold bilateral talks on trade and economic relations between the two countries as well as on critical aspects related to global and regional security and stability.
President Zuma will also pay a courtesy call on Father Emir of the State of Qatar, His Highness Sheikh Hamad bin Khalifa Al-Thani.
The Presidency said: "South Africa's political and economic relations with the State of Qatar have grown significantly over recent years and have become more diverse, noticeably in the field of trade, while bilateral relations between the two countries are managed through the Bilateral Consultations, which is due to hold its 5th session in South Africa in the current year.
"Trade between the two countries has increased from SA R4 billion in 2012 to SA R7 billion in 2015. Most of South Africa's investments in Qatar are in the petrochemical-related sectors such as Sasol, which plays a significant role in Qatar in the development of the country's gas reserves."
President Zuma will also address the South Africa-Qatari Business Forum roundtable to further encourage trade relations between the two nations.