The success of Emirates' anti-poaching wildlife message has truly gone sky-high with the fifth A380 to join the campaign unveiled on Monday… although this jet will be grounded! It will be featured at the famous traffic roundabout leading to London's Heathrow airport.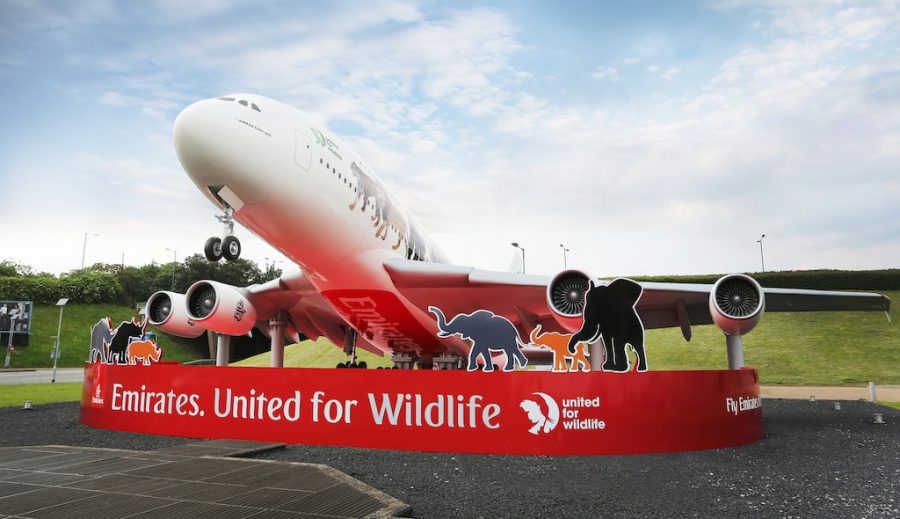 The site – as most South Africans who've travelled to London know – is highly visible, catches your eye, and reaches over a million international travellers and their families and friends annually.
The mission to raise awareness against the illegal trade of wildlife, and the threat it poses to the survival of iconic animals, was launched in November last year with A380 jets emblazoned with special livery featuring some of the planet's most endangered species.
In the six months since Emirates literally took its wildlife message to the skies and across the world the airline says the aircraft "have flown more than 4.2 million kilometres on over 800 flights, delighting customers, global travellers and plane spotters in 34 cities spanning five continents." (Watch video below.)
The campaign is in support of United for Wildlife (a global collaboration of seven of the world's leading wildlife charities) and the Royal Foundation of the Duke and Duchess of Cambridge (William and Kate) and Prince Harry.
The Emirates A380 is one of the largest known aircraft models in the world, and the new one at London Heathrow's roundabout is built to an exact 1:3 scale of a real A380 aircraft. Weighing more than 45 tonnes, the model is the same size as a real Boeing 737.
Watch Video: A superjumbo message from the Emirates "United for Wildlife" A380 Fleet
Sir Tim Clark, President of Emirates Airline said: "The illegal wildlife trade has brought many of our planet's most majestic animals to the brink of extinction. It is unthinkable that a generation from now, there may be no more rhinos, elephants or tigers to be found in the wild.
"The need for action is urgent, and both the demand and supply side of the illegal wildlife trade has to be tackled."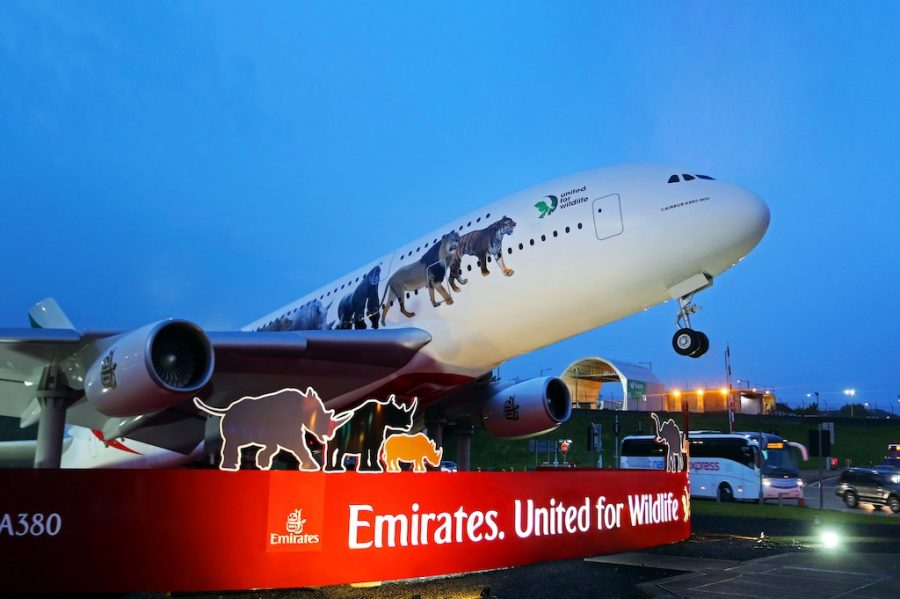 Earlier in the year, Emirates signed the landmark Buckingham Palace Declaration which outlines key actions to strengthen defences against trafficking by removing the vulnerabilities in transportation and customs that criminals are currently exploiting.
In addition to consumer awareness efforts, Emirates says it is collaborating with international organisations to train and better equip its ground and cargo staff to detect and deal with illegal wildlife products in transit. As the required paperwork for movement of some wildlife products is often forged, Emirates also made the decision to ban trophy shipments.
MORE
www.unitedforwildlife.org
www.emirates.com