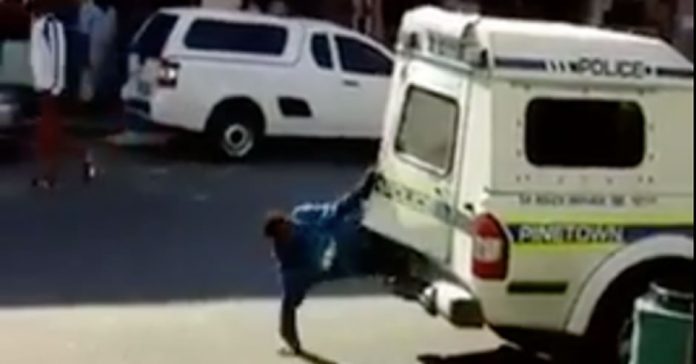 Video of two suspects escaping from the back of a South African Police Services (SAPS) vehicle have gone viral in the past 24 hours, with viewers questioning both the logic of the police to have left them unattended, and of the spectators who appeared to do nothing other than laugh.
It's unclear what crime the men had been detained for, or why there appears to be a man near the beginning of the video who seems to help open the back door a little.
The videos were uploaded to Facebook yesterday by Mohammed Noushaad who said the incident occurred outside his shop in Pinetown.
He wrote on his page that "the guy still had time to latch the door" and that "U should have seen the police when they got back, they were dumbstruck".
Watch criminals escape from police van in South Africa – part 1:
Watch criminals escape from police van in South Africa – part 2:
Watch escape from police van in South Africa
If you can't view the above videos, watch a shorter version on YouTube here: