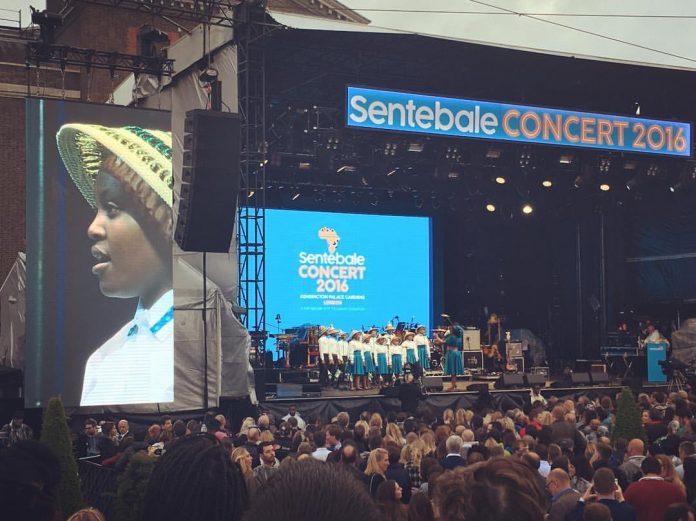 At last night's sold-out Sentebale Concert at Kensington Palace, Prince Harry joined the musicians on stage to thank the star-studded crowd for standing in the rain, the Basotho Youth Choir for coming all the way from Lesotho, and Coldplay for headlining the charity gig. "You rocked the palace," he said.
The youth choir was invited to London by Prince Harry for the concert which aimed to raise funds and awareness for adolescents living with HIV in southern Africa. Through Sentebale, these adolescents are able to get the care, education and support they need. Prince Harry co-founded Sentebale with Prince Seeiso in 2006.
Watch Videos – Sentebale Concert, Kensington Palace, London
Incredible finale as Prince Harry, Prince Seeiso & the Basotho Youth Choir join @coldplay onstage #SentebaleConcert pic.twitter.com/tABnqpI14p

— Kensington Palace (@KensingtonRoyal) June 28, 2016
Thank u for this lesson just "don't never give up"????#SentebaleConcert #coldplaykensington @coldplay @Sentebale ❤️ pic.twitter.com/kqbbOF3Jmi

— Sabine Bustros (@Sabustros) June 29, 2016
@Sentebale founders Prince Harry and Prince Seeiso close the #SentebaleConcert with @coldplay pic.twitter.com/U3iqTQaHKk

— Chris Jackson (@ChrisJack_Getty) June 28, 2016
Watch Video: Prince Harry with Lesotho choir at Sentebale charity concert
Watch Prince Harry's speech at the 2016 Sentebale Concert
https://youtu.be/LqXm7KXqsgg
Watch Sentebale Concert in pictures
To see more footage of the choir, click here and watch near the end (from around – 4'35").