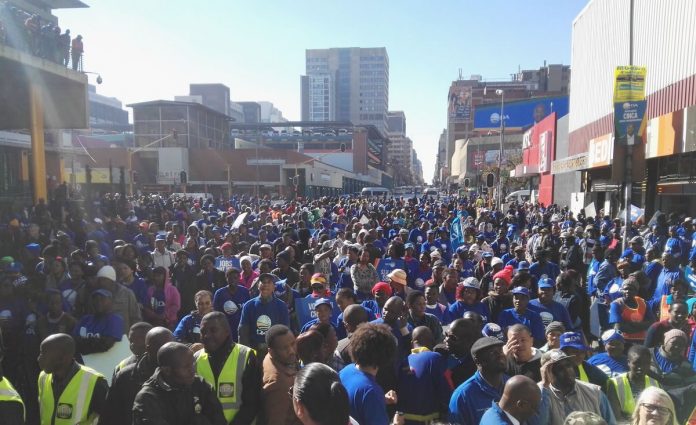 Johannesburg is apparently awash with blue as Democratic Alliance (DA) supporters have gathered for the unveiling of the 'Jobs Not Jets' billboard, which ANC supporters had allegedly attempted to halt… even throwing rocks.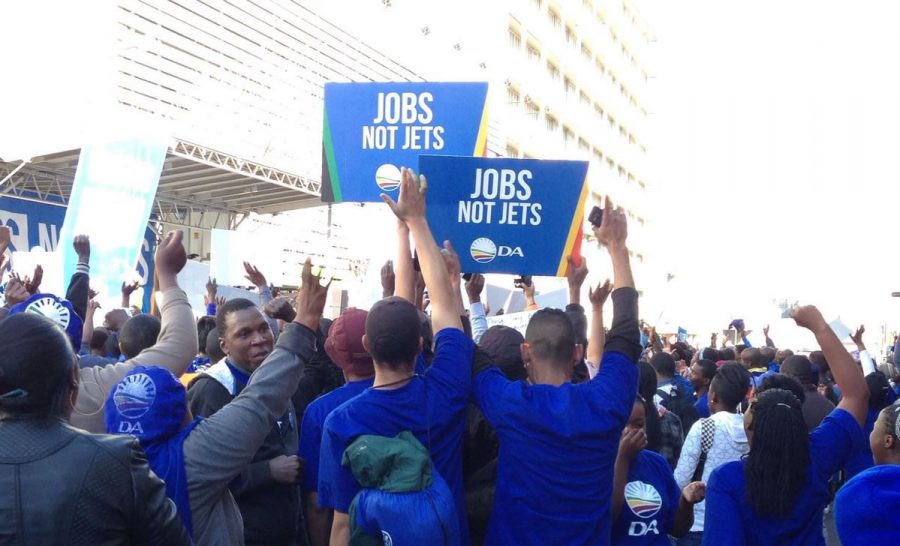 The DA reported an hour ago that the "atmosphere is INCREDIBLE at our billboard unveiling in Joburg. South Africans want JOBS, NOT JETS! Zuma must cancel the purchase of a new R4 billion jet!"
According to the DA, a group of ANC supporters had tried to stop the unveiling.
"The private company that was ensuring the billboard was ready for its unveiling was approached by a group, who identified themselves as being from the ANC. This group demanded to know what was behind the blue sheet which currently covers the billboard," the DA said in a message on Facebook.
"They proceeded to hurl rocks at the employees of the private company, and only left once security was called for assistance.
"We will not be intimidated by their conduct. South Africans deserve to know about Jacob Zuma's latest plans to enrich himself at the expense of 8.9 million jobless South Africans."
Some non-DA supporters have pointed out on Twitter that the jet will belong to the government and not Zuma, and will therefore be used by the next president.
Watch Video: DA supporters at Jobs Not Jets billboard launch in Johannesburg
Jozi is BLUE! #JobsNotJets pic.twitter.com/TCNbMnLdAV

— Democratic Alliance (@Our_DA) June 30, 2016
@Our_DA in the streets of Joburg CBD to unveil it's #JobsNotJets billboard @AfriNewsAgency pic.twitter.com/n7sAkhrkRU

— Sphelele (@SpheDludla) June 30, 2016
Team DA turning Jozi blue today!! #JobsNotJets #MashabaForMayor pic.twitter.com/cvaTg3hAym

— Herman Mashaba (@HermanMashaba) June 30, 2016
At our #JobsNotJets march today with @SollyMsimanga @RefiloeNtsekhe @zilevandamme @HermanMashaba @Our_DA pic.twitter.com/v1aVIsh88B

— #DA_TshwaneVictory (@DA_GautengNorth) June 30, 2016
Zuma's R4 billion jet could support 80,000 new entrepreneurs!

We want #JobsNotJets pic.twitter.com/4t113reRlt

— Democratic Alliance (@Our_DA) June 30, 2016
We cannot use Zuma's R4 billion jet to put food on the table for our families.

We want #JobsNotJets pic.twitter.com/eHLxIRUYhT

— Democratic Alliance (@Our_DA) June 30, 2016