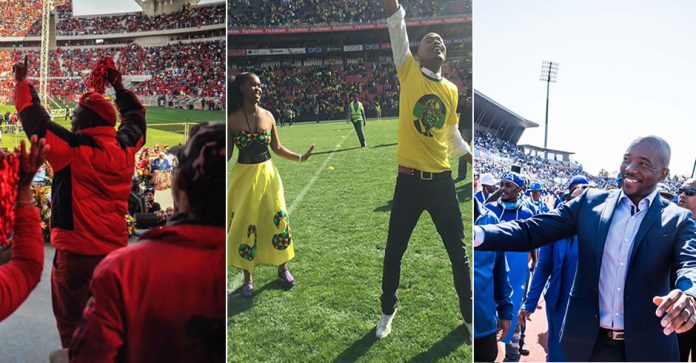 It's been a weekend of red, blue, green and yellow as South Africans were wooed by political candidates in the final weekend before the municipal elections on Wednesday 3 August 2016. (Special Voting takes place today and tomorrow.) Here's a wrap up: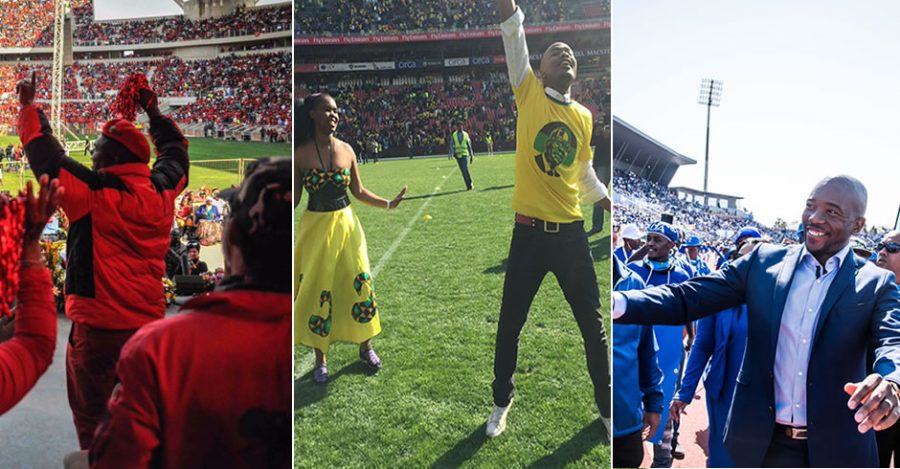 African National Congress (ANC)
South Africans were out in force at the ANC's Siyanqoba (we are winning) Rally, filling both Ellis Park and Absa stadiums.
President Jacob Zuma claimed the ANC is committed to providing access to basic services, fighting corruption ("and will diligently pursue all those who are corrupt"), employing people on merit and discouraging municipalities from outsourcing services they can render themselves. The ANC leader said his party is more determined than ever to win back Cape Town – "It is time the poor in Cape Town are treated with respect and dignity and the ANC is ready to do so."
From the ANC's Facebook page: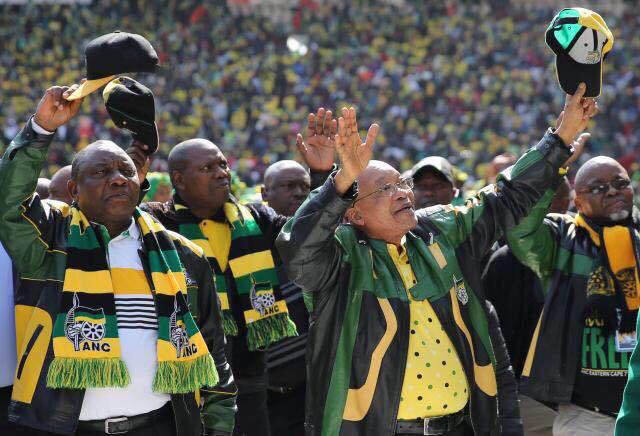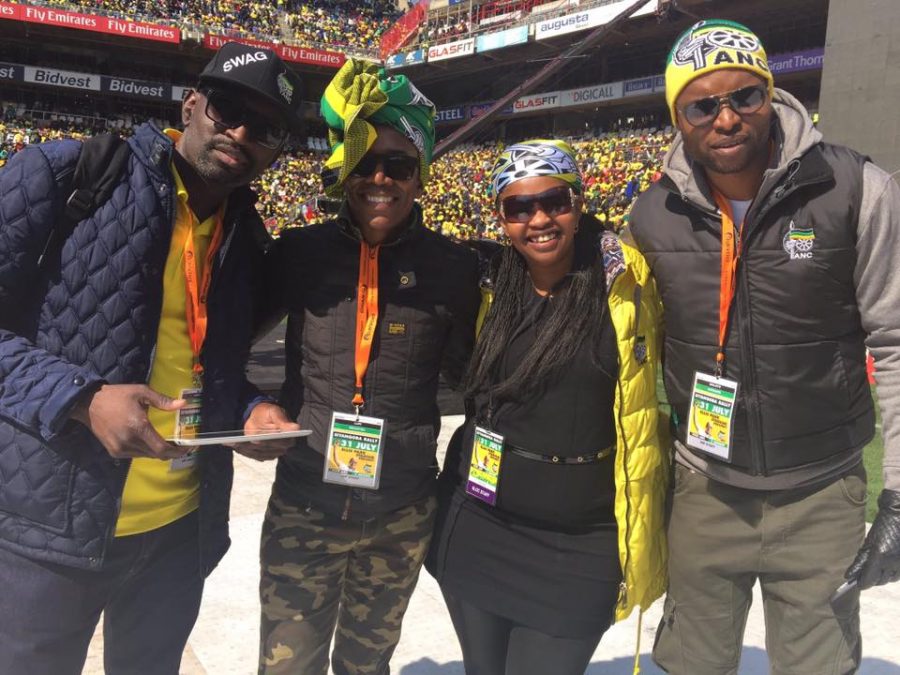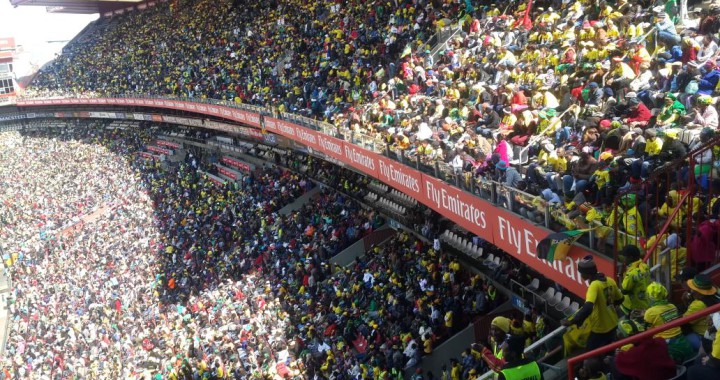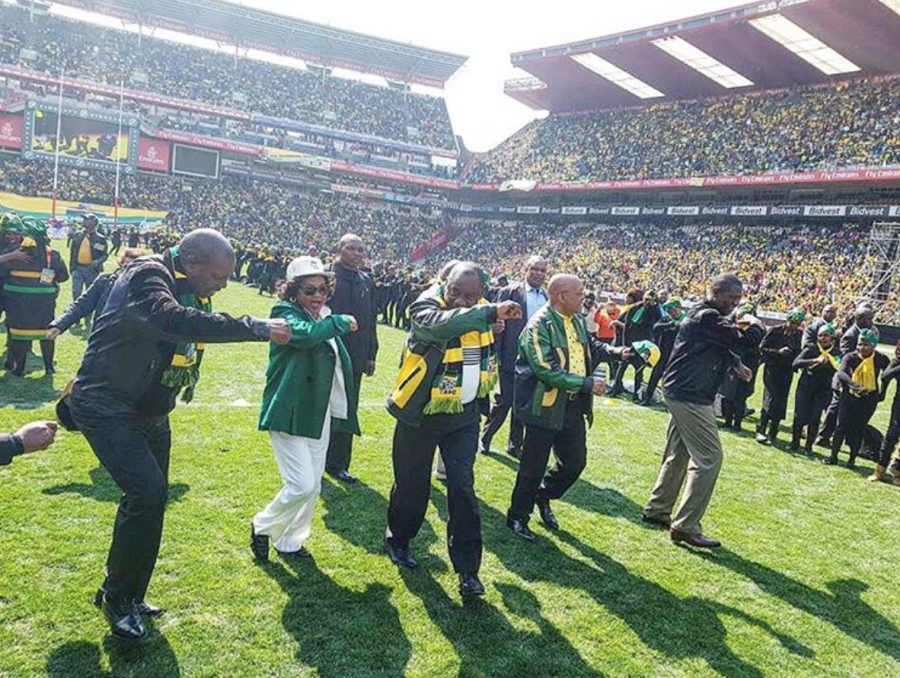 On Twitter…
#ANCPresidentZuma went across to the overflow stadium (Johannesburg Stadium) and (also) addressed #SiyanqobaRally pic.twitter.com/QlO7zi3CS1

— ANCLimpopo (@ANCLimpopo) July 31, 2016
Democratic Alliance (DA) Phetogo 'We Can Win' Final Rally – Dobsonville, Soweto
Thousands of South Africans turned Soweto blue for the DA final rally. The opposition party reiterated their message: "Let's do it for Madiba when we vote on Wednesday 3 August." (It's a message that has highly annoyed the ANC who accuse the DA's use of the persona of the late ANC President Nelson Mandela as "cheap politicking bordering on desperation".)
The DA's main message to voters has been to choose the DA for clean government, jobs, service delivery for all and "change that moves us forward again". Emphasis from both the DA and EFF was on pointing out the weaknesses and broken promises from the ANC.
Here's a collection of quotes from DA Leader Mmusi Maimane's speech at the party's Phetogo Rally in Soweto, at the stadium not far from where he grew up:
"The ANC has turned its back on everything Nelson Mandela fought for."
"The time has come for a revolution in our country. We don't want bloodshed, and we don't want a war. We will not take power through the barrel of a gun. Because we have the power of our vote. And, as somebody once said, the ballot is more powerful the bullet."
"We can win in Johannesburg. We can win in Tshwane. We can win in Nelson Mandela Bay. And we can win in many other municipalities across South Africa. But we can only do it if enough people vote for change on 3 August."
"In a democracy, you don't need to be loyal to a party forever. When a party betrays you, you have a chance to punish it."
"A vote is not a tattoo that stays with you forever, or that everybody can see. You are free to change your vote, and your vote is your secret. Just because you voted for the ANC before, does not mean that you must vote for the ANC again."
Photos from the DA's page on Facebook: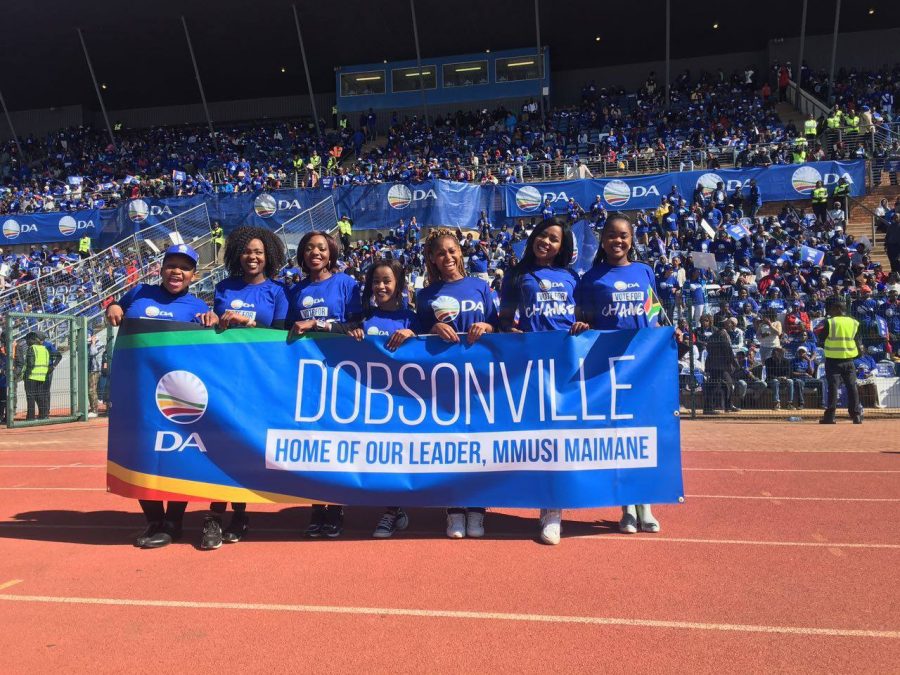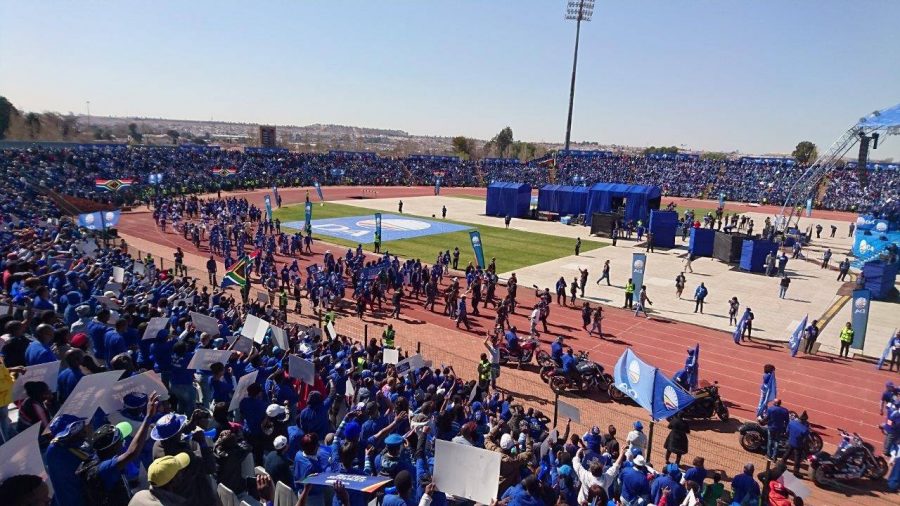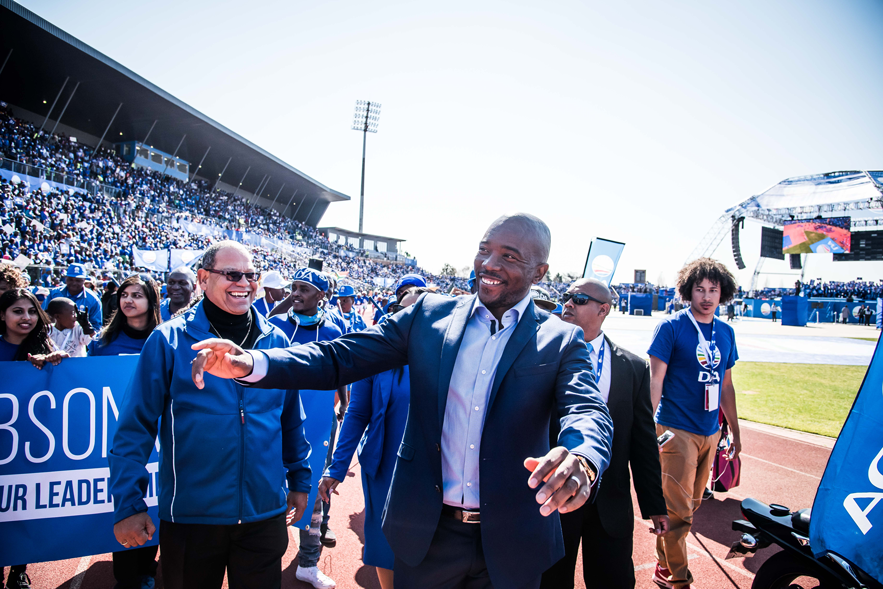 Economic Freedom Fighters (EFF)
Commander in Chief Julius Malema addressed the EFF's final election rally – Tshela Thupa – at the Peter Mokaba stadium in Polokwane, where they were proud to boast that no buses bussed people in from outside areas and nobody pitched up for a free t-shirt. It also marked the EFF's third birthday.
Malema's quotes included:
"Our agents must not eat ANC food. They will poison you so they can steal votes."
"We are asking South Africans to give us just five years. We will do in five years what they failed to do in 22 years."
"Stop loving tshirts more than you love yourself. Stop loving tshirts more than you love your children. They've been giving you tshirts since '94. But they've failed to provide service delivery."
"ANC leaders are blessers. They steal money and exploit people. We will expose these leaders."
"Free education is possible!"
"We are going to take all the metros. All the metros belong to EFF!"
"We don't make empty promises to you . We promised to make Zuma pay back the money and we fulfilled that declaration."
"Poor people must not pay for rent and electricity. Water is a basic necessity. Not luxury."
"The houses we will give you will have big yards so you can plant. So you can feed yourselves."
"We will increase social grants. We want our children to be fed. We want our elders to be taken care of."
"Every ward must have a clinic that opens 24hrs. People must not be turned back with sicknesses because it's 4pm."
"I was raised by my grandmother. I was raised by grant money. Pensioners carry our children."
"We have heard the cries of young girls who don't go to school because they don't have pads. We will give you pads."
"The ANC is dead. It was buried with Mandela. If you want the ANC go to Qunu."
CIC @Julius_S_Malema arriving in Peter Mokaba Stadium for the #TshelaThupaRally view at the back of the stage pic.twitter.com/TNG9Uewio9

— EFF Official Account (@EFFSouthAfrica) July 31, 2016
@EFFSouthAfrica @EffNm watching #TshelaThupaRally live in Nangoza Jebe Hall at the Centenary Nelson Mandela Metro pic.twitter.com/TMm6ipzUsb

— godrich gardee (@GardeeGodrich) July 31, 2016
Happy Birthday EFF- #EFF3rdAnniversary pic.twitter.com/rdJsU4ichI

— EFF Official Account (@EFFSouthAfrica) July 31, 2016
#TshelaThupaRally cutting of the #EF3rdFAnniversary Cake #EFFwayawaya pic.twitter.com/lwKqmPh0hD

— EFF Official Account (@EFFSouthAfrica) July 31, 2016
#TshelaThupaRally pic.twitter.com/CbAfDnins6

— EFF Official Account (@EFFSouthAfrica) July 31, 2016
The EFF is here to stay, We are the future. #TshelaThupaRally #EFF3rdAnniversary pic.twitter.com/tdfkbBSW8A

— EFF Official Account (@EFFSouthAfrica) July 31, 2016
If you're voting on Wednesday – here's a guide from the IEC: