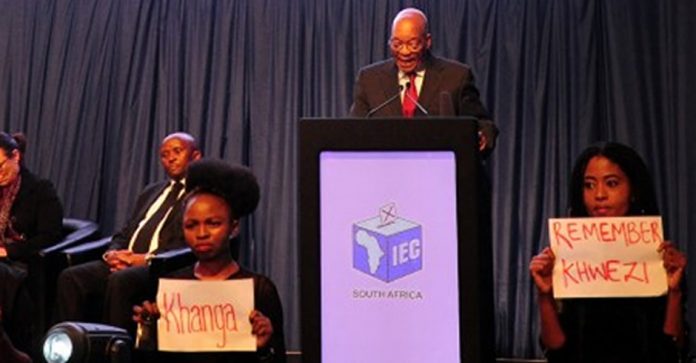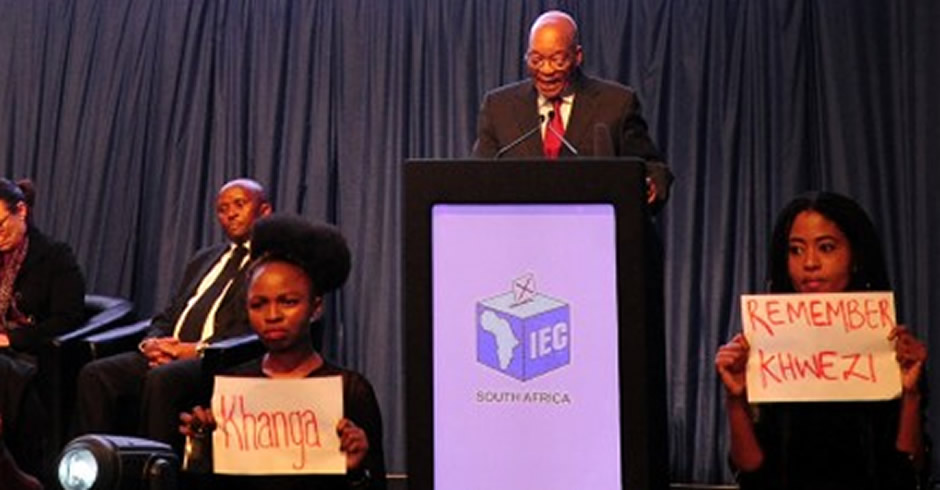 JOHANNESBURG (Reuters) – Anti-rape activists protested on Saturday as South African President Jacob Zuma delivered his first remarks since local elections gave his African National Congress (ANC) its worst results since 1994.
Zuma ignored the protest while his security guards stood nearby, apparently surprised by the protest by four women dressed in black and holding up placards, some with the words "Remember Khwezi" and "10 years later".
"Khwezi" is the assumed name of a female HIV activist who, in one of the most sensational cases in South Africa, accused Zuma of rape in 2006 before he became president.
He was acquitted of the charges, keeping alive the political hopes of a man who went on to become president in 2009.
Zuma had pleaded not guilty to raping "Khwezi" at his Johannesburg home, but his lawyers said he did have consensual sex with the woman, then 31 years old.
Zuma's spokesman was unavailable to comment. There was no comment from other government officials.
Glen Mashinini, chairman of the electoral commission, apologised to Zuma, saying "this took us by surprise, and we really want to apologise to all of you" to the gathering that included cabinet ministers and political party chiefs.
In his speech, Zuma said the elections – which punished the ruling ANC for unemployment, a stagnating economy and Zuma's scandals – had been well run and proved that South Africa's democracy was maturing.
Zuma, 73, has survived several political and personal scandals, fending off accusations of corruption, influence peddling and rape before he took office in 2009.
The rape case has caused political damage to Zuma, particularly because he conceded that he had had unprotected sex with the woman, despite knowing that she was infected with HIV.
AIDS activists criticized Zuma – who said he took a shower afterwards to prevent possible HIV infection – for what they said was his spreading of misinformation about the disease in South Africa.
(Reporting by James Macharia; Editing by Tom Heneghan)
***
WATCH VIDEO: Protesters Boycott Zuma Speech at IEC