There was action for South Africa's rowers, swimmers and a sailor on Monday. Times are Rio local and in brackets is SA time.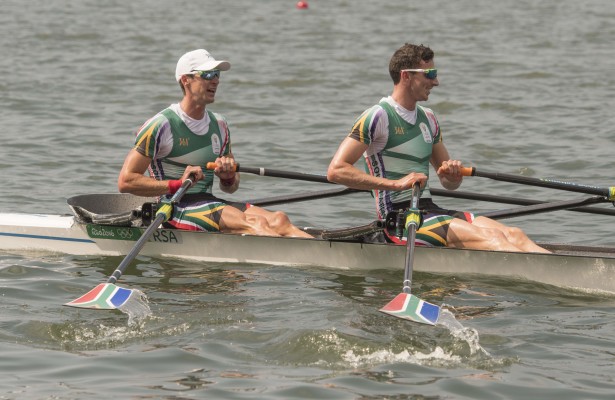 ROWING
Lightweight Women's Double Sculls: Kirsten McCann and Ursula Grobler won their heat in 7min 07.37sec to progress straight to Wednesday's semi-finals.
In a nutshell: Better conditions for the rowers after Sunday's debacle. McCann and Grobler went fast from the start, and quickly built a lead. They were nearly two boat lengths clear after 500m and kept their rhythm and stroke to be nearly four seconds ahead of Ireland at 1 000m. The gap maintained through to the finish. Job done. GL
Heat result: 1 South Africa 7:07.37, 2 Ireland 7:10.91, 3 Brazil 7.20.79
Fastest heat winners: Netherlands 6:57.27, China 7:00.13, Canada 7:03.51, South Africa 7:07.37
Lightweight Men's Double Sculls: James Thompson and John Smith were impressive in winning their heat in 6:23.10 to progress straight to the semi-finals.
In a nutshell: Thompson and Smith, part of the Men's Lightweight Four that won a historic gold at London 2012, were impressive and confirmed their status as medal candidates when beating the Britain's Will Fletcher and Richard Chambers. The Brits, in lane four, started quicker and went through the 500 and 1 000m marks about three-quarters of a boat length ahead of the South Africans, in the outside lane five. But, from halfway Thompson and Smith poured on the pressure and came alongside Britain with 500m to go before pulling clear to win in eye-catching style. A medal? You bet! GL
Heat result: 1 South Africa 6:23.10, 2 Great Britain 6:25.62, 3 Switzerland 6:29.95
Fastest heat winners: South Africa 6:23.10, Ireland 6:23.72, 3 Norway 6:24.81, 4 France 6:24.62
Women's Pair: Lee-Ann Persse and Kate Christowitz finished second in their heat in 7:11.29 to progress straight to the semi-finals.
In a nutshell: Persse and Christowitz started well in a competitive heat with four of the five boats virtually in a line after 500m, with South Africa leading. New Zealand's Genevieve Behrens and Rebecca Scown then started to assert their authority and hit the front as China tried to go with South Africa in second spot inside the last 1 000m, but Persse and Christowitz held things together well and secured a comfortable second spot. GL
Heat result: 1 New Zealand 7:09.23, South Africa 7:11.29, 3 China 7:15.66
Fastest heat winners: Great Britain 7:05.05, United States 7:05.14, New Zealand 7:09.23
Men's Four: David Hunt, Jonathan Smith, Vincent Breet and Jake Green finished fourth in 6:01.64 in their heat behind Great Britain and failed to qualify automatically for the semi-finals. They have another chance however, as they automatically go into the repechage.
Fastest heat winners: Australia 5:54.84, Great Britain 5:55.59, Italy 5:56.01.
Read Team SA's Mark Etheridge's wrap up of the rowing here
SWIMMING
Men's 200m Butterfly: Chad le Clos, the 2012 Olympic champion, won his heat in 1:55.57 to qualify for the evening semi-finals.
In a nutshell: Le Clos swam well within himself, controlling the race from lane for and won more comfortably than the time would suggest. Still, the 1:55.57 placed him third overall for the morning, with fierce rival Michael Phelps fifth fastest, swimming in a different heat. For a brief moment he was headed but always knew where he was in the race and allowed himself to look left and right again inside the final 30 metres just to make sure there were no dangers lurking. There weren't. GL
Heat result: 1 Chad le Clos (RSA) 1:55.57, 2 Masato Sakai (Japan) 1:55.76, 3 Zheng Wen Quah (Sing) 1:56.01.
Men's 200m Butterfly: Sebastien Rousseau finished eight in his heat in 1:57.33 and failed to qualify for the semi-finals, placing 23rd overall.
In a nutshell: It has been a disappointing Olympics for the experienced Rousseau, who also failed to get past the heats in the 400m IM. He again was never in the race with a chance of getting out of the heats, getting to the 50m wall nicely enough in 26.02 but falling off the pace from there. The heat was won by bookies favourite Laszlo Cseh in 1:55.14. GL
Fastest qualifiers: 1 Tamas Kenderesi (Hun) 1:54.73, 2 Laszlo Cesh (Hun) 1:55.14, 3 Chad le Clos (RSA) 1:55.57, 4 Grant Irvine (Aus) 1:55.64, 5 Michael Phelps (USA) 1:55.73, 23 Sebastien Rousseau (RSA0 1:57.33
Still to come
SAILING
In progress: Men's Laser, Race 1 and Race 2: Stefano Marcia
SWIMMING
10.21pm (3.21am): Men's 200m Freestyle (Final): Chad le Clos
11.10pm and 11.19pm (4.10am and 4.19am): Men's 200m Butterfly (Semi-finals): Chad le Clos
Five things to know about the 200m butterfly
1) Chad le Clos is bidding to become the only swimmer to retain his Olympic title in this event. The other is Michael Phelps.
2) Lazslo Cseh is the bookies' favourite, at 12-10, followed by Phelps 17-10 and Le Clos 7-2. Cseh was silver medallist in 2008 and bidding to give Hungary its first gold in this event.
3) Phelps is bidding to become the first swimmer to win a medal in this event in four successive Olympics.
4) Cseh won the European title in May in 1:52.91, the fastest time since Phelps swam his world record of 1:51.51 in 2009.
5) If Phelps won he'd be the oldest winner of an individual event. He will be 31 years and 40 days on the day of the final, 9 August.
What does Le Clos say?
'I'm very excited, I've been waiting a very long time for this. Very, very excited.'
GL = Gary Lemke
Image of James Thompson and John Smith by Christiaan Kotze/SASPA
– Source: SASCOC.