Odessa Swarts, proud mom of Olympic gold medallist Wayde van Niekerk, has thanked South Africans for their support.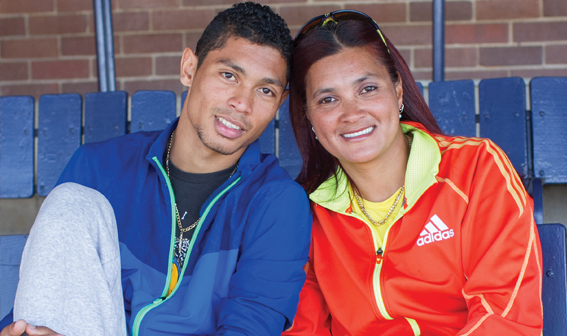 In a Facebook update this afternoon, she wrote: "I'm not able to reply on all the well wishes and messages. Ours phones have been buzzing non stop. We as a family Swarts / Van Niekerk are all still on a high and are all thankful for all the prayers and well wishes. You rock SA. Love and blessings all."
Swarts spoke earlier to KFM radio (listen below) from Rio, revealing that being the parents of an Olympic world record breaker is "unreal. It's an emotion we can't describe". On Facebook she uploaded photos with her son, captioning the pics "Proudest parents in the world".
Listen to Wayde van Niekerk's Mom speak to KFM Breakfast
In an interview with SASCOC's 'Road to Rio' magazine before the Olympics, Wayde told journalist Mark Etheridge that he gets great support not only from his mom and dad, but the whole extended family.
"It's them who are putting me in this comfortable position I'm in today. It's just so humbling being able to say I'm living a life I've been blessed with, going with the talent and maintaining it."
Other quotes included:
On his younger brother Craig: 'Yeah, he's running times of around 47sec for 400 these days, but he's still got to get there. He's only 18 but already he's taller than me and physically stronger!'
On the financial side: 'Those two Mercedes I was presented with at last year's SA Sports Awards were a huge blessing. Mom and dad each got one … well, my mom and I pretty much share the one and my dad uses the other. I allowed myself a little reward by buying a new Volkswagen GTi.'
Step-dad Steven Swarts: 'As a son, Wayde would always want to please and is sometimes too hard on himself when he thinks he's disappointed his parents. He's humble and would give his last to his family and friends. I truly couldn't have asked for a better sport personality and role model as son and am blessed to be a father to him and his siblings.'
Odessa Swarts on her world with Wayde: 'My journey with Wayde started in Tygerberg Hospital, Cape Town. I remember it like it was yesterday and Wayde was fast from the beginning! I was only 18 when I delivered him as a premature baby. After complications Wayde decided that 28 weeks was enough time and could not be held back anymore. He was on his way…
'We are just thankful for the support he's received from SASCOC to assist with international competitions as well as his sponsor, Adidas. It would have been difficult for us as a family to support him financially if it wasn't for the generosity of these sponsors. We're blessed as a family to have a world champion still living at home being an inspiration to his siblings and parents.'
– See more at: http://www.sascoc.co.za/
Wayde's mom also uploaded this message to Facebook – the words from Wayde's first coach, Mr Field:
Mr Field: "I actually watched a delayed broadcast at about 04:30 this morning as I couldn't stay awake any more…When I got out of bed I ignored my phone and the highlights channels because I knew the race was over. Myself and my wife watched the race as if it was live….and we were not disappointed hey!!!! Memories of the world champs came flooding back when he blasted off at a pace that can only be considered insane!!! We knew he had them on the back strait and that the race was over…..but would he tire?….What happened next was like a dream….when he rounded the final bend it seemed that Keranie and Le Shawn were catching up to him for a few meters….and then he hit the turbo button. It was absolutely mind boggling to see him accelerate away and maintain a perfect stride pattern..to break Michael Johnsons world record…I'm still emotional when I think about it!!! There was a lot of screaming…hugging and tears …my wife Tracey had tears streaming down her face and I slumped to my knees and stayed there for a few minutes when it sunk in what Wayde had just achieved…phenomenal. I want to tell Wayde that we thank God for him and that South Africa and Cape Town is extremely proud of this remarkable achievement. The fastest man over 400m in history!!! Thank you for being a role model for our kids and congratulations Wayde! Embrace greatness! Greatness has embraced you."