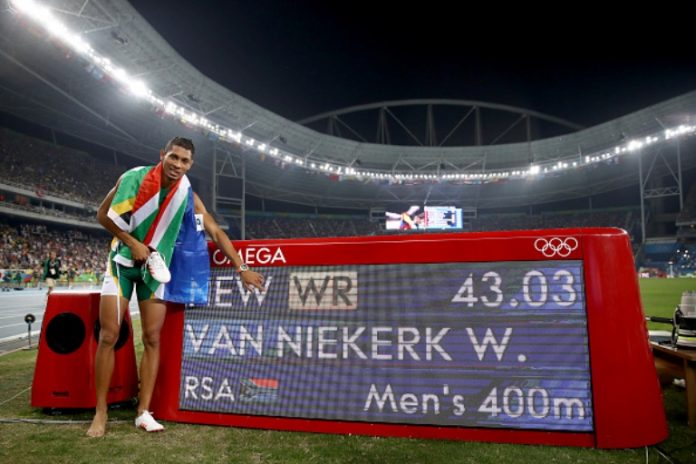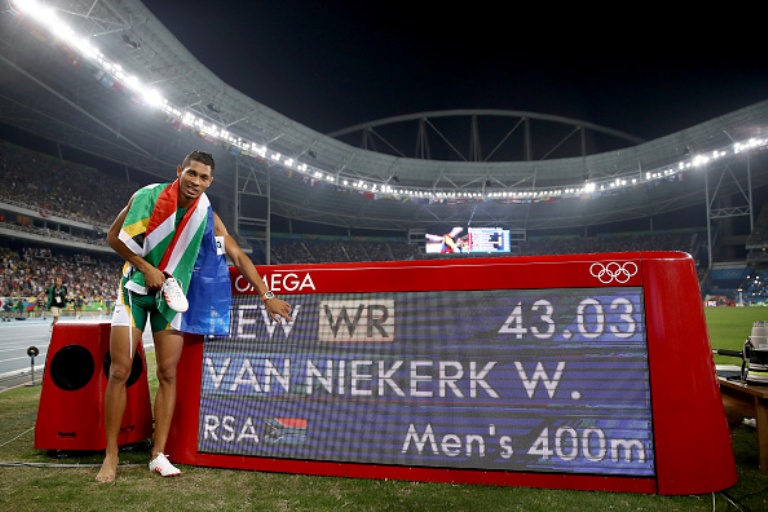 Ten days ago he waved the flag for Team South Africa as the world looked on at the opening ceremony of the Olympic Games in Rio. Sunday saw Wayde van Niekerk ruling the world as he raced to gold in the 400-metre track event, earning South Africa's first track gold medal since re-admission to world sport back in 1992. (Watch video below.)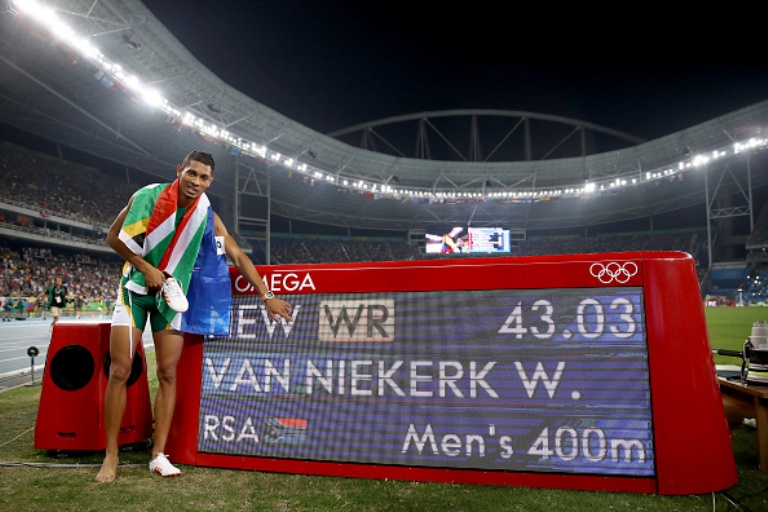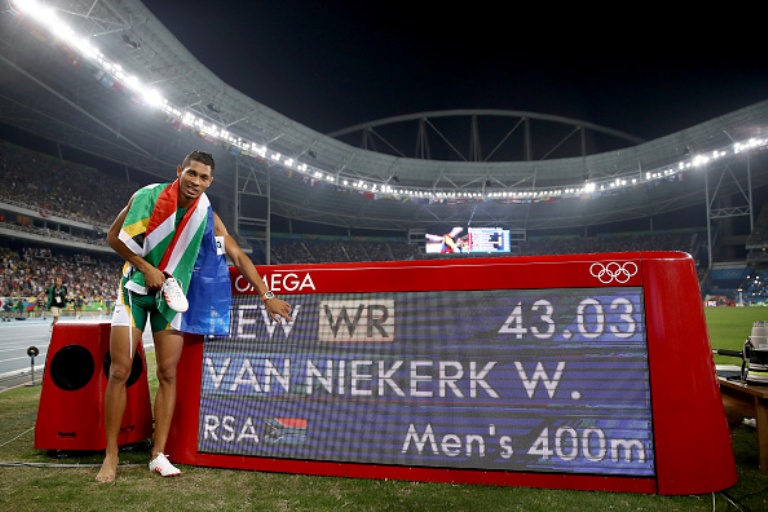 In imperious form from gun to line, Van Niekerk was never headed as he also obliterated United States superstar Michael Johnson's 17-year-old record of 43.18 seconds with a time of 43.03.
The victory earned Team SA their first gold of the Games to go with their five silvers and bronze and with just under a week to go to add even more medals to that.
Winning gold meant South Africa jumped from 41st to 21st on the medals table.
Speaking afterwards Van Niekerk was still shell-shocked. 'I'd love to tell you guys more but I honestly can't remember the race, I'll have to go back and watch it on television,' he smiled bemusedly.
'All I know is that I left it all out there tonight. I left it in God's hands here at a challenging Olympics.
'I ran blind the whole race, I still don't know what happened out there but it was just so awesome to be here and inspired by guys like Usain Bolt, Michael Johnson, and tonight guys who I ran against like Kirani James and LaShawn Merritt.
'I struggled with a few niggles and nerves here but I had my whole family here to share this opportunity.
'What I can remember is that I thought someone would catch me, it was quite lonely out there and thought "what's going on?" but I kept on pushing and even dived a bit for the finish line.
'In terms of strategy it was just to go and do my best. I just went for it. When I saw the time I was really amazed. I went out there for any medal tonight.. just wanted top three, I got that, a world record, lifetime best.. wow.
'It was just so great to have my family here and to witness it. 'It's just so unreal, don't even think I was in that race tonight… I even had the chance to do a victory lap!' A
s for the extended Van Niekerk family there was huge jubilation, if a little disbelief.
Dad Steven Swarts said: 'I'm still on cloud nine. It's so difficult to explain. I'm still shivering. I am the proudest father on earth. I believe that it was Fathers Day in Brazil… so what a gift.
'I still can't believe that I raised a world champ, Olympic champ, world record holder, Olympic record holder.
'The last three years were and are the best years of my life… I've witnessed it with my own eyes and the entire family was here, all 10 of us!'
Going into the race, Van Niekerk had drawn what had looked to be a disadvantaged eighth-lane draw. It meant that he'd start on the outside looking in and be the rabbit for the likes of defending champion James and 2008 Olympic champion  Merritt to hunt down from behind.
Only thing was that this illustrious duo were the ones being left behind as Van Niekerk went out hard, held his lead down the back straight and into the home straight before finding yet another gear to pull further away.
A nervous looking Van Niekerk's race number was pinned onto his chest in lopsided fashion, and he had bright red physio strapping on his right hamstring. But when the gun went the only thing that remained lopsided was the margin of victory and the only colour on his mind was green for go! James went on to finish second in 43.76 and Merritt rounded off the podium with a 43.85.
After he crossed the line, Van Niekerk returned to the finish line, going down on one knee to look back at where he'd just come from, leaving record books rewritten and a personal best by a staggering 0.45sec for the Bloemfontein blitz who won Commonwealth Games silver in Glasgow, Scotland two years ago before getting gold at last year's World Championships in Beijing, China.
A measure of the quality field was that the first six of the eight-strong field ran either personal bests, season's bests or national bests.
One of those who didn't do any of the above was James' Grenadian countryman Bralon Taplin in lane four. He said: 'I had kinda imagined the scenario where Wayde would be out in front for at least 300 metres but then what happens is that they would normally crash and burn.. but not this guy, he just carried on running away!'
Spare a thought for Van Niekerk's team-mate Akani Simbine who blasted his way into the men's 100m final, believed to be the first SA athlete in the blue riband event in 84 years. And Simbine was by no means disgraced as he raced to fifth spot in a time of 9.94sec as the phenomenon that is Usain Bolt defended his Olympic title with a win in 9.81sec, ahead of Justin Gatlin (9.89) and Canada's Andre de Grasse (9.91).
See more: Sascoc.co.za
Watch Video: Wayde van Niekerk Wins in Rio, Olympics
https://youtu.be/74_D2WsFsKw
Watch Wayde interviewed after his race
South Africans react to Wayde's win:
Here are some of the jubilant messages that have poured in to SAPeople.
Sheryn Nader: Amazing that Wayde van Niekerk(who won gold in the 400m) has a cousin Cheslin Kolbe that is a South African rugby union player, that was a member of the South African Sevens team that won a bronze medal at the 2016 Summer Olympics. Talented family!!
Nathan Sauls: Congrats coach Ans Botha and well done Wayde van Niekerk.?????????????? Anna "Tannie Ans" Botha (74) is the great-grandmother University of the Free State (Kovsies) head coach behind South Africa's newly crowned 400m world champion Wayde van Niekerk.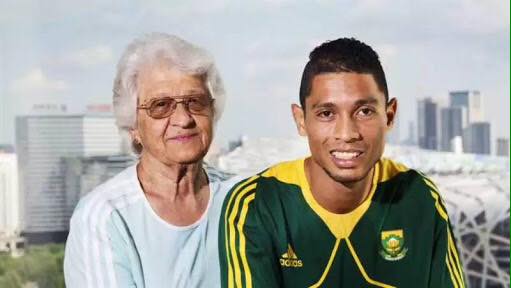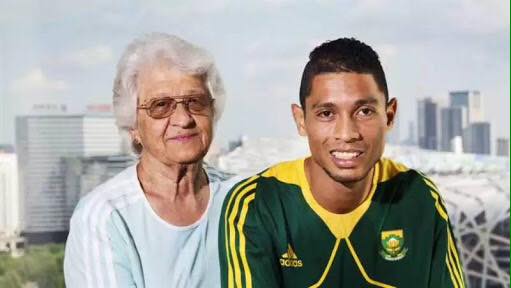 George Simbonis: "#Wayne #Van #Niekerk breaks #Michael #Johnson's #world #record with a #43.03 time in the #Rio #Olympic #games #2016 ..!! Super proud being South African right now This young man is a legend..!!??????????."
Shona Randall Salver: "Wayde Van Niekerk!!!!! Fastest 400m in history !! I stayed up until 3am specifically to watch it and am literally crying with happiness #‎RioOlympics2016 ??????????????"
Ashley Gibbons: "So proud of Van Niekerk right now!"
Anja Godderis: "Congratulations, Van Niekerk!"
Shea Karssing: "Van Miekerk did it! World record nogal!"
Watch Usain Bolt win 100m Final
George Simbonis: "#Usain #Bolt wins the hundred meter final in the #Rio #Olympic #games #2016 well done to South African #Akani #Simbine 5th place BUT WAS SO CLOSE FOR THIRD ??"