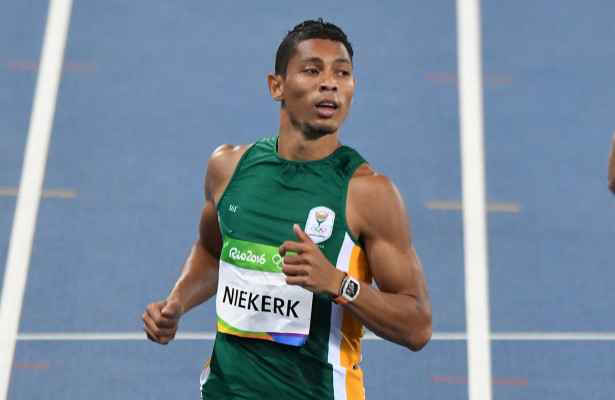 A dream came true Sunday for Wayde van Niekerk – and his country – as he made his Olympic goal true… to win gold in the Men's 400m in Rio, Brazil. The South African athlete also broke Michael Johnson's 17-year-old record to record a phenomenal world record of 43.03 sec!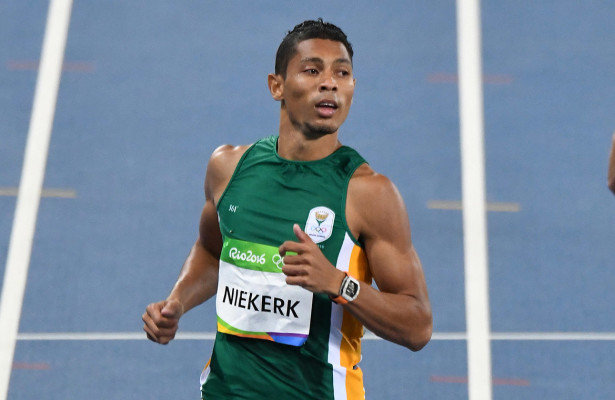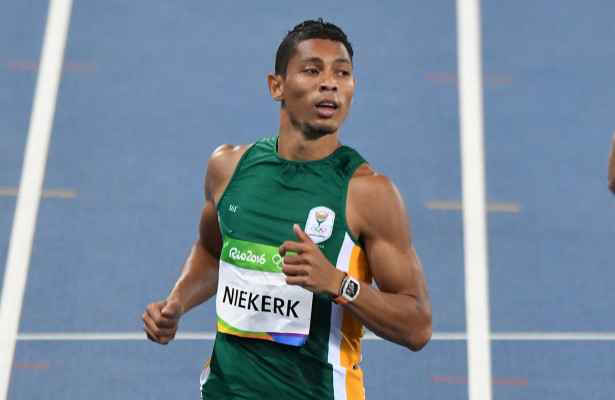 Twenty-four-year-old Van Niekerk ran the race in 0.15s faster than Johnson's 1999 record from Seville, Spain… securing South Africa's first gold medal of the Games!
Watch the video of Wayde van Niekerk winning Gold at the Olympics.
Here is how Twitter reacted:
When somebody makes you believe anything can be done . It's freaking Wayde. ???

— Anaso Jobodwana (@_ambitious_jay) August 15, 2016
Speechless @WaydeDreamer . WORLD RECORD!!!!!!

— Ruswahl Samaai (@RuswahlSamaai) August 15, 2016
Wherever he is right now, Fikile Mbalula is break dancing.#vanNiekerk #WorldRecord #Olympics

— Trevor Noah (@Trevornoah) August 15, 2016
What a run! What a man! Congrats @WaydeDreamer #proudlySA #GOLDMEDAL #RSA

— Gary Player (@garyplayer) August 15, 2016
Olympic Champion and new WORLD RECORD for @WaydeDreamer #gold #Rio2016 ?? pic.twitter.com/RoTaz7UuD2

— René Kalmer (@ReneKalmer) August 15, 2016
This is exactly why Wayde is our current reigning South African Sportsmen and Sport star of the year 2015 – now he aims for same in 2016

— RSA Police Minister (@MbalulaFikile) August 15, 2016
I am still shaking! What a performance! First 400m Olympic Gold for #RSA in 96 years. But even better, what a WR! @WaydeDreamer you are a ⭐️

— Arnaud Malherbe (@Arnaud400) August 15, 2016
That NEW WORLD RECORD should count as 2 GOLD MEDALS #Gold #Gold @WaydeDreamer @SuperSportTV @CocaCola_ZA @teamsa16 #RSA

— Janine Van Wyk (@Janinevanwyk5) August 15, 2016
Only true fans of track history can appreciate what Wayde van Niekerk just accomplished. Stunning. He took Johnson's record from lane 8

— Patrick Gaspard (@patrickgaspard) August 15, 2016
@WaydeDreamer you beauty!! Special that???

— Herschelle Gibbs (@hershybru) August 15, 2016
Unbelievable run from lane 8 for #WaydevanNiekerk @teamsa16 ?and #worldrecord!! ??

— Ernie Els (@TheBig_Easy) August 15, 2016
Usain Bolt's reaction to Wayde van Niekerk's WR 43.03 in the 400m final. #Rio2016 pic.twitter.com/GJIaMLGzIZ

— Stephen Nelson (@Stephen__Nelson) August 15, 2016
A hat-trick of titles for Usain Bolt but no doubt about the performance of the night in Rio. #WaydevanNiekerk pic.twitter.com/Vl57yQpBAQ

— Farayi Mungazi (@BBCFarayi) August 15, 2016
#IOLYMPICS Van Niekerk believed. @IOLsport https://t.co/181prwRNeH

— Kevin McCallum (@KevinMcCallum) August 15, 2016
One of the greatest moments in these Olympics @usainbolt going into the stands to congratulate @WaydeDreamer pic.twitter.com/nIAGvYWa5z

— Shawn Belluigi (@icarusjhb) August 15, 2016
Then Bolt halts interview, runs up the ramp to embrace and congratulate Wayde on his WR and Olympic Gold. That's how it is done. #Rio2016

— Davor Šavija (@dsfisc) August 15, 2016
Kirani JAMES (GRN): "I'm happy to be part of a race that made history. We have put this sport on a pedestal." #AT #M400m #silver

— Olympic News Service (@ONS_Rio2016) August 15, 2016
– See more at: http://www.sascoc.co.za/2016/08/15/how-twitter-reacted-to-van-niekerks-gold/#sthash.YkUn1ylJ.dpuf