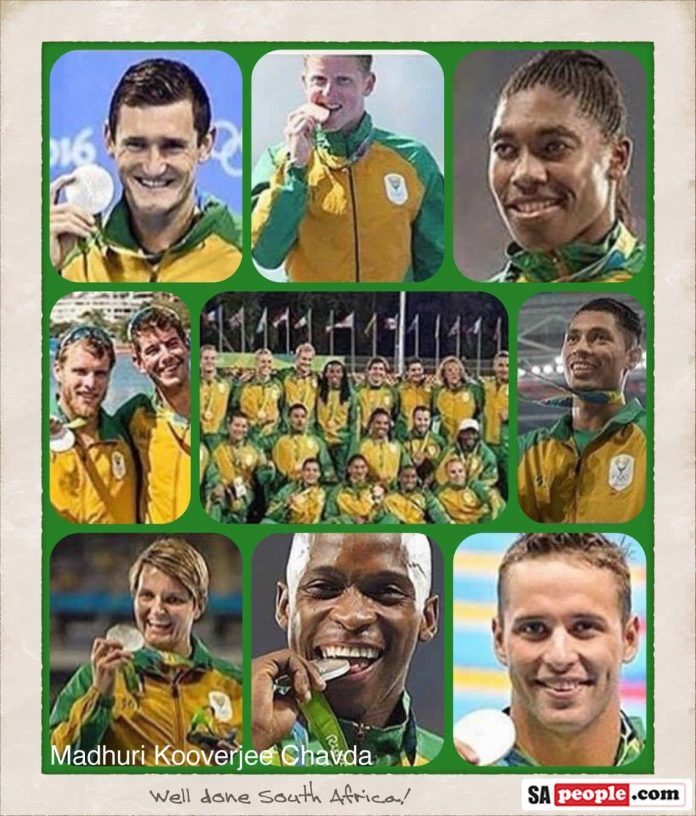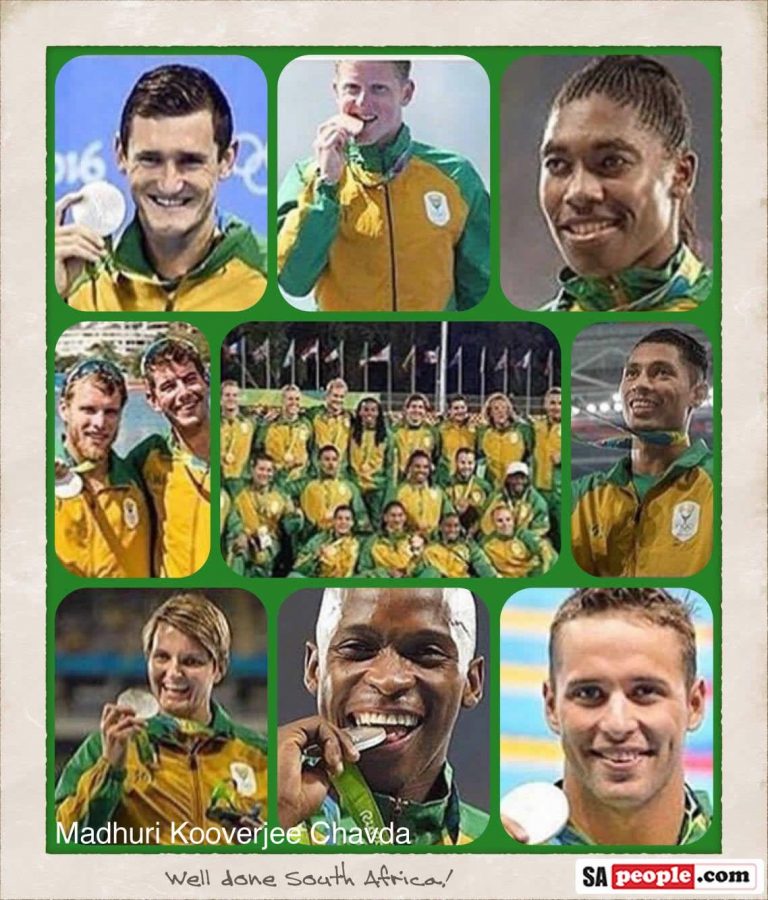 As the curtain on the 2016 Rio Olympics comes down, GARY LEMKE from Team SA gives his verdict on South Africa as they return with their best Olympics haul since isolation and equalling the 10 medals from Antwerp (1920) and Helsinki (1952).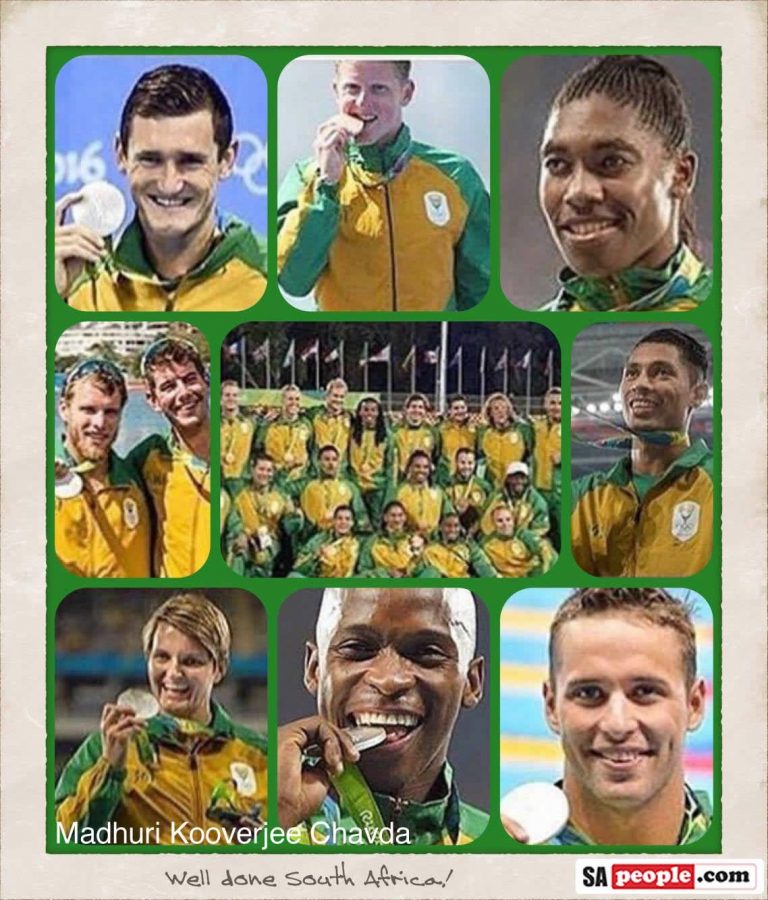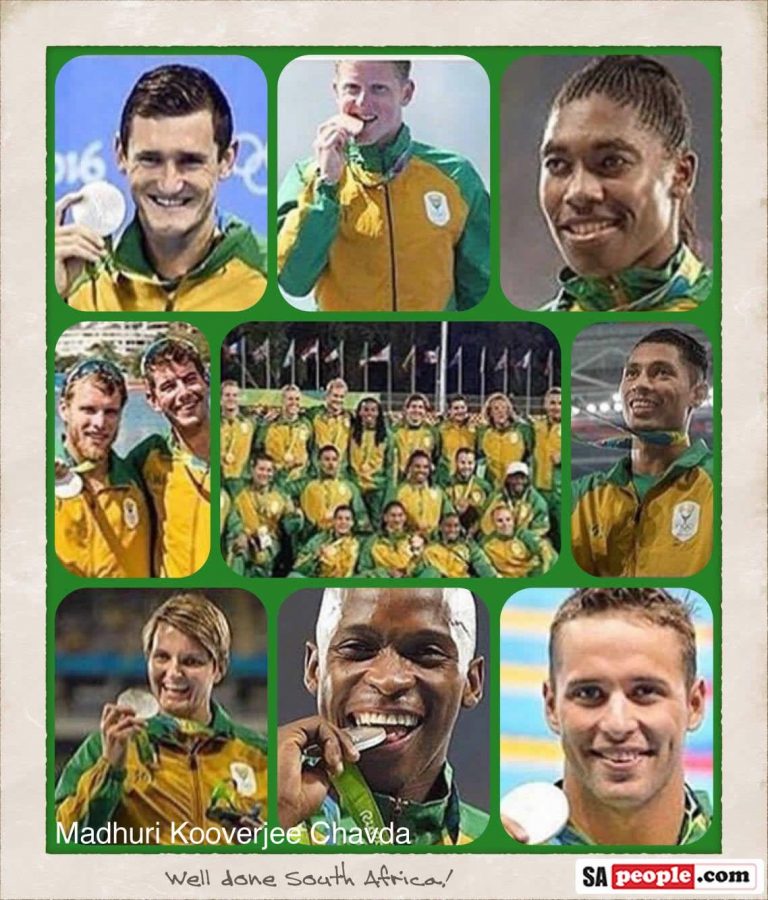 THE TOP 10 PERFORMERS
1. Wayde van Niekerk (400m)
You don't upstage Usain Bolt on a night he is running an Olympic final. From Beijing 2008 to London 2012 to Rio 2016, the great Jamaican has been the show-stopper, winning unprecedented 100/200/4x100m sprint trebles. But on the evening of his 100m, he took in some sightseeing on his way to another gold, as Van Niekerk stole the man's thunder in the 400m.
The South African had found himself isolated in lane eight, and while he was a gold medal favourite in the eyes of many, what no-one foresaw was that he'd lower Michael Johnson's 17-year-old world record.
Van Niekerk catapulted out of the blocks and led the field a merry dance, but the race really started coming off the final bend with 100m to go. Suddenly, Van Niekerk found another gear, drawing away from the chasers that included Kirani James and LaShawn Merritt.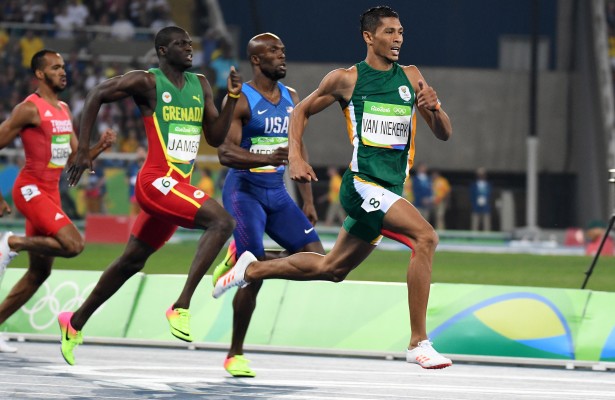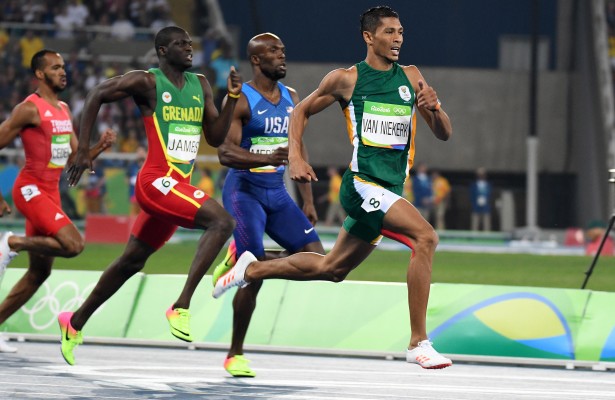 Bolt, watching in the ready room, could hardly believe what he was seeing. Van Niekerk stopped the clock in 43.03sec – and looked like he had more in the tank had he been challenged. The world has found Bolt's successor. (Scroll down to watch Bolt's reaction on video.)
Johnson himself tweeted last night that Van Niekerk's world record was one of the top Rio Athletics performances. He wrote: "Top Rio Athletics performances: Niekerk 400 WR, Bolt triple triple, US team 31 medals, S. Miller 400 finish, Farah double, DaSilva PV gold."
2. Caster Semenya (800m)
She came to Rio as one of the hottest favourites in these Olympics, but against the backdrop of debate as to whether or not her gender 'status' and 'history' made it fair to allow her to run against women.
Semenya however, is not the naive 18-year-old she was when winning the world title in 2009. She is now a woman at peace with herself and the world and she came to Rio to run. And run for that gold medal. Nothing else mattered.
Going through the heat and the semi-final she reiterated that it was gold she was looking for, not medals. Semenya took everything in her stride and did what she had come to do. It was no surprise that she won South Africa's second gold medal, but she conducted herself with class and dignity, on and off the track.
3. Akani Simbine (100m)
You might wonder what a non-medallist is doing so high on the list. Well, Simbine stands on the brink of huge things.
It was only in Slovenia last July that the 22-year-old broke 10 seconds for the first time, being the second South African to achieve the feat. He has now lowered the national record to 9.89 and finished fifth in the Olympic final in Rio, clocking 9.94, after a 9.98 in the semi-final.
In the space of a year he has now gone under 10 seconds six times. Simbine was right on the heels of the medallists in that final in Rio. Usain Bolt cantered home in 9.81, Justin Gatlin won silver in 9.89. Canada's Andre de Grasse claimed bronze in 9.91 and Yohan Blake was fourth in 9.93, Simbine was three-hundredths of a second off the bronze medal.
Consider that Bolt, Gatlin and Blake won't be at Tokyo 2020 and you can see that Simbine is dining at the top table of the blue riband 100m sprint. It's a mouth-watering prospect.
Plus, Athletics SA should have selected him for the 200m. He would have won a medal in Rio.
4. Luvo Manyonga (Long Jump)
It's a well-documented story that Manyonga has had a rough journey these past four years. He has turned his life around after serving a ban for recreational drugs and is now an inspiration to many other troubled youngsters in the township of Mbekweni, outside Paarl.
A former world junior champion, Manyonga had arrived in Rio as an outsider, but on a memorable Saturday night he produced an 8.37m leap into the sand that seemed certain to hand him the gold medal.
Then, with a final jump of his own, the USA's Jeff Henderson went one centimetre further. That's all that separated gold from silver.
'There were thousands of those "demons" on my journey from 2012, but they didn't catch me,' Manyonga said of the long road that he has travelled. Now still only 25, he's eying world championship gold next year.
5. Chad le Clos (200m Freestyle)
Before the Games started Le Clos was a 25-1 outsider for gold in this event. He had been better fancied in the butterfly events, where he picked up two medals in London. Le Clos however had shown good early speed in getting through to the finals, where he drew lane one.
Again, he flew off the blocks and into the lead, building a commanding advantage over the field as they went through 50m and then 100m. He still led at the 150m mark, before he was eventually hunted down by China's Yang Sun.
Le Clos stopped the clock in an African record 1:45.20, and gave cause to expect him to become a force in freestyle sprinting going forward.
6. Cameron van der Burgh (100m Breaststroke)
Van der Burgh had come to Rio as the reigning Olympic gold medallist from London 2012. But, he hadn't arrived as the gold medal favourite. That accolade fell to the brilliant young Adam Peaty.
The Brit broke the world record in the heats (57.55), with Van der Burgh qualifying seventh. Peaty was again under 58 seconds in the semi, with the South African third fastest.
In the final, Peaty blazed his way to another world record (57.13) but Van der Burgh swum one of the bravest races of his life to take silver in 58.69.
'It was more a mental thing than a physical thing,' the 28-year-old South African second. Indeed it was, with Van der Burgh having to dig deep into his reservoir of reserves to hold off a charging pack.
What a games,Our best yet!

The love has been endless, thank you for that ??? pic.twitter.com/CzBcnmJ0tv

— Cameron vd Burgh (@Cameronvdburgh) August 21, 2016
7. Henri Schoeman (Triathlon)
The brother of 2012 swimming Olympian Riaan wrote his name into the history books by winning South Africa's first ever Games triathlon medal when he took bronze.
It would have felt like a gold, considering he led the field in chasing home the dominant Brownlee brothers, Alastair and Jonathan, of Great Britain. Schoeman's strength, they said, was his swimming, while his 'weakness' was his running. Well, he climbed out of the water in seventh position and got on the bike where he formed one of a breakaway of 10 riders.
Fellow South African Richard Murray was considered the better medal candidate but he was caught 54sec behind after the swim and fell further back on the cycle. Schoeman swapped cycling shoes for running shoes and quickly made third spot his own.
That's where he stayed, holding on to bronze on the Copacabana ahead of a charging Murray who completed his 10km run in 30min 34sec, eventually ending within seven seconds of Schoeman.
8. Chad le Clos (100m Butterfly)
Le Clos won silver to add to the silver he picked up in London. However, that doesn't tell the story of the effort. Young Singapore speedster Joseph Schooling raced to gold, with Le Clos, Michael Phelps and Lazslo Cesh all being awarded the silver medal in an extraordinary three-way tie for second.
The naked eye seemed to think that Le Clos had touched fourth; happily for him and for his army of supporters the official scoreboard declared otherwise. It was important for the South African to bounce back after a 200m butterfly had gone horribly wrong, the swimmer calling it the 'worst performance' of his career. In that race he had finished fourth, out of the medals as Phelps made a telling statement after a much-publicised taunting of him in the ready room before the semi-final had gone viral.
9. Shaun Keeling and Lawrence Brittain (Men's Pair)
Rowing brought five boats to Rio and qualified for the finals with all of then, a fabulous conversion rate for a sport that produced a gold medal at London 2012.
In fact, it was one of those in the Men's Four – Matthew Brittain – who came to watch his younger brother on the big stage. Lawrence had recovered from Hodgkin's Disease (cancer of the lymph nodes) and he and Keeling were determined to fly the national flag for rowing the highest.
There's was an emotional silver, and it also marked the first time South African siblings have won Olympic medals. In rowing, no less. Keeling had finished fifth with Ramon Di Clemente in Beijing in 2008 but went a couple of places higher here.
10. Sunette Viljoen (Women's Javelin)
Viljoen made amends for the disappointment in London when she was the world leader but finished fourth with a 64.53m opening throw. The medals were decided with 69.55, 65.16 and 64.91.
In Rio, Viljoen opened with a 64.92m and that was leading the competition until Sarah Kolak pulled a 66.18m out the bag. Competition behind that was stiff, with 32cm covering second place to fifth place.
Fortunately for Viljoen, the former national cricketer (17 ODIs and 1 Test), had the javelin gods smiling down on her.
Afterwards she was overjoyed and set her sights on next year's world championship. 'I want to be world champion… champion of the whole world,' she said.
BEST OF THE REST
Chad Ho almost made my top 10. The South African's swim was a lot better than the result (10th) suggested. He finished five seconds behind the gold medallist and 2.8 seconds behind the silver medallist after 10km of open water swimming. He had come through the field strongly, largely unnoticed as he went through the 2.5km split in 14th, 5km in 19th and 7.5km in 20th. Then, inside the last 1km, Ho let it all hang out and he was gaining on the leaders in eye-catching fashion. Had he been slightly handier in the earlier stages Ho could well have come home with a medal.
MEDALLISTS
Gold: Wayde van Niekerk (Men's 400m), Caster Semenya (Women's 800m)
Silver: Chad le Clos (Men's 200m Freestyle, 100m Butterfly), Cameron van der Burgh (Men's 100m Breaststroke), Luvo Manyonga (Men's Long Jump), Sunette Viljoen (Women's Javelin), Shaun Keeling and Lawrence Brittain (Men's Pair)
Bronze: Henri Schoeman (Triathlon), Rugby Sevens
MAY THE FOURTH BE WITH YOU
(Those who finished one place away from a medal)
James Thompson and John Smith (Men's Double Sculls)
David Hunt, Jonty Smith, Vincent Breet, Jake Green (Men's Four)
Richard Murray (Men's Triathlon)
CODES TO WIN MEDALS
5 Athletics
3 Swimming
1 Rowing
1 Rugby Sevens
1 Triathlon
BEST REACTION
Usain Bolt putting his hand over his mouth and turning away in a look of disbelief as Wayde van Niekerk broke the world 400m record.
Usain Bolt's reaction to Wayde van Niekerk's WR 43.03 in the 400m final. #Rio2016 pic.twitter.com/GJIaMLGzIZ

— Stephen Nelson (@Stephen__Nelson) August 15, 2016
BEST QUOTE
'I had no strategy'. Van Niekerk admits he didn't know how he was going to approach the men's 400m final
THE FEEL GOOD STORY
Annie 'Tannie Ans' Botha: The 74-year-old athletics coach was thrown into the spotlight when Van Niekerk won 400m gold. 'I don't know what I think or how I feel,' she reckoned 24 hours later. It took me a year for him becoming a world champion (at Beijing 2015), so maybe it's going to take another year for this to sink in. A strict disciplinarian –'for her, five minutes early is five minutes late,' said Van Niekerk – she has created the perfect fostering environment that the latest track superstar needs to produce his best.
BIGGEST DISAPPOINTMENT
The Rio locals who are unfamiliar with rugby must have wondered what all the fuss is about the All Blacks and the Springboks. New Zealand's Sevens campaign was atrocious, while South Africa topped their pool, beating Spain and France, but lost to Australia. They then beat Australia in the quarter-finals, before going down in the semi-final to a Great Britain team that had looked dire all competition.
In fact, in the quarter-finals, GBR and Argentina had made so many mistakes they were 0-0 after full-time, before GBR scored in sudden death. South Africa had arrived in Rio as favourites, along with Fiji. They kept Spain and France scoreless, but were disjointed against Australia before managing to reverse that result.
Against GBR they were again below-par. The rugby event was hugely popular in the sport's first Games appearance since 1924, but it's one that South Africa's Sevens team won't look back fondly on – on the field that is.
GOLD BEHIND THE SCENES
Spare a thought for the physio and medical teams who worked tirelessly, day and night, to ensure South Africa's athletes were ready to give of their best.
Their dedication and professionalism played a huge part in the success of these Games.
Wayde van Niekerk is the shining example. The 400m gold medallist was beset by lower back problems throughout the competition and away from the glare of the cameras he was a bundle of pain before the historic final, and thanks to the help of the physios, he was ready on the night. Big ups.
BEST VENUE
Lagoa Stadium. You won't get many better places to watch – and compete – in the world. A spectacular setting, with Christ the Redeemer statue looking down in approval. The rowers and canoeists will have lifetime memories, despite the variable weather which caused havoc with the programme. When the sun shone, the whole world smiled in approval.
BANKING ON IT
(Money allocated to the medallists)
R400 000 Wayde van Niekerk (plus R100 000 to the coach)
R400 000 Caster Semenya (plus R100 000 to the coach)
R400 000 Chad le Clos (plus R100 000 to the coach)
R200 000 Cameron van der Burgh (plus R50 000 to the coach)
R200 000 Luvo Manyonga (plus R50 000 to the coach)
R200 000 Sunette Viljoen (plus R50 000 to the coach)
R200 000 Shaun Keeling and Lawrence Brittain (plus R50 000 to the coach)
R80 000 Henri Schoeman (plus R20 000 to the coach)
R80 000 Rugby Sevens (plus R20 000 to the coach)
Total: R2.7-million
Read more: Sascoc.co.za