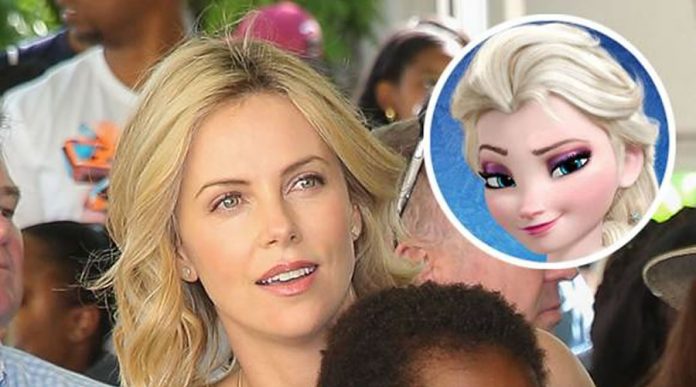 Several media outlets, including Yahoo, have rallied to show support for South African actress Charlize Theron after she was criticised for being a "bad parent" by social media users.
Her "sin" was having allowed her son Jackson to wear slip slops, a dress and a Princess Elsa hat (from hit movie 'Frozen')… which had a braid attached.
The comments came after a picture surfaced in the last couple of days showing Charlize and her son during a shopping trip.
Outraged fans – particularly from the black community – took to social media to vent, many of them writing aggressive comments on her Facebook page, on a post that she'd published celebrating the launch of her latest film 'Kubo and the Two Strings'.
Comments included:
"You don't need a black child. You are only doing this for show. I no longer like you or your movies and hope people are outraged and boycott your movies. We won't forgive you for this."
"Why you dressing your black adopted* son like he's a little white girl? Are you insane? Why would you destroy him like that? You need to have your own baby to screw up!"[*Charlize adopted Jackson in 2012 from South Africa.]
"What kind of parent does this to a child?? Why would you adopt this young black boy and then degrade him??"
"Thanks for adopting a African kid and dressing him up like a girl tryna emasculate him we now know how u feel about us thanks for showing us."
"Effeminate black men… That's what we as a people need? …it disturbs me that you parade him around like this. #cluelesswhitepeople."
"YOU NEED TO LET THAT LIL BLACK BOY BE A BOY!!!! You should have gotten a lil blonde hair white child, that is despicable forcing him to dress like a lil girl!!! You should be ashamed of yourself!!!! Signed a concerned Black mother!!!!!"
"We need you to stop putting dresses and wigs on your black son. He will already have it hard enough growing up as a black man in this country. He is too young to be making decisions like that for himself. Please consider giving him more structure when it comes to his clothing options. In the black community, it is NOT acceptable for a small boy to dress in FULL DRAG."
Yahoo News was one of the first to jump to Charlize's defence, saying "we think it's pretty ridiculous that people just assumed that Theron forced Jackson to dress that way, when, in fact, he more than likely chose the outfit himself.
"The only thing Theron is guilty of is being an amazing and accepting parent by letting him express himself through his style, or simply going outside in a silly outfit. He's four — let him have his fun!"
The media outlet also quoted a psychologist who applauded Theron for "letting him be the boy he wants to be". The psychologist warned that parents who try to police their child's gender and make them feel ashamed for creative choices risk their child ending up suffering anxiety and depression.
Refinery29 journalist Aaron Barksdale said the backlash, as well as other instances of intolerance of black males expressing femininity, is an example of the misplaced frustration with racism.
He added: "My only hope is that Jackson and all other Black sons don't take as long as I did to learn that there isn't a singular form of Black manhood; the only type of man we have to be is ourselves."
Charlize has not commented.
#CharlizeTheron causes controversy after letting her son dress up like Elsa from Frozen! https://t.co/u2v8BewHTJ pic.twitter.com/Wo9uF56d1p

— Perez Hilton (@PerezHilton) August 25, 2016
@odonkoba You can take the Devil out of hell but he'll still smell like sulfur#TheySmellOfSulfur #CharlizeTheron pic.twitter.com/EbE5ogk18L

— Odonko-ba (@odonkoba) August 24, 2016
The Internet Is Fighting A Lot Over This Picture Of #CharlizeTheron's Son In A Dress…… https://t.co/EJK8ydUwfi pic.twitter.com/T7iQlYJniu

— Disney Trends (@Disneylizer) August 26, 2016