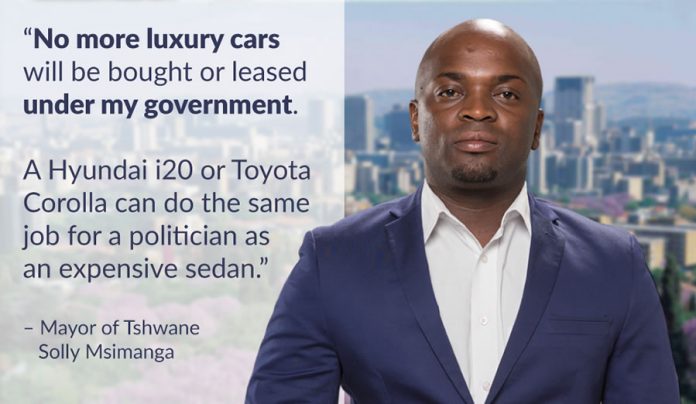 PRETORIA – The Mayor of Tshwane, Solly Msimanga, has continued his impressive Magufuli-esque cost-cutting campaign… announcing today that he has put an immediate stop to all purchases or leasing of luxury cars for politicians and senior officials.
Msimanga says: "A Hundai i20 or Toyota Corolla can do the same job for a politican as an expensive sedan."
In a statement, posted on Facebook Tuesday, the Democratic Alliance (DA), said no new luxury cars will be bought or leased for politicians.
The DA said: "The Mayor has also uncovered the procurement of new luxury BMW vehicles for politicians concluded and paid out of public money by the previous administration.
"Msimanga has therefore decided to redirect these 10 new vehicles which have high-capacity engine power, when they are delivered, to the Tshwane Metro Police Department where they will serve in a newly-formed Anti-Hijack Unit."
A week ago Msimanga announced an end to inaugural parties and catered events in Tshwane, insisting "we must serve the people, not party with public funds". His new measures to cut costs echo those of Tanzania's president Magufuli whose cost-cutting efforts gave rise to the popular #WhatWouldMagufuliDo trend.