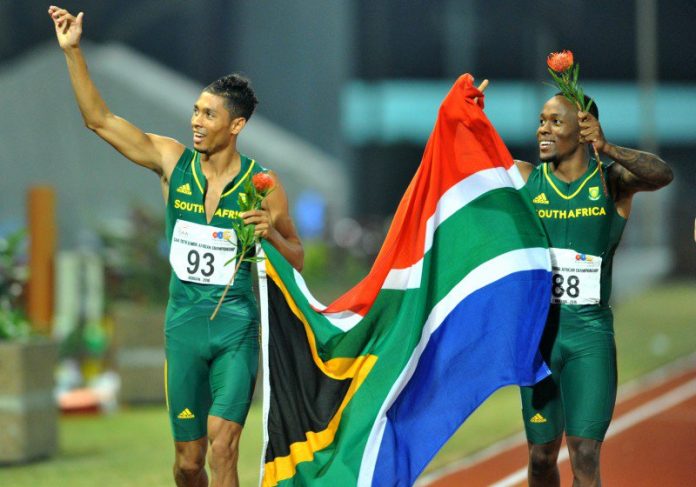 South Africa's world record-breaking athlete Wayde van Niekerk, his coach Ans Botha, and fellow Olympic athlete Akani Simbine are arriving back in South Africa Wednesday morning!
If you'd like to be there to welcome the Olympic heroes, they're on flight AF990 which is due to touch down at OR Tambo International Airport at 09h55.
It's been a couple of weeks since Wayde set a new world record at the Rio Olympics, winning gold in the men's 400 metres race.
And he's been missing home. A week ago he tweeted that he was "counting down the days."
The superfast athlete, who started life as a premature baby (and whose love and appreciation for his mom is so sweet – see the tweets below), has been proudly representing South Africa abroad.
"I'm proud of my history and skin colour," he said in one message, "but even prouder for being a South African ambassador."
When an overseas fan asked what South Africa is like, Wayde tweeted: "It's the best place bro."
Whilst in Europe, he and Akani – both humble South African heroes – have been sharing "brotherly" tweets too.
In one Wayde said "I'm proud of you my brother… you a real example." Akani said "thanks my bro. Just trying to be like you" to which Wayde said "There's no difference in us – you a boss – we know your name boy… AKANI SIMBINE."
Here are some more of their tweets in the past few days:
I'm proud of my history and skin colour, but even prouder for being a South African Ambassador.

Love others? pic.twitter.com/zsBt4xKAoz

— Wayde van Niekerk (@WaydeDreamer) September 3, 2016
Mom. ???❤@OdessaSwarts pic.twitter.com/ePrq9SrX6D

— Wayde van Niekerk (@WaydeDreamer) September 5, 2016
She's not my rib… she's the entire set of ribs protecting my heart.@Neshney pic.twitter.com/KogvRW8qfg

— Wayde van Niekerk (@WaydeDreamer) September 5, 2016
I can't wait to get home and tell you all about it. ???

You always believed and supported my… https://t.co/JbMN5Va9Jp

— Wayde van Niekerk (@WaydeDreamer) September 5, 2016
Having a lovely chilled final day in Europe before we hit off to SA with DJ @AkaniSimbine ????

— Wayde van Niekerk (@WaydeDreamer) September 5, 2016
2 simple guys with a dream @WaydeDreamer @AkaniSimbine pic.twitter.com/EDZP5j8isB

— Akani Simbine (@AkaniSimbine) September 6, 2016
Next Stop.

☝☝☝
???

South Africa
Johannesburg https://t.co/vEIAOT388n

— Wayde van Niekerk (@WaydeDreamer) September 6, 2016
https://twitter.com/olympicgold99/status/773175060387463168
HEADS UP: Arrival of:@WaydeDreamer Van Niekerk, coach Ans & @AkaniSimbine #ORTambo 09h55 (Wed) on
Flight: AF990 pic.twitter.com/D1mcG83SgW

— 7s in South Africa (@BlitzBokke) September 6, 2016