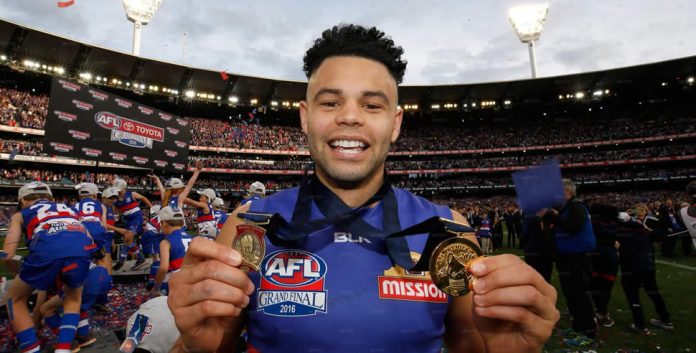 South African football player Jason Johannison, who moved to Australia when he was eight, has won one of his new country's most prestigious sporting awards – the Norm Smith Medal!
The AFL (Australian Football League) called his team's win a "fairytale" that "stretched all the way to Johannesburg" because of Johannisen's medal win.
AFL.com.au described the 23-year-old South African as "a dazzling half-back who plays with a flair and freedom" as he became the Western Bulldogs' first Norm Smith medallist in a Grand Final.
On accepting his medal, Jason – known as JJ – said: "It's been an amazing ride and I just love being a part of it."
He said he couldn't believe it when his name was read out. "As a kid you dream of playing in a Grand Final and winning it, and it's definitely a special moment I'll look back on…
"The club took a massive gamble on me as a young kid. I'm just thankful for the opportunity this fantastic club has given me and I just try and repay the faith."
Jason was just 11 when he began training at the club in Perth, filling in for his cousin's team. Until then he'd only ever played rugby since that was what he knew in South Africa, before the family moved to Australia when he was eight.
He told local journalists: "I didn't know what footy was when I arrived in Perth in 2000… [But] it's such an exciting game and the teamwork and playing with your mates is just fun. That's how I fell in love with it."
Johannisen scored 33 touches and nine inside 50s at Australian football's famous MCG field as his team beat Sydney for the first time in 62 years.!
His parents – Sonya and Eldrick – and sister, Simone, were at the match in Melbourne for JJ's big day.
His dad described his son as "very laidback" and that he "seems to transform into something else" when he's on the field.
"I've never seen Jason angry, he's just a very calm person," Eldrick said. He said his son's win today is "unbelievable. We're so proud of him."
Jason Johannisen's incredible journey from Willetton to the Norm Smith Medal at the MCG: https://t.co/YzeX6mNXoY https://t.co/BUkls8Yl16

— The West Australian (@westaustralian) October 1, 2016
Call him Norm. #bemorebulldog ?? pic.twitter.com/p9r4RKu6T2

— Western Bulldogs (@westernbulldogs) October 1, 2016
All smiles for JJ! #AFLGF pic.twitter.com/cwnuXvLPWI

— AFL (@AFL) October 1, 2016