I salute a woman who inspires me and makes me want to be a better person, and sincerely hope she will find my Saturday Night Live/ Spitting Image style script funny.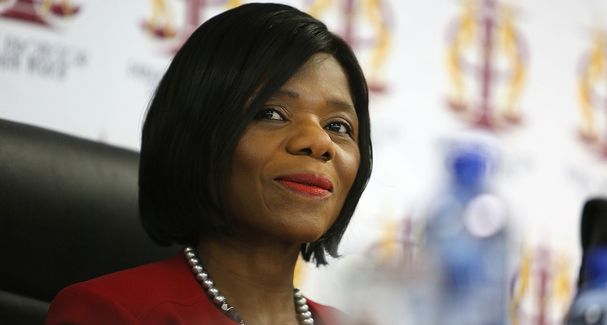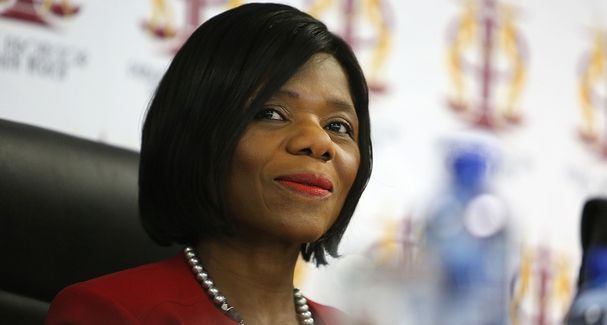 The outgoing Public Protector is a formal woman. Calm, quietly spoken, proper (in both senses of the word: real, "kosher" and also correct, official, conventional).
She has, during her reign, insisted on being called Madam Public Protector — not because she's officious, or a fan of standing on ceremony.
Her view has been that hers is a role that is sacrosanct and that South Africans (her staff, her clients, the public) have to respect the office; the office, she believes, that is bigger than her, and will continue to function long after she's left.
Since her appointment in 2009, Thuli Madonsela has made the office of Public Protector august; it was the force of her quietude that brought honour to the post, made it distinguished and venerable.
In her steadfast way, she has changed the lives of many; from solving rural disputes over land to bringing to book the man who holds the highest office in the land.
Thuli Madonsela moves slowly; she talks softly and slowly, making her points concisely, though not always succinctly. She rambles — quoting the law, making connections between disparate bits of information. She sometimes comes across as pompous.
I bet Thuli Madonsela was not the most popular kid on the school ground. Her style was, most probably, didactic — something that her classmates would have found bewildering.
I can see young Thuli being bewildered by this alienation from her peers. All she'd meant, she would insist, was to establish the facts; the truth.
If truth be told, Thuli Madonsela is a rather dull woman — boringly predictable, and not terribly exciting or excitable, not one to gossip, or make a joke… she is not great keynote speaker material.
Her delivery of what should be light-hearted public speaking becomes stodgy fact imparting.
For all of these reasons, she is spectacularly good at her job. It requires someone who is measured, who is unbiased and scrupulously fair; someone who is not swayed by the crowd or by public opinion.
I salute the outgoing Public Protector, a woman who inspires me and makes me want to be a better person, and sincerely hope she will find my Saturday Night Live/ Spitting Image style script funny:
March 2016, a secret location, sometimes called Nkanlalala: Phone rings. Kring, Kring.
Hello?
PP: can I speak to the boss please.
Nkanlalala helper: The master is in the shower. Message?
PP: I want a meeting. October. Ask him to pencil it in. No, make that ink it in.
Nh: Oohkaaay.
October
Scene 1:
Set in a secret location. A blindfolded woman is helped out of a large SUV, blue lights still flashing, and led into what she thinks is a hangar at Waterkloof. It is not. The heady smell of a spicy curry hangs in the air.
A man with a shower-like appendage attached to the top of his shiny bald head emerges from a steamy room, draped in a towel. The woman, we recognise her as the Public Protector when she removes the blindfold, starts and takes a step back.
JZ: Welcome. Welcome isithandwa sami. Welcome my little chocolate deliciousness. (Reaches out to touch her, she recoils.) As you can see, I am from the shower. I am ready. He he he.
(Makes rude gesture with hand. Stops. Holds his breath. Pulls a giant thorn from his side — Vachellia tortilis, widely known as Acacia tortilis but attributed to the Vachelia genus: the umbrella thorn acacia also known as umbrella thorn and Israeli babool).
JZ: Ow! Now that's out my little plum pudding, and so are you, come over here and sit on my lap.
(Leers. More rude hand gestures.)
PP: You forget yourself sir. Please put some clothes on. I am here to ask you questions about state capture. Do you…
JZ: (Interrupts.) Capture? Capture? Yes. It's true. You have captured my heart. He he he
PP: Sir, I called you, then I wrote to you on March 22 advising you about the allegations against you. I suspect you have breached the Executive Ethics Code.
JZ: He he he
PP: Mr President, can you confirm that you acknowledge that the state has been captured?
JZ: Has it? Ask Julius. He seems to know.
PP: Can you explain your relationship with the Gupta family?
JZ: They are my very good friends. They care about my welfare. They feed me. A lot. I eat there most Monday nights, in a special room. Every week there's something different; biryani (my favourite is when they use mutton, but I also like chicken, and sometimes even vegetable — with mutton…). Once they served me a mutton vindaloo. Eish, it was so spicy and so hot. Haai, it was finda-loo for me. He he he.
PP: Mr President, were you in the next room when Vytjie Mentor was being interviewed for a ministerial job by members of the Gupta family?
JZ: No, no. That is not true. I was on my way for crab curry and roti with naan bread and my favourite palak paneer — not too spicy I told them — but my blue light brigade got lost; its true, in Saxonwold, haai, so I was late for supper. I was so cross, I missed the samosas and bhajia served with hot chilli sauce. Hmmmmm. Delicious.
PP: Mr President, why were the Guptas awarded the Eskom tender?
JZ: (Begins humming, then singing… making rude hand gestures): Tender is the night, lying by your side, tender is the touch, of someone that you love too much. Tender is the day, the demons go away. Lord I need to find someone who can heal my mind. (Stops singing.) Cherry Blossom, can you heal my…. Um… mind. (Makes rude hand gestures.)
PP: I would like you to change your mind, Mr President, and answer this question: what improper and possibly corrupt influence has the Gupta family had in the awarding of state contracts and licenses?
JZ: (Pushes back his glasses with his middle finger): He he he. 007, license to kill. Did you see Dr No? A bit like me; I am Dr No. No I won't go. He he he.
PP: (Taps pen on clipboard.) It is my understanding that you met with, or had telephonic discussions with members of the Gupta family before you fired Finance Minister Nhlanhla Nene and replaced him with Des van Rooyen in December last year. Can you confirm this and provide me with the dates of the meeting?
JZ: Did you see the Rand run? Down and down it went. He he he. Who knew that I had so much power? Sometimes I think I'm Superman. Sometimes Batman. Haai, I sometimes even wear a cape when I'm at Nkanlalala, just before I leap into my firepool. So sugar dumpling, why won't you come and sit next to me.
PP: Mr President! I really would prefer that you call me, at least till the middle of this month when I leave office, Madame PP
JZ: Oh, yes. Thank you for reminding me. I must go pee pee. And you must go PP. Don't be here when I get back. You're not much fun. I'm hoping your replacement will give me more attention, and treat me better than you. Here (throws giant bloody thorn at her), take this with you.
Heads off stage right.
Scene 2.
Yet to be written…
***
This article first appeared on the Rand Daily Mail site and is republished here with kind permission.
CHARMAIN NAIDOO has worked as a journalist for 30 years. She has now retired and is writing a book.