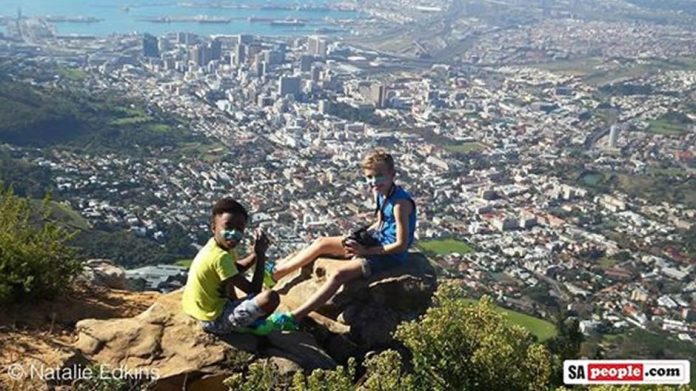 Adv Thuli Madonsela woke up this morning feeling like a team captain "that has completed an epic race and survived by grace"… and by this evening she had inspired many others to start on a similar race, with grace, to achieve a better more equal, less discriminatory South Africa for all.


South Africa's former Public Protector delivered a powerful #WhatMustRise speech Saturday afternoon in South Africa, in which she said remembering the past should rise – remembering what it took, the sacrifices made, and "the promises we made" for a "South Africa that belongs to ALL who are in it. And when we talk, we should never talk as if some do not belong here."
"we should never talk as if some do not belong here"
Speaking as keynote speaker at the Ahmed Kathrada Foundation's Annual Lecture, Madonsela highlighted the importance of selflessness, of human dignity and of caring about injustices around the world – such as Boko Harem in Nigeria – and said "our own peace is temporary and an illusion as long as there is injustice anywhere in the world".
She reminded the audience that our dream should be for a South Africa in which "we don't fight white people, we don't fight black people; we fight racism".
She said the problem in South Africa is that the Equality Act was passed in such a rush to meet the February 2000 deadline of the Constitution that it only really benefits those who wrote it.
Madonsela said those in power need to be held more accountable and constantly monitor their decision making in terms of equality, like the Swedish government does, to make sure it does not discriminate against race, gender, and disability.
She said "you can't tell students you can't fund them… but a week later you have 5 billion to bail out SAA".
Madonsela said: "We must do the things we must do first, before we do the things we would love to do."
She reiterated, as she has before, that no one should be sleeping in a toilet to get an education. Madonsela said: "If fees don't fall, people who are trapped at the bottom of society, will remain there."
She recalled sharing a story with MPs over 20 months ago about a desperate student who didn't have the money to pay his fees to continue his studies. She shared knowledge with these ministers of students who were sleeping in libraries and bathrooms, and some who were going without food for days on end.
She said she had hoped her ice-breaker story would establish a common ground with the ministers, had "hoped a call for service to fellow human beings in distress would unite us". But instead was shocked when some of them disregarded her story and said it was "irrelevant".
She added that these ministers were "few… and they were from only one party". They didn't approve of the story because it was a story of maladministration which undermines trust in the system.
Madonsela said Ahmed Kathrada "hasn't rested for a day since he was released from prison" because the dream for the "precious South Africa" he, Mandela and the others delivered to us has not yet been achieved… but she said that together we can achieve this dream, and the state has to be accountable, and has to become more responsive.
Of the things that must rise, Madonsela listed Accountability, Responsibility, Integrity, Dialogue and Money. The Public Protector and others in Civil Society have pledged funds for student fees. Now it is time for someone to establish a fund and manage it, she said.
"It is time for a Culture of Justice… and not Just Us," said Adv Madonsela.
– @ThuliMadonsela3 will deliver our Annual Lecture this year on #WhatMustRise . RSVP: nonkosi@kathradafoundation.org pic.twitter.com/HiquUYxxcK

— Kathrada Foundation (@KathradaFound) September 9, 2016