Congratulations to Johannesburg's former Mayor Parks Tau who has been appointed President of world body United Cities and Local Governments (UCLG), the umbrella body of local governments around the world.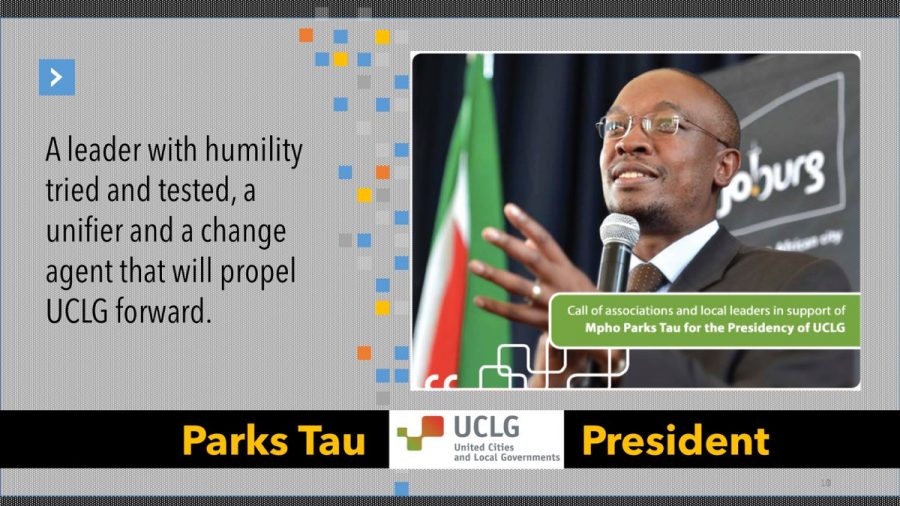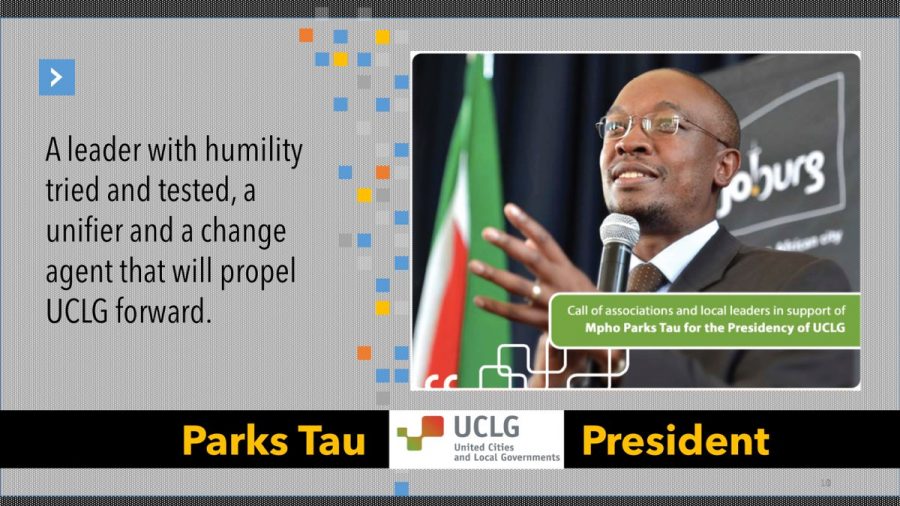 UCLG, which has its headquarters in Barcelona, Spain, is the equivalent of the United Nations (UN) for local government. It represents over 240,000 towns and regions, 175 local government associations and 5 billion people in the world.
Tau clinched the three-year global job after beating the Mayor of Kazan by 103 votes to 42. The election took place in Bogota, Colombia, where Tau's nomination was supported by a cross section of regions including Africa, South America, North America, Europe.
Mayor of Berlin Michael Müller said before the elections: "It is just appropriate for UCLG to be led by someone who comes from the fastest urbanizing region of the world. Parks Tau is my choice for UCLG President."
Paris Mayor Anne Hidalgo added "Mpho Parks Tau has all of my trust to speak on our behalf and make UCLG an open, modern and inclusive organisation."
The appointment to this prestigious position – becoming the voice of 240,000 local governments worldwide – comes just a week after Tau was made interim chairperson of the South African Local Government Association (SALGA).
Last night SALGA said the UCLG Presidency is a milestone for the African continent and South Africa, providing a platform for them to drive the Sustainable Development Goals.
President Parks Tau will be at the helm, tweeted SALGA, creating sustainable partnerships with business and civil society.
SALGA said President Tau is "a leader with humility, tried and tested, a unifier and a change agent to propel UCLG forward."
Tau said: "We are ready. We have demonstrated our cohesion and that we can work together as a continent" and that "It is not somebody doing us a favour. We are active and leading members of the world body UCLG."
Gauteng ANC said: "We congratulate Cde Parks Tau in his capacity as @SALGA_Gov chair for his election as president at #UCLGCongress!"
Morning Africa, please meet the new President of the world body, UCLG – @Parks_Tau . #Time4Africa pic.twitter.com/7eT0ANxsPl

— Phindile Chauke (@NewzJournalist) October 16, 2016
People should be at the centre of implementation, monitoring and review of Local Governments. #UCLGCongress #Time4Africa pic.twitter.com/toFL28JpLy

— Parks Tau (@Parks_Tau) October 14, 2016
Within the last fortnight another South African was also globally recognised and elected President of an important world body – Ambassador Tebogo Seokolo was named new Chairman of IAEA Board of Governors. The Ambassador is SA's Permanent Representative to the UN and International Organisations in Vienna, and is also SA's ambassador to Austria, Slovakia and Slovenia.