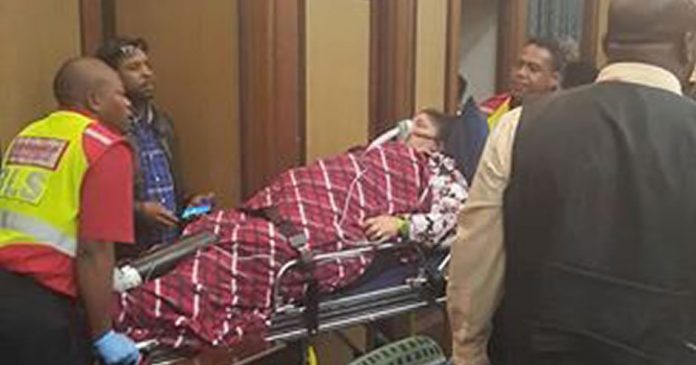 A coordinated campaign today from the ANC – including walkouts and the smashing of glass jugs – during the council meetings of Nelson Mandela Bay, Johannesburg and Tshwane – has undermined democracy and exposed the ANC's "true colours as a party of lawlessness", according to James Selfe, Shadow Minister of Correctional Services.
The violent altercations – mirroring those of #FeesMustFall protests – were allegedly aimed at disrupting the business of the day as the ANC grapple with the shift in power in those three major councils to the Democratic Alliance (DA).
According to the DA's Selfe: "ANC councillors used glass jugs to physically assault other councillors, smashing them into councillors' faces and leaving two hospitalised.
"ANC councillors threw glasses and missiles across the council chamber, and threatened violence against the Speaker of Council while approaching the Speaker's bench violently."
Democratic Alliance (DA) leader Mmusi Maimane tweeted this evening: "The actions of the ANC are deplorable and uncharacteristic of a revolutionary and Democratic Party. It's criminal and intolerable."
Selfe said: "The ANC cannot accept its electoral defeat at the hands of the DA in the major Metros, and has nothing left to offer but chaos and disorder. The conduct of the ANC today was a disgrace."
In Johannesburg the ANC caucus – referred to as a "band of thugs and hooligans" by Selfe – disrupted council by staging walkouts for long periods and returning to disrupt business.
Meanwhile in Tshwane, similar scenes of violence, abuse of the rules and delay tactics were allegedly used by SAMWU members. They "hurled stones and missiles at law enforcement outside the Tshwane council meeting" and police had to use stun grenades to disperse them.
Selfe said: "The ANC must accept that it has been democratically voted out in Nelson Mandela Bay, Johannesburg and Tshwane, and no amount of violence will change that.
"If anything, through its undemocratic conduct, the ANC is reinforcing just why South Africa spoke up so loudly and clearly against it on 3 August 2016."
In NMB's council ANC cllr's used glass jugs to assault others, smashing them into councillors' faces, leaving two hospitalised. #ANCviolence pic.twitter.com/NTujK2ineA

— Democratic Alliance (@Our_DA) October 27, 2016
The actions of the ANC are deplorable and uncharacteristic of a revolutionary and Democratic Party. It's criminal and intolerable pic.twitter.com/rVtnf30Rhz

— Mmusi Maimane (@MmusiMaimane) October 27, 2016
The conduct of the ANC today was a disgrace. – @JAMESSELFE3 #ANCviolence pic.twitter.com/Fv1ZT8FNFH

— Democratic Alliance (@Our_DA) October 27, 2016
The DA, ACDP, AIC, EFF, UDM and PA have come together to condemn the ANC for their horrific criminal acts in NMB council today. pic.twitter.com/QDtLkkngty

— Kris (@KristoffDJ) October 27, 2016