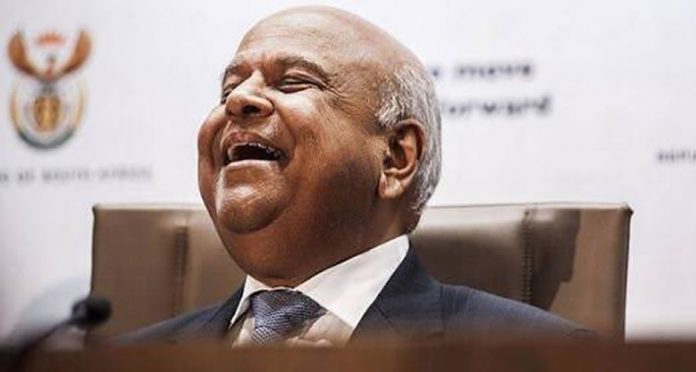 Adv Shaun Abrahams has dropped controversial criminal charges against South Africa's Finance Minister Pravin Gordhan, causing the Rand to strengthen… but the march in support of Gordhan will still go ahead on 2 November.
The Rand, which had dropped after the NPA issued the summons on 11 October, strengthened again today improving by 1.46%, and trading at R13.63 to the US dollar shortly before noon.
After a rather long press conference Monday morning at NPA (National Prosecuting Authority) headquarters, boss Abrahams made the announcement.
According to Mmusi Maimane, leader of the Democratic Alliance (DA), Abrahams threw "everyone under the bus, making excuse after excuse for his seismic blunder".
The DA called for President Jacob Zuma to immediately suspend Abrahams, pending inquiry into his fitness to hold office.
The DA says the dropping of the charges proves they were without merit and "manufactured for malicious political purposes".
Maimane said: "We maintain that Shaun Abrahams initiated these charges against Pravin Gordhan for narrow political purposes, and now following a lack of evidence and huge public outcry, Abrahams has been forced to make an embarrassing about-turn, leaving him with egg on his face…
"Jacob Zuma must now act decisively, failing which we will have no option but to believe that he is behind these malicious political antics." It was previously revealed that Abrahams and Zuma met at ANC Headquarters, Luthuli House, the day before Gordhan was charged, but both men deny they discussed Gordhan.
The Economic Freedom Fighters have sent a letter to the General Council of the Bar for the disbarment of Abrahams and the removal of his name from the roll of advocates, saying he has "violated his Constitutional ethical duties and that he is neither competent nor fit and proper to be an Advocate of the High Court".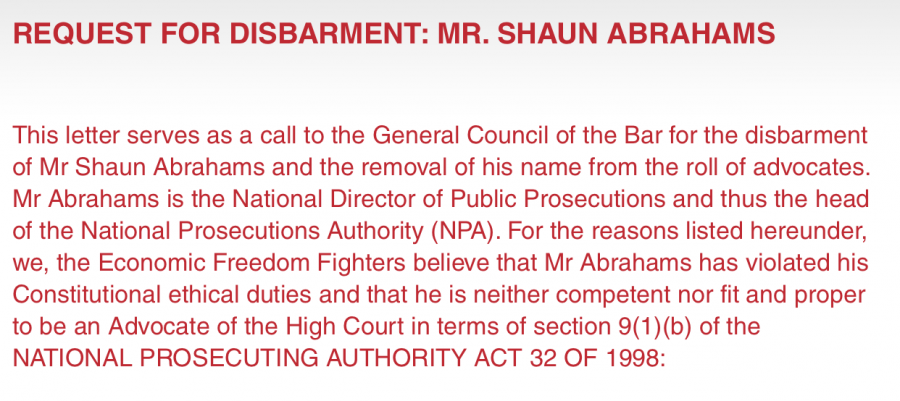 Charges against former SA Revenue Services (SARS) members Oupa Magashula and Ivan Pillay have also been withdrawn today, and all three have reportedly already received the following letter that the summons has been withdrawn "with immediate effect".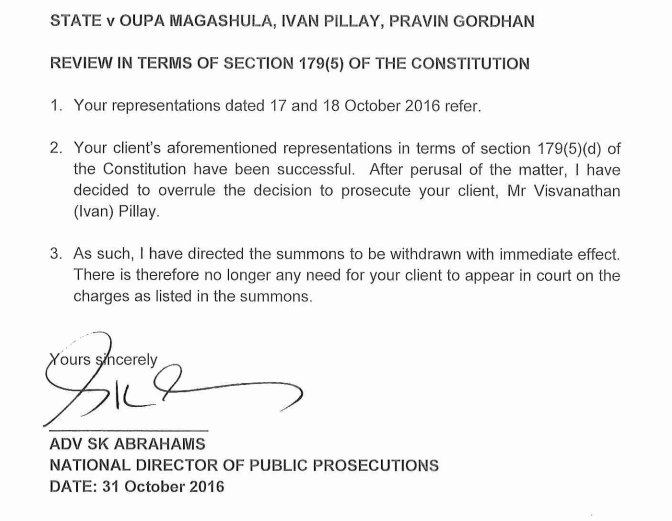 Gordhan was previously expected to appear in the Pretoria Regional Court on 2 November on charges of fraud related to Pillay's early retirement.
Several organisations, including the DA and EFF, were rallying South Africans to take to the streets of Pretoria on the day to support Gordhan and make a stand for democracy and against state capture in South Africa.
Some believe the withdrawal of the charges today was to prevent the protest march.
However organisers have insisted the march will go ahead, with EFF leader Julius Malema, tweeting in the past hour: "We are going ahead with our protest on the 02 Nov to demand #shaunabrahams to resign & #ZumaMustFall. Let's meet @ church square in Pretoria."
NPA boss #shaunabrahams a laughing stock on Twitter https://t.co/C2LUnhTqXH

— 702 (@Radio702) October 31, 2016
https://twitter.com/TrevorZungu_/status/793043674028511232
When the Rand sees Pravin #Gordhan after #ShaunAbrahams dropped fraud charges against him. pic.twitter.com/VwUIbQjn4x

— Ronald Phiri (@RonaldPhiri01) October 31, 2016
https://twitter.com/EricJWest/status/793047000975572994
Shaun reckons his career is still on track.
It is, Shaun. It's on this track here.#shaunabrahams #NPA pic.twitter.com/wn4ySkC0kc

— Jacques Maree (@JacquesMaree73) October 31, 2016
The hope was that soon as he was charged Gordhan would resign. They would then withdraw the charges. But he outsmarted them by staying put

— Zakes Mda (@ZakesMda) October 31, 2016
Charges dropped against Min Gordhan , why so much brouhaha when the was no case this is just not on Period!

— RSA Police Minister (@MbalulaFikile) October 31, 2016