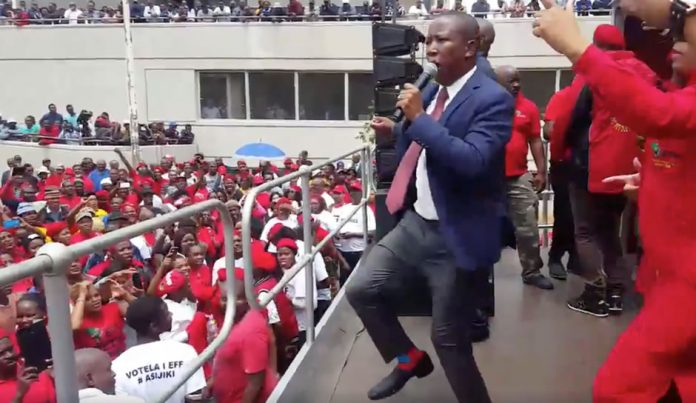 NEWCASTLE – EFF leader Julius Malema did not hold back on his feelings for white people today, saying no white person rightfully owns any land in South Africa and hinting that if the land is not given to black people, they may call for 'slaughter'.
Addressing hundreds of Economic Freedom Fighters (EFF), Malema said: "We are not calling for the slaughter of white people, at least for now…"
He said despite putting pressure on President Jacob Zuma to step down, it is the "monopoly capital" which is the main enemy, continuing to benefit from the land while black people struggle.
He said: "The rightful owners of the land are black people. No white person is a rightful owner of the land here in South Africa and whole of the African continent."
Malema said: "No white man came carrying a Lion. They found it here! Everything that comes with the land belongs to us!" He said "everything" includes the sea, the fish, the valuable minerals (gold, diamonds, platinum) and even the dagga. "It belongs to us. We want it back."
Malema also sang "Kiss the Boer" (watch below), the version that has replaced the contentious "Kill the Boer"… but which still includes lines like "shoot to kill", and gestures of guns being fired.
Malema was appearing at the Newcastle Magistrate's Court on charges of contravening the 1956 Riotous Assemblies Act (after incidents which included him telling supporters, what he told them today, that white people can't claim ownership of land because it belongs to the black people).
He was issued a summons in October, drawing major criticism for the ruling ANC (African National Congress) party for resorting  to apartheid laws.
Malema asked for a postponement of  the case in order to file an application with the Constitutional Court against the "unconstitutional" Act.
Malema said the ANC laid the charges because he had disturbed white people who control the land.
Malema also welcomed several ANC members who joined the #HandsOffCIC demonstrations today, and called for a "dissolution of Parliament" because it failed to hold President Zuma accountable when he was found guilty of violating the Constitution.
Other key comments from Julius Malema today, included:
I'd rather go to jail for land than for corruption [a reference to Zuma]… Land is who we are!

We 

will take back the land! By any means necessary! We demand our identity back! Tell everyone you want the land!

The real criminals are not in court, De Klerk is not in court, but we are in court for asking for our land.

Them asking us to pay for our land is like someone stealing your car, bringing it back but demanding money!
We have not committed a crime! We're asking for what belongs to us.
The case has been postponed to 7 December 2016.
Malema Sings Kiss the Boer, Newcastle, 7 November 2016
CIC @Julius_S_Malema in Revolutionary Dance and song with the community of New Castle! #HandsOffCIC #Malema pic.twitter.com/K3yt0wTirQ

— EFF Official Account (@EFFSouthAfrica) November 7, 2016
#Malema addressing a growing crowd in New Castle pic.twitter.com/nHfOHRXC0V

— Matshidiso Madia (@tshidi_lee) November 7, 2016