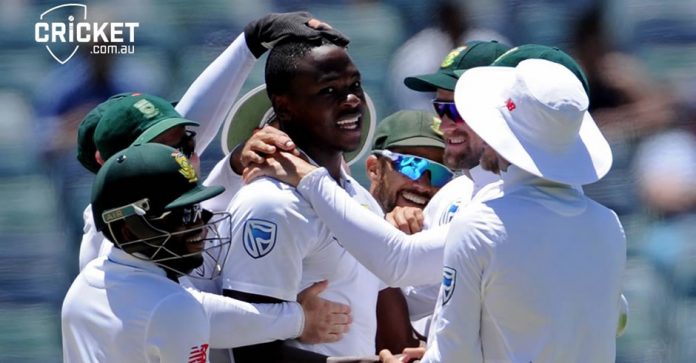 PERTH, AUSTRALIA – Kagiso Rabada claimed his fourth five-wicket haul – all in the current calendar year – to bowl the Proteas to their third successive Perth Test victory over Australia at the WACA on Monday.
The winning margin for South Africa was 177 runs with almost a full session to spare following victories by six wickets in 2008 and by 309 runs in 2012.
The Australians were "bowled" away by the Proteas, with Cricket Australia tweeting: "an incredible performance by South Africa at the WACA and the tourists take a 1-0 series lead".
Temba Bavuma's brilliant run-out of David Warner, with his legs above his head, will be viewed for years to come. (Watch below.) Australian cricket legend Shane Warne said "now that's creating something from nothing" and ESPN ran with the headline "What can Temba Bavuma do in 0.264 seconds?"
ESPN wrote: "What can you do in 0.264 seconds? Type one word? Shrug your shoulders? Blink? If you're Temba Bavuma you can react to a push from David Warner's bat and pull off a piece of fielding that could be match-defining."
It was Australia's first home Test defeat since the WACA match against the Proteas in 2012 and their fourth defeat in a row following their 3-0 series loss in Sri Lanka and puts them under a lot of pressure heading to the second Test at Hobart's Bellerive Oval from Saturday.
Rabada has now taken 34 wickets in only 6 matches this year – one of which was the weather-ruined match against New Zealand at Sahara Stadium Kingsmead – to be in seventh place among leading wicket-takers and has played fewer matches than anybody else.
Remarkably his second dismissal in the second innings – that of Australian captain Steve Smith – was only the 100th wicket of his entire first-class career.
Rabada made the key initial breakthrough on the final day when he trapped Mitchell Marsh lbw, opening the way to the lower-order, and then completed his five-wicket haul by dismissing Mitchell Starc with a superb Yorker length delivery.
Usman Khawaja delayed the inevitable in, like David Warner, making 97 (182 balls, 11 fours and 3 sixes) before falling to JP Duminy.
It was left to Peter Neville (60 not out, 153 balls, 6 fours) to marshalll the tail and there was a frustrating wait as Neville and Josh Hazlewood held out for almost 21 overs. In the end it was Temba Bavuma who claimed his maiden Test wicket, showing that he has as golden an arm as Duminy when it comes to breaking stands.
There were a couple of half-chances that didn't go to hand before Keshav Maharaj finished the job with the fifth lbw of the innings.
Rabada was named Man of the Match with other strong candidates being the centurions, Duminy and Dean Elgar.
It ranks as one of South Africa's most famous victories against Australia coming from the brink of a disastrous situation on the second morning and accomplished without the services of the attack leader for most of the match.
Interestingly, it was the injury to Dale Steyn that seemed to galvanise the Proteas into their dramatic turn around and says a great deal about what the great fast bowler means to the team. As Vernon Philander remarked during one TV interview: "We are going to win it for Dale."
And do it they did in the most handsome style imaginable.
There will also be a lot of satisfaction to be drawn from Bavuma performing one of the great run outs of all time – certainly the best one has ever seen on TV – the return to top all-round form of Philander and the confident debut of Keshav Maharaj who looks like developing into another bowling all-rounder.
For critics of the quota system, many pointed out that cricket just showed rugby how it can be done. Through unity, support and celebration. "All of South Africa's wickets were picked up by players of "colour". #NotThatItMatters," said one social media user.
AB de Villiers said: "What a great start for the Proteas! Superb performance by the entire team. Onwards and upwards."
#ProteaFireBurning!
GOT HIM! @keshavmaharaj16 takes the last wicket and it's game over.Lyon is trapped lbw for 8. Congrats Proteas on a 177-run win! #ProteaFire pic.twitter.com/8ESMFZBisA

— Cricket South Africa (@OfficialCSA) November 7, 2016
What a match for the Proteas! Lots and lots of great moments. Who is your man of the match winner? #ProteaFire #AUSvSA pic.twitter.com/DSu1qbRzID

— Cricket South Africa (@OfficialCSA) November 7, 2016
Temba Bavuma can now also add "match-winner" to his Twitter bio. Those 0.2 seconds were the game. #ProteaFire pic.twitter.com/sYbkre58z8

— Tom Eaton (@TomEatonSA) November 7, 2016
SA won through Duminy, Elgar, Philander, Rabada, Maharaj, and Bavuma. Thank you politics for 'interfering' so we can have such teams #AusvSA

— Nduh Msibi (@NduhMsibi) November 7, 2016
'That's one of the best pieces of fielding I've ever seen' – @BuckRogers55 #AUSvSA pic.twitter.com/xGuicNOohz

— cricket.com.au Video (@CricketVideo) November 6, 2016
Sources include Twitter, ESPN and Cricket.co.za