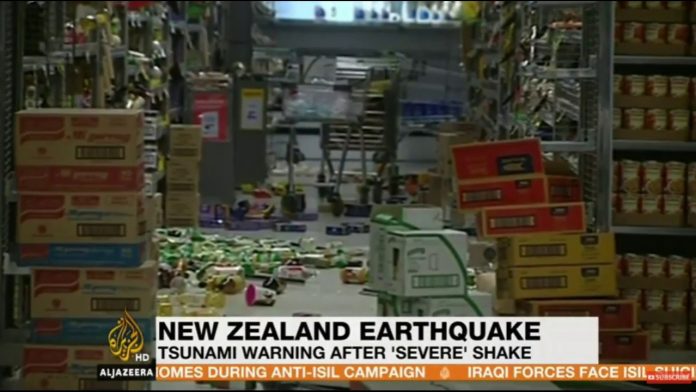 New Zealand's South Island has been hit by a two-metre high tsunami, two hours after a powerful earthquake which struck just after midnight Sunday. Authorities warn that smaller but "very dangerous" waves are hitting the shores near Wellington at the moment with larger waves of up to 5 metres expected. Officials say the tsunami activity may last for several hours.
The earthquake registered a magnitude of either 7.8 (according to media reports) or 7.5 (according to GeoNet and WeatherWater.co.nz).
Aftershocks are still being felt in the area (over 45 according to latest reports in local media), and residents on the east coast of both North and South Island have been warned to avoid beaches and head inland or to higher ground.
New Zealand's Civil Defence Ministry says the wave threat could be "an event of life-threatening or national significance".
Latest witness reports say the tidal surge is becoming visible fast with 3 to 5 metre waves expected.
Tsunami warnings are being sounded as hundreds head for the hills until the tsunami warning is withdrawn. (Watch/listen below.)
The earthquake hit South Island, just 57 miles from Christchurch which is still recovering from the 2011 earthquake where 185 people died and many buildings in the CBD were destroyed.
According to WeatherWatch.co.nz the 2.5m wave was measured at Kaikoura, 112 miles (181km) north of Christchurch.
There have been reports so far of serious damage to homes in the area that was struck, and a South African SAPeople follower said her parents, who live on the South Island, "said it was HUGE, the worst they've ever felt, and the aftershocks are still going."
WeatherWatch says: "WeatherWatch.co.nz believes the tsunami gauges suggests perhaps an underwater landslide just off the Kaikoura coastline may well be the cause of this morning's tsunami, especially with the centre of the quake being so far inland."
They warn also that the amplitudes given are at shore and that a 5m wave can run up on steep slopes as high as 10m on land.
The Philippines experienced a magnitude 4.9 earthquake three days ago, and Argentina was also hit by an earthquake Sunday, experiencing a tremor of magnitude 6.2 in the north-east of the country. No fatalities reported.
UPDATE 18:00 SA Time: No details have been issued yet on casualties as roads are impassable to the worst hit areas. People who work in Wellington have been advised to remain at home "owing to potential damage to buildings".
UPDATE 01:00 SA Time: Please click here for update on New Zealand Earthquake and Tsunami
New Zealand: 7.8-magnitude quake rocks south, triggers tsunami. https://t.co/vAtHLUDJ58

— MBFC News (@MBFC_News) November 13, 2016
Tsunami Sirens have just turned on here in Sumner as hundreds of people continue to head for the hills. #EQNZ pic.twitter.com/Vx8wtS5qZv

— George Berry (@georgeberrynz) November 13, 2016
Powerful quake strikes New Zealand, triggering small tsunami https://t.co/cU0eHhossG

— CGTN America (@cgtnamerica) November 13, 2016
Tidal surge now visible in Picton — very fast. It was surging out earlier, now coming back in. 3 to 5 meter waves expected. #tsunami #eqnz

— Rick Kiessig (@RickKiessig) November 13, 2016
Powerful earthquake near New Zealand triggers tsunami https://t.co/DyH9sfw2OO

— TIME (@TIME) November 13, 2016
#AWANInews [UPDATED] Tsunami hits New Zealand after struck by powerful quake of 7.8 https://t.co/sztgFdaZZd pic.twitter.com/QWKIOQkL2P

— Astro AWANI (@501Awani) November 13, 2016