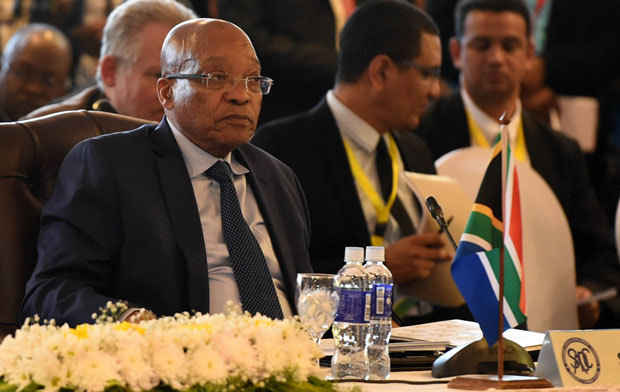 PRETORIA – Things are clearly going down at the African National Congress (ANC) National Executive Committee (NEC) meeting in Tshwane. The ANC announced Sunday evening that the meeting will be extended to tomorrow, Monday 28 November 2016. (See
Update

below.)

As reported earlier today, City Press newspaper revealed that Minister of Tourism, Derek Hanekom, had dramatically tabled a motion of no confidence against President Jacob Zuma at the meeting at St George's Hotel yesterday. It was allegedly decided to hold a vote today, Sunday.

Some members of the NEC allegedly wanted it to be a secret ballot – which would ensure members voted honestly without fear of repercussions. However some pro-Zuma supporters were against the vote, according to local reports.

In a message tweeted Sunday evening, the ANC said that the meeting which is currently underway, and which was scheduled to end today, has been extended to tomorrow.

This is the first time NEC members have questioned the leadership position of President Jacob Zuma. According to reports, the security outside the hotel is tight.

The ANC NEC has not confirmed that the meeting is about the future of Zuma, but it is expected that an announcement will be made at the end of the meeting regarding whether he will be recalled or not.

Last week trade union organisation Cosatu announced it would be backing Deputy President Cyril Ramaphosa as the next leader of the ANC.

Some Twitter users said they hoped the extension wasn't because the ANC NEC "passed by Saxonwold Shebeen on their way to the hotel!

Update 00h30 Monday 28 November SA Time: According to IOL, sources have revealed that the current status of NEC members in favour of a motion for Zuma to step down is split equally with 20 for and 20 against. Fourteen more will reportedly be heard tomorrow. In an article on Cape Times, IOL names Gwede Mantashe, Naledi Pandor and two others as being for the motion. Those against who are named include Malusi Gigaba and Fikile Mbalula. Pravin Gordhan has left and his position is unclear. Read the full article here. 
#ANCNEC #Zuma under pressure to resign pic.twitter.com/icJCHw16Gm

— Siwaphiwe Ngqulana (@ngqulana1) November 27, 2016
So some NEC members had to land at the #ANCNEC meeting venue like….. pic.twitter.com/zvBXCeNcUb

— Mweli Masilela (@mwelimasilela) November 27, 2016
Zuma at the #ANCNEC meeting pic.twitter.com/BGpA7RrSvK

— Tealmooss (@Tealmooss) November 27, 2016
When you are on honeymoon & uBaba calls you and says the votes are not in our favour!#ANCNEC pic.twitter.com/yN13NWRlRY

— Tshepo Motsepe (@TshepoTMotsepe) November 27, 2016
If you're interested in Derek Hanekom's job, call Ajay on
011 783 2016 or alternatively drop your cv at SaxonSheeben during drinking Hours

— JellybeanMafia (@kizobantu) November 27, 2016