PRETORIA (Reuters) – South African President Jacob Zuma was expected to survive a no confidence vote at a meeting of the ANC's National Executive Committee (ANC) extended into Monday night, despite media reports of at least three cabinet ministers turning against him.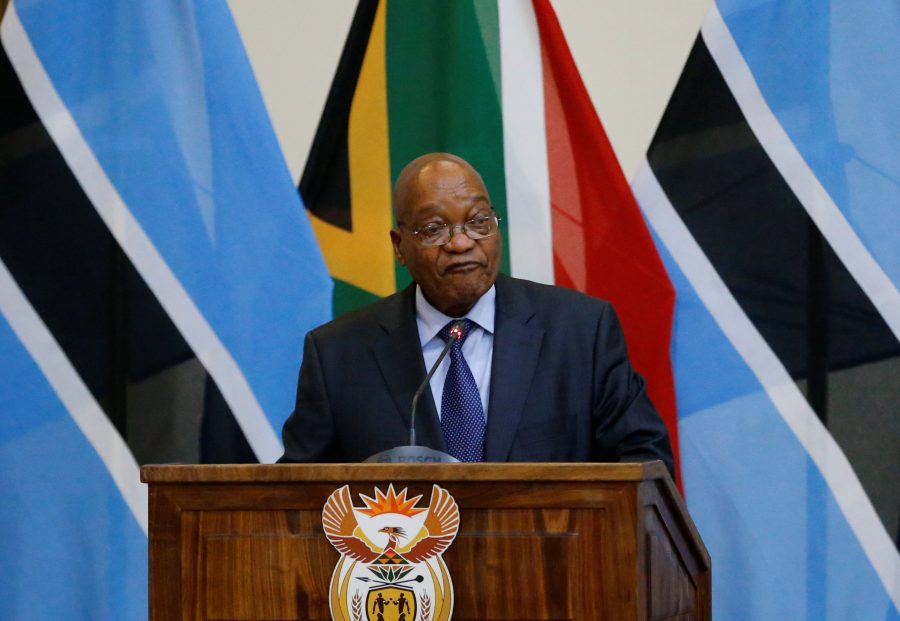 Zuma's presidency has been plagued by accusations of corruption and the nation's anti-graft watchdog this month asked for a judge to investigate alleged influence-peddling by a wealthy family Zuma has called his friends. Zuma has denied any wrongdoing.
One senior ANC official, who asked to remain anonymous, said Zuma would probably survive the latest attempt to dislodge him by the growing number of ANC figures unhappy with his leadership.
"Even if there's secret ballot, he's still likely to get the numbers," the official told Reuters.
But analysts said Zuma's hand would be weakened by the challenge even if he survived the vote, boosting sentiment in financial markets that see him as a liability.
Spokesman Zizi Kodwa said the ANC would hold a news conference on Tuesday on the outcome of the meeting. Late on Monday evening, Kodwa would not say if it was still going on.
The NEC, which can remove Zuma from office, extended a scheduled weekend meeting into a third day on Monday after Tourism Minister Derek Hanekom proposed the no-confidence motion on Saturday, the Afrikaans-language daily Beeld said.
Two more cabinet members – Health Minister Aaron Motsoaledi and Public Works Minister Thulas Nxesi – have since joined Hanekom in asking Zuma to step down, News24 reported.
South Africa's rand firmed to near three-week highs against the dollar and yields on government bonds fell, largely after rating agencies Fitch and Moody's affirmed the country's investment-grade credit ratings on Friday and partly due to the no-confidence vote against Zuma.
"If markets perceive that the president could be weakened, whether that happens or not is not irrelevant, if they believe it to be so then the currency will strengthen," NKC Independent Economists political analyst Gary van Staden said.
'FIERY AND FIERCE DEBATE'
The NEC, which met in the capital, Pretoria, is the only body in the ruling party that can remove the leader of the party, besides its five-yearly congress.
Zuma himself is one of the committee's 104 members, most of whom were elected alongside the president in 2012.
The Beeld reported that the NEC members were locked in a "fiery and fierce" debate over whether a secret ballot should be used, citing unnamed sources who had attended the meeting.
An ANC spokesman did not respond to telephone calls seeking comment about the meeting. In a statement on Sunday, the ANC did not give a reason for the extension of the meeting.
Analysts said Hanekom's motion was even less likely to succeed if Zuma's allies managed to secure an open vote, one of the main ways he has controlled the party during his seven years in charge.
"Without a secret ballot, the Hanekom motion is doomed – the regrouped pro-Zuma faction will whip its superior numbers in the NEC into an effective wall against the motion," NKC African Economics said in a note.
(Additional reporting by TJ Strydom and Ed Cropley in Johannesburg; Editing by James Macharia and Ralph Boulton)
***
UPDATE: According to local reports, Science and Technology Minister Naledi Pandor and ANC chief whip, Jackson Mthembu, also joined Hanekom in calling for Zuma's removal. Home Affairs Minister Malusi Gigaba, Sport and Recreation Minister Fikile Mbalula and African Union chairperson Nkosazana Dlamini-Zuma are allegedly opposing the motion.
In a statement Monday night the ANC said it will hold a Post ANC NEC briefing for the media on Tuesday afternoon at ANC Headquarters in Joburg.
Zuma loyalists who were not attending the #ANCNEC landing today in Irene, from all corners of the country. pic.twitter.com/VxHl4BEnFZ

— Tshepo Motsepe (@TshepoTMotsepe) November 27, 2016