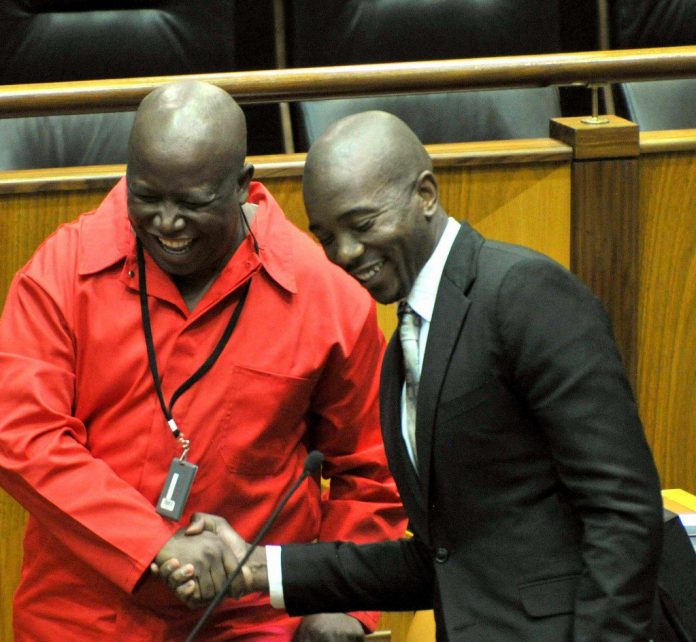 Opposition parties – the EFF (Economic Freedom Fighters) and Democratic Alliance (DA) – are laughing after yesterday's decision by the ANC's National Executive Committee (NEC) to continue to support Jacob Zuma and his leadership of the country, thereby potentially weakening the ANC's chance of re-election in 2019.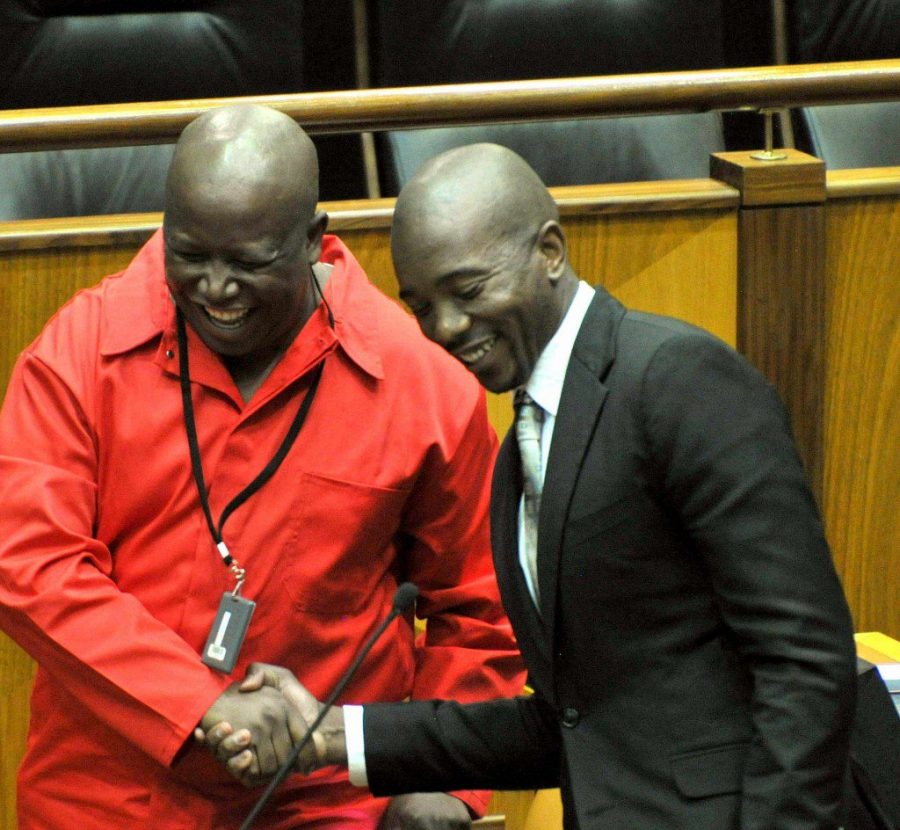 The DA said the unconventional attempt to table a "motion of no confidence" in Jacob Zuma at this weekend's meeting of the NEC was defeated because of "the naïve belief that the ANC can self-correct".
In a statement headed "ANC chooses Zuma over SA again", DA Leader Mmusi Maimane said that despite Secretary General Gwede Mantashe's "brave face" (when facing the press), the ANC is more divided than ever and it will only worsen.
Maimane said this shows "we can never trust an ANC that keeps Zuma through all he has done. While the ANC continues to fight amongst themselves, our economy is hanging by a thread."
He said this shows that Parliament and not Luthuli House (ANC Headquarters) "must do its job and remove Jacob Zuma once and for all".
The EFF agreed, proposing yesterday that Minister Hanekom put a motion of no-confidence to Parliament instead where "he'll be supported".
Speaking in Parliament, the EFF said Zuma and the ANC are "dangerous" and "beyond salvation". Mkhaliphi said: "There's no ANC. It is a dead organisation with no respect. It's good [only] for serving on weekends…"
Yesterday Gwede said the ANC NEC remind each other all of the time that they "will not be commanded by generals of the enemy" while Deputy Secretary General Jessie Duarte said the EFF's latest motion of no confidence is because they have "no programme, no plan" other than to try destabilise the revolution. She said "bring it on"…
Gwede said the ANC "will elect a new leader of the ANC… who will be the face of the ANC in the 2019 campaign" at next year's national conference.
"What did you think?"
"BEST #ANCNEC MEETING EVER!!!"
"RIGHT?!" pic.twitter.com/xrjAjiBFPQ

— Tom Eaton (@TomEatonSA) November 29, 2016
President Jacob Zuma's Nine (or Ten) Lives