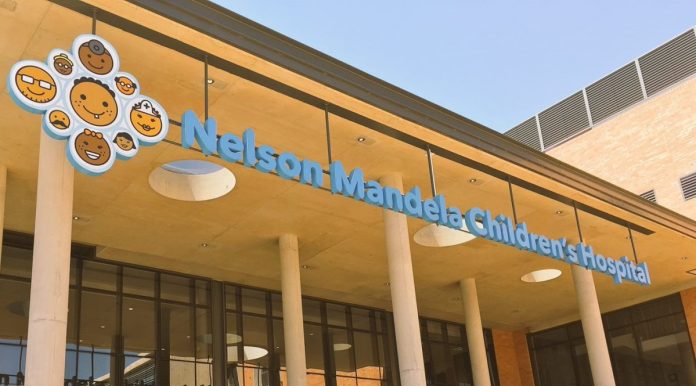 The late Nelson Mandela's presence was very much felt on Friday as his widow, Graca Machel, helped officially open the children's hospital he dreamed of…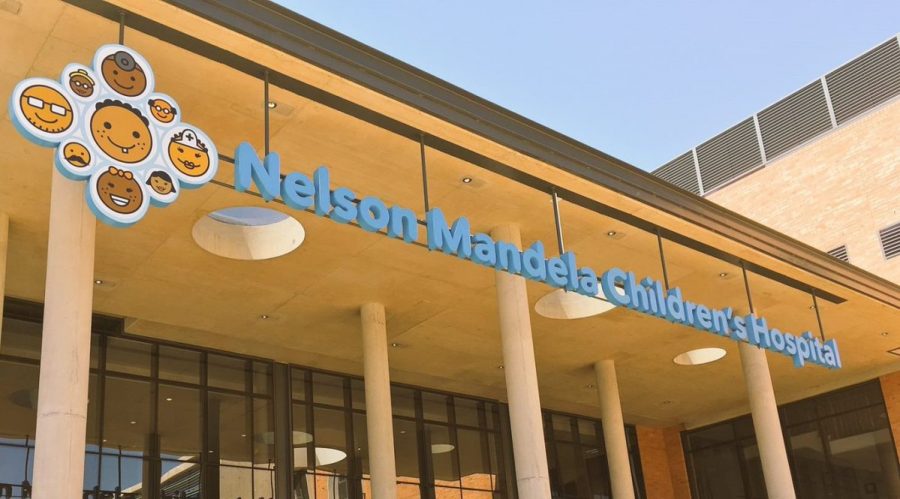 The building of the Nelson Mandela Children's Hospital (NMCH) in Johannesburg has been a team effort of love, hard work, dedication and donations.
The MRI machine is quieter than most to make it less terrifying for kids. The artwork and deco – by kids – will comfort children in pain. And 10,060m2 of garden has been planted, with a total of 100 indigenous trees around the Hospital. Every window looks onto a garden!
"We've tried our hardest to make this a welcoming space in spite of the circumstances :)" tweeted the NMCH.
This is only the fourth dedicated children's facility in Africa (Canada has 23 such hospitals), and will provide highly specialised services for kids in South Africa and in the region, Health Minister, Dr Aaron Motsoaledi, said on Friday.
The hospital will serve as a referral facility and be classified as a 'central hospital'. (There are only 10 others in the country.)
Minister Motsoaledi said: "This is an auspicious day for both the memory of Madiba and the children of South Africa and the region. Mandela loved children. I am sure that wherever Madiba is, he is looking down on us and I'm sure that he would have preferred to be with us."
The Minister said it was a sad reality that millions of children around the world are not cared for. In South Africa 1.2 million children have either one or both parents dead.
"It makes these children vulnerable, especially when they get ill and need specialised care," he said.
"Madiba was a strong advocate for a children's hospital. He said children had the right to receive the best treatment when they are ill, irrespective of their economic and social status. The true wealth of this world rests in the well-being of its children," said the Minister.
The Minister said government will support the hospital which has 48 critical care beds.
Nelson Mandela Children's Hospital, a Monument of love
"This hospital is a monument of love, care and service by Madiba himself. This hospital is a monument of excellence," said Machel.
"Every child counts and matters… This hospital is also an expression of what a collaboration can achieve. Many people contributed to make it happen," said Machel.
Partly sourced: SAnews.gov.za
"The #NMCH is a monument of love and care for children, by Madiba" says Former first lady Graça Machel. @News24 pic.twitter.com/nSZB2BoyaF

— Mpho Raborife (@MsRaborife) December 2, 2016
During construction abt 1200 people were involved, laying 3 million+ bricks & mixing more than 17000m3 of concrete. #NMCHBringsHope pic.twitter.com/HyAzL4EYvN

— #NMCHBringsHope (@_NMCH_) December 2, 2016
Look at this! For kids CT scans. It's more of an adventure tunnel than a scary medical tool! #NMCHBringsHope pic.twitter.com/YTlgPFZlTD

— Leanne Manas (@LeanneManas) December 2, 2016
This Hospital was designed by children for Children and it has a Heart! A look at examination rooms #NMCHBringsHope pic.twitter.com/l8LUQGQEAn

— Leanne Manas (@LeanneManas) December 2, 2016
We funded the Oncology Unit at the @_NMCH_ – see how it looks LIVE on #Facebook now with @TufailH#NMCHBringsHope pic.twitter.com/bFYbyyJk0g

— Islamic Relief UK (@IslamicReliefUK) December 2, 2016
Thank you Imilonji kaNtu Choir for lifting your voices to the heavens today. We're sure Tata heard you. #NMCHBringsHope pic.twitter.com/0N8ZwUJnMQ

— #NMCHBringsHope (@_NMCH_) December 2, 2016