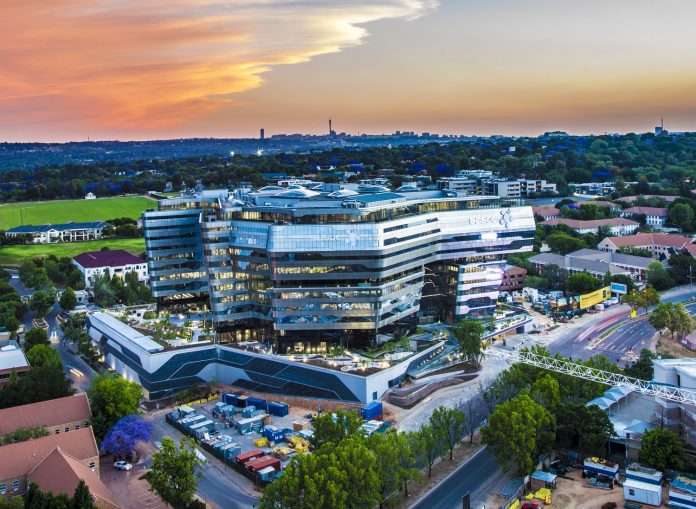 There's a new building in town – and it's impossible to ignore. Shiny, shimmering, sexy and super-cool – South Africans are going crazy over the new Sasol global headquarters in Sandton, Johannesburg.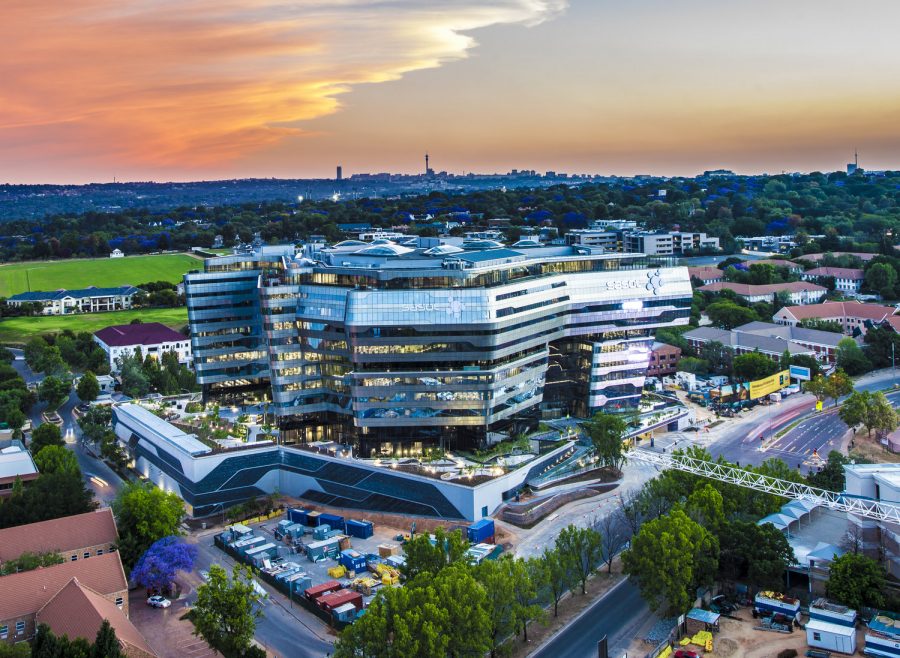 According to Betapoint, Sasol's strategic real estate advisory and implementation partner, the 67,000 square meter development consolidates Sasol's previous 11 properties, which were spread across Joburg, into one space – Sasol Place – reducing their office footprint by almost 40%.
The new home for 2,500 of the company's employees was officially launched yesterday. The 47 metre high building has 7 parking levels, a ground floor and 10 office floors. Features include a restaurant, coffee shop, wellness centre, convenience store, fitness centre and a "dedicated gallery and sculpture garden that will showcase Sasol's continued support of local contemporary artists", says Betapoint.
The super modern building has adopted environmentally sustainable practices (like water recycling and LED lighting) and been awarded a 5-Star Green Star design category rating by the Green Building Council of South Africa.
There are even indigenous biomes for SA's wildlife, insects and birds within the grounds and on the rooftop.
The global chemicals and energy company employed a multinational team to fulfil their R2-billion vision.
Media tour of Sasol's new R2bn headquarters in Sandton. pic.twitter.com/AEf0gS675u

— Justin Brown (@JustinBrownSA) December 6, 2016
#NewsUpdate Betapoint and Sasol complete new headquarters in Sandton South Africa https://t.co/ZeDUtEmoCk pic.twitter.com/y0uTVYJio9

— 3INVEST (@3INVEST) November 22, 2016
Sasol is launching their new building today. The pastry shop and gym are right across each other ?? pic.twitter.com/1XGnrP4k23

— Megan van Wyngaardt (@WaitingforMeg) December 6, 2016
PICS: Inside @SasolSA''s new mega R2bn Sandton HQ: https://t.co/yRe9089hZi pic.twitter.com/KF8Nr9vXjV

— Gareth van Zyl (@GarethvanZyl) December 7, 2016
Watch Sasol shows off new corporate head office:
If your device is unable to view the above video, please try below:
Sasol shows off new corporate head office – Full video https://t.co/dAMycowC0S @SasolSA pic.twitter.com/AkQ4PfUKLe

— EngineeringNews (@EngNewsZA) December 7, 2016