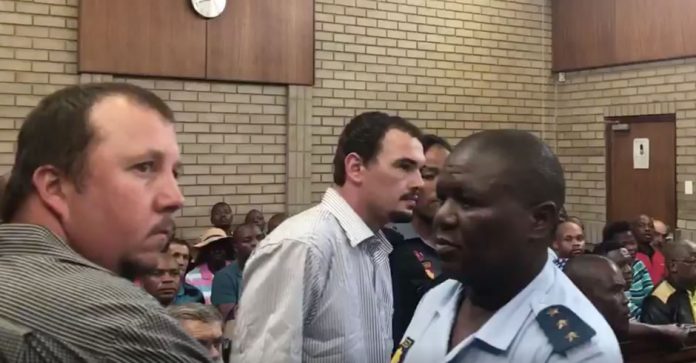 The two accused men in the 'Coffin Assault' case have been denied bail and will remain in police custody over Christmas and New Year. Their next appearance in court will be on 25 January 2017.
The two men, Theo Jackson and Willem Oosthuizen, were arrested after a video, taken by one of them, was shared on social media showing Rethabile Mlotshwa being forced into a coffin with threats that they were going to set the coffin on fire with him inside.
Today Magistrate Jongilizwe Dumehleli at Middelburg Magistrates Court denied them bail, reportedly because of concerns for their own safety if they were released. Evidence showed that an sms had been sent to surrounding farms threatening farm attacks if the two men were released on bail.
Dumehleli said today that it's not surprising this case shocked the world and made headlines globally. "What is shockingly aggravating in this case is the manner in which the victim screamed, urging the men not to do this."
He said their explanation that they "head to teach the victim a lesson" (for stealing copper cables) is "more than offending".
The magistrate observed that "looking at the ages of the applicants they were 6 and 7 years old in 1994. The question is who taught them of the use of the word Ka***r?"
Mlotshwa's mom apparently cried when bail was denied, and ANC supporters cheered.
According to the SABC, the Court would like to take DNA tests in the coffin to ascertain whether there were other victims.
Dumehleli was apparently meticulous in his ruling and noted that racism can not only be attached to white people. He said that Blacks, Indians, Coloured and Chinese can all be racist and that "racism is a virus the whole world is trapped under."
#CoffinAssault on Twitter:
BREAKING #CoffinAssault Magistrate Dumehleli denies Jackson & Oosthuizen bail. I ask them why they did what they did pic.twitter.com/S0xn69zP9B

— Nickolaus Bauer (@NickolausBauer) December 8, 2016
The devils greatest victory is in the battle of divide and conquer. Racism is an ungodly concept. We need to stop feeding it #CoffinAssault

— YamaguchiTanSamurai? (@ShoneTheDon) December 8, 2016
#CoffinAssault Dumehleli: Oosthuizen was 6 & Jackson 8 years old in 1994. Who taught them about the word "Kaffir"? pic.twitter.com/HbYCF9qZA7

— Nickolaus Bauer (@NickolausBauer) December 8, 2016