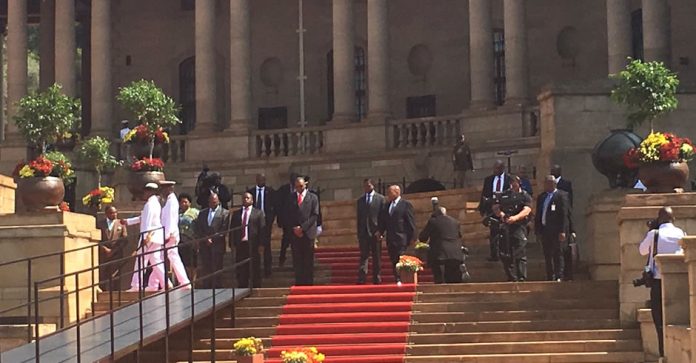 PRETORIA – South Africa on Thursday rolled out the red carpet for Zambian President Edgar Lungu who is in the country for a state visit – with President Jacob Zuma welcoming him as a "dear brother" to the seat of government.
President Lungu was greeted by a beaming President Zuma, a 21-gun salute and a guard of honour as he arrived at Pretoria's Union Buildings – which was decked out in flowers in his honour.
With the Zambian flag hoisted high at the Union Buildings – President Lungu walked on the red carpet, inspecting the ceremonial guard of honour.
Moments later, the two Heads of State were ushered away to the presidential boardroom for a closed door tete-a-tete.
The private session will allow the two presidents an opportunity to discuss bilateral, regional and international issues.
The Presidency had indicated that the visit is aimed at "deepening and strengthening of the already existing good political, economic and social relations underpinned by strong historical ties dating back from the years of the struggle".
The two leaders are scheduled to address the media after their official talks as well as address the South Africa-Zambia Business Forum meeting later today. The forum will highlight trade and investment opportunities.
Relations are solid between the sister countries with ties which date back to pre-South African democracy. Zambia played a key role in the liberation of the region as it was home to hundreds of South African freedom fighters.
It is due to such ties that these two countries enjoy mutually beneficial trade relations.
To date, 21 Agreements and Memoranda of Understanding have been signed between two countries.
They cover a variety of areas including trade and investment, science and technology, defence, agriculture, environment, energy, as well as health related matters.
There are over 120 South African companies doing business in Zambia in various sectors, including telecommunications, aviation, tourism, banking, property, retail, entertainment and fast food.
With Wednesday's inaugural session of the Joint Commission for Cooperation (JCC) it is hoped that the relations will be further elevated, while it will also allow them to monitor implementation, challenges and possible solutions. – SAnews.gov.za
Zambia's Visit to South Africa on Twitter:
The Union Buildings overseeing the Pretoria CBD #SABCNews pic.twitter.com/3Kf6341RRK

— Ntebo Mokobo (@MokoboNtebo) December 8, 2016
WATCH: President Lungu inspecting the guard of honor #SAZambia pic.twitter.com/bDsZDRXGsj

— SA Gov News (@SAgovnews) December 8, 2016
WATCH:21 gun salute #SAZambia pic.twitter.com/vDdFuRxg7v

— SA Gov News (@SAgovnews) December 8, 2016
President Zuma and President Lungu have arrived . National anthems and 21 gun salute on the background pic.twitter.com/gfbzI7DGcg

— SA Gov News (@SAgovnews) December 8, 2016
Official programme starts #SAZambia state visit pic.twitter.com/teebT4BJak

— SA Gov News (@SAgovnews) December 8, 2016
It's a good morning Mzansi. We are at the beautiful Union Buildings. Pres Zuma will be hosting Zambian Pres for a State Visit. #SAZambia pic.twitter.com/66Ifo1x3ZG

— SA Gov News (@SAgovnews) December 8, 2016