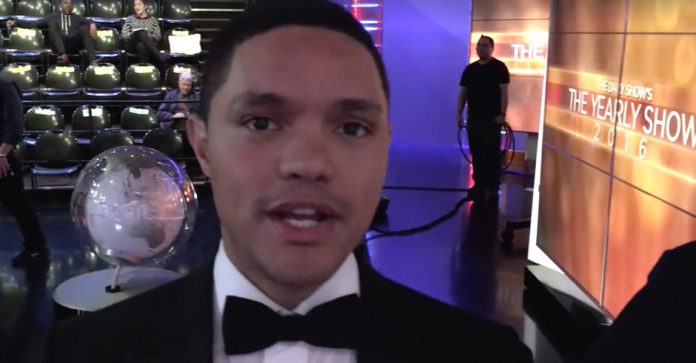 South African comedian Trevor Noah – who has become an international celebrity as host of The Daily Show in America – has recorded a special thank you message to his fellow South Africans for helping make his book, 'Born a Crime', such a success.
Trevor uploaded the message below to Facebook and said: "I wanted to thank each and every one of you personally…"
His book, a compilation of stories about his upbringing in Soweto, has been number one in South Africa for the past three weeks.
In the video Trevor thanks South Africans for being part of his success story and says "we're here baby… we're on the Daily Show"!
Trevor has been blown away by the success of his book around the world. The audio version, with Trevor narrating it, it has become the highest rated audiobook of 2016.
He has also been nominated for two awards by the prestigious NAACP (National Association for the Advancement of Colored People) – for Outstanding Literary Work – Debut Author and Outstanding Literary Work – Biography/ Auto-Biography.
Watch Trevor Noach thank South Africans for Making his Book a Success
The wait is over! Fetch your copy of #bornacrime available in-stores and online now! pic.twitter.com/VKZEmlN9wK

— Trevor Noah (@Trevornoah) November 15, 2016