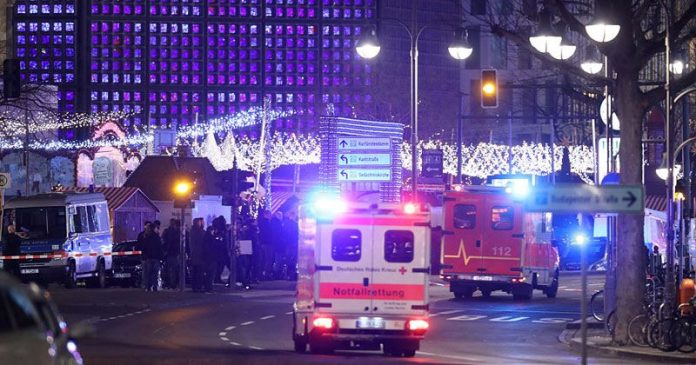 As South Africa sent condolences today to victims of the probable terrorist attack that struck in Berlin on Monday evening, an SAPeople follower from Germany has described the feelings her country is currently going through.
Cornelia H. from Munich, who loves spending her holidays in "beautiful South Africa", says: "Germany is in a state of shock. Everyone is afraid that even more attacks follow. Terrorism is very present in Europe."
Life on the continent has changed for many over the past year as a spate of terrorist attacks have hit European countries from last December's multiple assault on Paris, France, to the truck which ploughed through a Christmas market in Germany on Monday, killing 12 and injuring almost 50 people.
The other big problem in Germany, according to Cornelia, is the increase in refugees along with the increase in "the haters of refugees".
She says: "The right radicals have now even more power to rush against foreigners. Every murder, every bank robbery, etc. is credited to foreigners. Refugees' homes are set on fire in a row. It is terrible."
In Cornelia's opinion most of the haters ironically come from the former East Germany and were formerly also refugees themselves.
"Most of the hate is in northern Germany [where Berlin is]. We in Bavaria [in the south] have fewer problems.
"My two sons (who are half-German half-Ethiopian) and my husband (who is Ethiopian but has lived in Germany for 36 years) have so far had no problems here in Germany."
In an update Tuesday evening, Cornelia told SAPeople: "The incident is very similar to the incident in Nice. The perpetrator allegedly stole a truck and shot the driver. Then he went with this truck through the Christmas market. 12 dead 48 injured… of it 18 seriously. He fled on foot and the police pursued him. But they apparently caught the wrong one. ?"
The man (an asylum seeker from Pakistan) – who was arrested on suspicion of driving the truck – has been released because there is insufficient evidence to link him to the incident, according to reports.
SAPeople asked Cornelia if life for her has changed much since the attacks, and if last night's incident has made her afraid to go Christmas shopping.
"Slowly I get scared. Life in Germany has changed a lot. Christmas shopping? I buy online. I do not go to a mass event. It's too dangerous. Many greetings and Merry Christmas…"
Christiane H., from Cologne, agreed "it's different now"… and added "but we are strong and stay together!"
The mayor of Berlin has cautioned the public to not panic "but remain vigilant". ISIS has claimed responsibility saying the driver was a "soldier of the Islamic State" (which as many reports have pointed out has #NothingToDoWithIslam).
President Zuma said on Tuesday: "The South African Government condemns in the strongest terms terrorist attacks in any form and from whichever quarter. We send our heartfelt condolences to the families and loved ones of the deceased and we wish all the injured speedy recoveries."
Also on Monday, a gunman stormed into the prayer hall of a mosque in Zurich, Switzerland, and opened fire wounding three people before fleeing.
President Zuma described the acts as "cowardly".
 "Acts of violence and extremism have no place in society and constitute a threat to development, peace and security. We wish the injured a speedy recovery," he added.
Security at Christmas markets across Europe – which are very popular – has been beefed up following the attack.
Chancellor Angela Merkel visited the scene in Berlin and said Christmas markets will continue and that Germany refuses to let life be interrupted by acts of terror. "We don't want to do without Christmas markets, without nice outings together. We do not wish to let fear and angst take away our freedom to live," she said.
#German officials release man who had been in custody after the #TruckAttack on a #berlin #Christmas market @ANN7tv pic.twitter.com/KfuqLHD8Z6

— Manoj (@PassionForNews) December 20, 2016
#Berlin attack: Police say lorry crash was "probable terrorist attack" as 12 confirmed dead

Latest updates: https://t.co/ZJcwX4Uz2I pic.twitter.com/l4eZLaycl5

— BBC News (World) (@BBCWorld) December 20, 2016
ISIS says the truck attack at a Berlin Christmas market was carried out by a "soldier of the Islamic State." https://t.co/1wIFG4Lyyy pic.twitter.com/X8f65pusqx

— CNN Breaking News (@cnnbrk) December 20, 2016
And make no mistake, the attack on the Berlin Christmas market will be used by the far right to try and take down Angela Merkel. #NotADrill

— Joy Reid (@JoyAnnReid) December 20, 2016
We mourn with #Germany. United against violence at home & abroad, tributes were left at the #SurvivorTree for the #Berlin attack victims. pic.twitter.com/bxD4mb49kN

— 9/11 Memorial (@Sept11Memorial) December 20, 2016
#BeStrongBerlin pic.twitter.com/x6L6BjvDbQ

— PolizeiBerlinEinsatz (@PolizeiBerlin_E) December 20, 2016
Wer are full of hope, 24 injured people were able to leave hospital again and return to their realtives.

— PolizeiBerlinEinsatz (@PolizeiBerlin_E) December 20, 2016