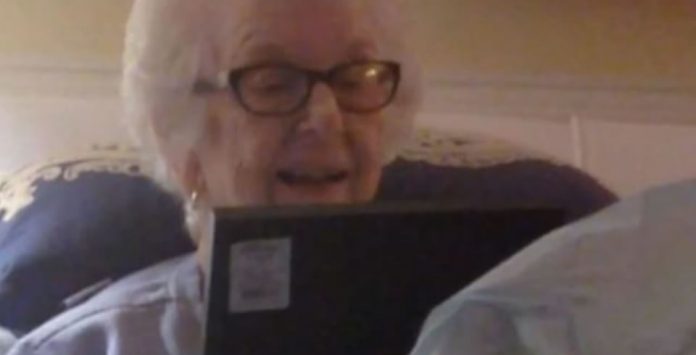 South African comedian and TV presenter Trevor Noah shared a fantastic video late Thursday of an American grandmother, Estelle, who is clearly one of his biggest fans. She says she watches him every night and that he's just as good as his Daily Show predecessor, Jon Stewart. But it's her message to Trevor at the end that makes the video extra special… and her comment that she's going to tell everyone he's her grandson!
The footage had been posted on Instagram by Simpson Morgan. She said: "My 91 yr old grandma loves @trevornoah & @thedailyshow. Here she is opening the signed press photo I gave her for Christmas! (Watch until the end… ??)"
Trevor Noah himself did watch until the end! He then shared the video, changing his Facebook status to "feeling amused" and said on Twitter that the video made him laugh.
In a message on social media, Trevor said to Simpson: "Tell your Grandmother as long as she lets everyone know I'm her favorite, she can tell everyone I'm her Grandson!"
According to Simpson, her grandmother is "so excited ?" hearing about Trevor's response.
Simpson's grandmother – or mom-mom – is now gathering her own fans. Social media users called her "adorable", "the best grandma" and thanked her for making their week so much better.
This made me laugh. Tell your Grandmother as long as she lets everyone know I'm her favorite she can tell everyone I'm her Grandson! https://t.co/DbFxFrJsf4

— Trevor Noah (@Trevornoah) December 29, 2016