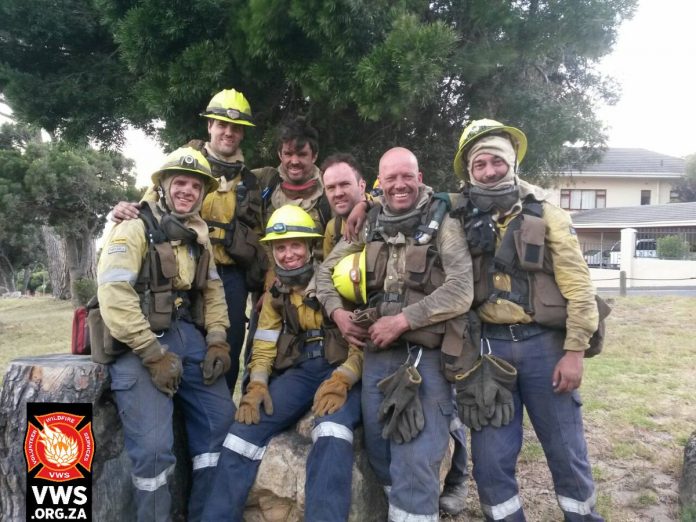 After an extremely tough night fighting the #DeerParkFire on the mountain slopes of Table Mountain in Cape Town, firefighting volunteers from Volunteer Wildfire Services (VWS) have been successfully stood down… and can now head out to their day jobs. But in Paarl, flames which began yesterday, are blazing and at least one building structure has been reportedly destroyed. According to latest reports, 140 people have been evacuated from two farms.
Social media was full this morning with messages of gratitude from local residents for the fire fighting heroes that saved their homes in Vredehoek from burning in the raging fire last night. Residents there were voluntarily evacuated.
VWS congratulated the fire crews involved and thanked the public for its support.
This morning VWS reported: "#Huey Choppers deployed by @TableMountainNP (Table Mountain National Park) are now busy water-bombing #DeerParkFire. #GoodLuck to the pilots. They were missed last night."
Locals are asked to "please continue to avoid the area for your own safety and to allow space for emergency services to work."
In the meantime Du Toitskloof Mountain pass has been closed to traffic in both directions Tuesday morning as a result of a blaze along the mountain slopes.
According to Working on Fire, "T22 Firefighters as well as a Spotter plane and two Huey Helicopters are assisting CapeNature and the Cape Winelands District Municipality in an ongoing effort to contain the fire which broke out yesterday afternoon."
Fire and Rescues' Dereck Peceur says, "we have about 50 people currently working in area being assisted with aerial support in the form of two helicopters."
Residents are asked to please help with water and food donations at Paarl Fire Station as reports come that at least one building structure has been destroyed.
After very hard night, crew of #VWS volunteers stands down from the #DeerParkFire and head to their day jobs. #ThankYou. @KFMza @CapeTalk pic.twitter.com/OF8hSdVhvc

— VWS Wildfires (@vwsfires) January 17, 2017
Choppers are out for #DeerParkFire in #Vredehoek – thanks you to all services: @SafetyMountain @vwsfires @cptfrs @wo_fire @TableMountainNP pic.twitter.com/Y8srVEyYHe

— Sarka Svoboda (@SarkaSvoboda) January 17, 2017
Fire fighters filling up to put out #deerparkfire #vredehoekfire #capetownfire. #capetown #fire pic.twitter.com/X0bxOYhgax

— Ryan Hultzer (@ryanhultzer) January 17, 2017
Fiends of mine lost their homes, winery, vineyard in Paarl, and three children of +-14 started that blaze. Such sadness 🙁

— Dawn Jorgensen | The Incidental Tourist (@DawnJorgensen) January 17, 2017
@vwsfires some huge losses here again as Paarl continues to burn @ewnupdates @CapeTalk pic.twitter.com/At2P1FiXHv

— Alexandra McFarlane (@McFarlaneWines) January 17, 2017
@KienoKammies The fire in #paarl. @CapeTalk pic.twitter.com/v6GLEjFD63

— Erika Cronje-Joubert (@ErikaJoubert1) January 17, 2017
#CPTTraffic R300 Northbound is congested at Van Riebeeck & Old Paarl Road Ramps. Delays are expected. Please exercise patience & caution. pic.twitter.com/EiCte3o1Kq

— Safe Freeway Project (@SafeN2Project) January 17, 2017
#DuToitskloofFire
Du Toitskloof Mountain pass is currently closed to traffic in both directions https://t.co/x6a1ZcPHh9 #SavingLives #Fire pic.twitter.com/YuiUkWo1EM

— Working on Fire (@wo_fire) January 17, 2017
#DeerPark Fire last night:
For those of you wondering why everything smells like smoke this morning, check out this recap from #deerparkfire last night pic.twitter.com/Ta3lqVJvl4

— Community Medics (@ComMedics) January 17, 2017